NEW LEUPOLD® GX®-5I3 GOLF RANGEFINDER AT TOP OF ITS GAME
Far more accurate than GPS and more customizable than any other golf rangefinder, the new GX®-5i3 offers all of Leupold's latest technology that enables golfers to sharpen their game and improve scores.
A recent update to Leupold's high-performance DNA® (Digitally eNhanced Accuracy) engine and an advanced infrared laser empower the GX-5i3 to deliver faster measurements with accuracy displayed to the nearest 1/10th of a yard. New PinHunter™ 3 Laser Technology increases the pulse rate and as a result, the rangefinder ignores user movement to quickly identify and lock onto the flag or pin for extremely precise and fast target acquisition.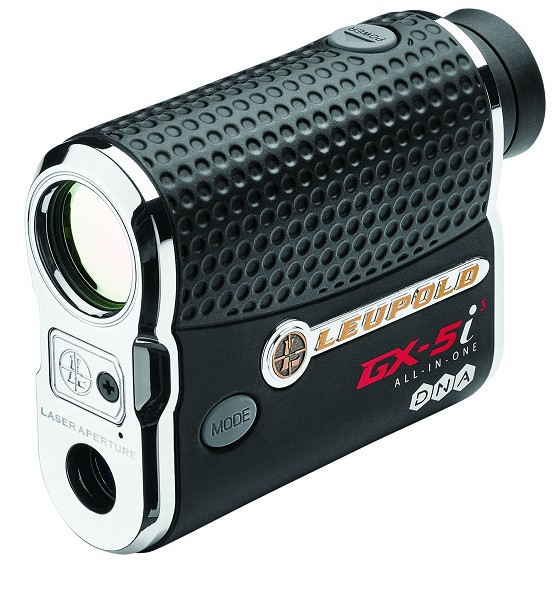 "Our new GX-5i3 laser rangefinder is an all-in-one solution for golfers who want to shoot lower scores and get around the course faster," said Rob Morrison, vice president, global marketing for Leupold & Stevens, Inc. "Why mess with GPS when you can have the accuracy and customization of GX-5i3? It's like having a personal caddie who really knows your game and can take the measure of any course."
Tournament use of GX-5i3 is permitted under the Rules of Golf when a Local Rule is in effect (see USGA Decision 14-3/0.5) and the True Golf Range™ (TGR®) and Club Selector™ features are disabled. Using a custom algorithm that no other rangefinder has, TGR allows golfers to compensate for uphill shots that play long and downhill shots that play short.

With the TGR and Club Selector features, GX-5i3 takes customization to an elite level by providing ranging information and club recommendations matched to the slope of the shot, atmospheric conditions and a golfer's personal hitting strength. TGR displays the adjusted "plays like" range, calculated from the laser-measured line-of-sight distance, incline or decline, trajectory of the ball, current temperature, and specific altitude. Club Selector factors in the golfer's specific hitting strength and TGR to the target, automatically recommending the proper club for each shot. Users simply input their personal striking distance for three specific clubs and the GX-5i3 does the rest, even indicating when the distance falls between clubs.

Other key features include audible Prism Lock Technology™ that allows golfers, including those with unsteady hands, to get their distances easily, quickly and with extreme accuracy when a course is outfitted with reflective prisms. Maximum ranging distance on prisms is 800 yards.
GX-5i3 also offers Fog Mode to cut through mist and provide fast, accurate distance measurements. The rangefinder has 6X magnification and a one-touch scan mode that allows users to sweep the landscape while continuously measuring distance. Golfers can select from three aiming reticles, choosing the one that works best for the intended target and usage. Distance can be displayed in yards or meters.

GX-5i3 is compact, weighing just 7.3 ounces, and measuring only 3.8 inches long, 3.0 inches high and 1.4 inches wide. Built to Leupold's exacting standards for ruggedness and to withstand the typical rigors of golf, the rangefinder has a lightweight yet durable aluminum housing with rubber armor coating. Additional features include multi-coated lenses for a crystal-clear image, and a red, mirror-coated OLED display that is brighter and easier to read than traditional LCD displays. GX-5i3 is waterproof and covered by the Leupold Limited 5-Year Electronics Warranty.
Manufacturer's suggested retail price is $624.99. For more information, go to www.leupold.com/golf/rangefinders/gx-golf-rangefinders-accessories or call 1-800-LEUPOLD.
Founded in Oregon more than a century ago, Leupold & Stevens, Inc. is a fifth generation, family owned company with product lines including rifle, handgun and spotting scopes; binoculars; rangefinders; mounting systems; and optical tools and accessories.