The Press and The Print


By Sherry Hanes December 2019

You know in the world of news and accessing it, times have really changed.At one time, radio, television and the daily newspaper were the primary sources to learn about what was going on in the world, the region and >your local community. Advertising supported the platform for the availability of the information but having said all that, not much has changed as far as small business and corporations advertising on these media platforms, all trying to capture your interest, which ultimately helps them to stay in business.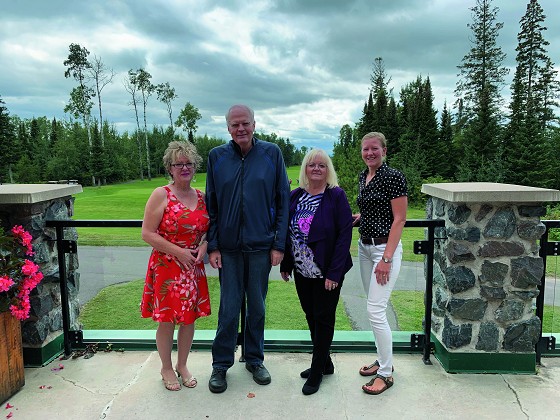 But what good is advertising if one does not have a platform to present it on? As far as the news worthy interests go, it is great to learn about them but, without advertising, news would not be available so readily. In other words, one cannot survive without the other, at >least not for the long haul.For 35 years now, Scott Sumner, Publisher of North Superior Publishing Inc. has been promoting and advocating, through his press/print platform, Thunder Bay Business, all about our economic, industrial, entrepreneurial, and vast scenic region of our city, Thunder Bay, Ontario.With each issue printed for the last 35 years, promotion of dynamic people that live and build businesses here can be read about. The publications are sent out monthly, throughout the entire region. I have seen it myself, travelling to different cities on aircraft for example, and I reach over to grab a magazine in the map pouch in from of me and it is one of our own, Thunder Bay Business publication, confirming that people STILL enjoy to read print, informing themselves about you and all kinds of interesting things, that are otherwise lost in the billions of pieces of information on the internet highway! The Internet is a wonderfully useful tool but in order for people to see an advertisement or an article, say…about you…. they reader would have to be specifically looking for your business or business name. Print still has the upper gauge on that presentation.In an interview with Scott Sumner, I learned a few things that I, and maybe others, did not know about Mr. Sumner or how he started the business of press/print magazine.Scott was always interested in business.
Sherry:"What prompted you to start a business publication about Thunder Bay?" I asked.
Scott: "Well, my early background was going to business schools, a commerce program and a MBA program and I always had an interest in entrepreneurs. I took Entrepreneurial Studies when I was at a university, at York in Toronto and just liked seeing people go out and make their own way, create their own product, their own ideas, their >own service."
Sherry: "What can you say about your passion Scott, to promote business, especially Thunder Bay?
"Scott: "Let me say that, I grew up in small mining towns, in Northwestern Ontario because my father was a mining engineer. I was born in Atikokan and raised in Manitouwadge. When you go to business school at York in Toronto, you would normally stay in that city, and build a corporate career. But I always just really liked the North. I felt best at home in the North so, I wanted to come home. I just think this area is a beautiful area. The business community is so important especiallybeing so isolated here. I thought, 'how can we accentuateit?' once I got into to the publishing business. I felt the business vehicle would be great for the city and it would present some idea of what's been happening every month, especially positive things. Most local businesses receive the Thunder Bay Business publication every month
."Sherry: "What year did you start North Superior Publishing Inc?
"Scott: "I started in September 1983, with the publication of the Real Estate News and then one year later we created the Thunder Bay Business publication. Since the beginning we have done ten different titles."Sherry: "What were/are the ten different titles?"Scott: "Well. Real Estate News, then the Thunder Bay Business. Next we did one called Thunder Bay Car/Truck News, then Thunder Bay Destinations, which was a travel publication. And we also did a community newspaper in Manitouwadge. And the we expanded that and called it Hemlo News, to cover Marathon, White River and Manitouwadge. We created Thunder Bay Families, Thunder Bay Life and one called Thunder Bay Extra, for example. In 1995 we started Snowmobile News, then Golf News and now Great Outdoors. And as of today, we are still publishing the Thunder Bay Business and the Great Outdoors Magazines, which includes Snowmobile News and Golfing News.
"Sherry: "When you first started with acquiring ad sales and article content, were you working alone or did you have staff?"
Scott: "Almost immediately, we had a staff. So, first of all, I had a production person, and then we got a sales person, and went from there and at one time we had twelve full time employees. We created our own 3000 square foot office building in 1987 on Barton Street and at that time, we had five people working in production alone because it was very mechanical. You had to shoot pictures in a 'dark room' and it was a 'cut and paste' process, instead of electronic, which it's all electronic now. So that took quite a bid of work every week.
Sherry: "And some of the people that once worked with you, I understand are out in the world of public entertainment now?
Scott: "Yes. We had Daylin James (stage name) was working for us. He was my Marketing Manager back then, Eric Gustafson."
Sherry: "Despite the technological changes for publication, you have managed to stay in the game.
"Scott: "People still enjoy picking up a printed publication. There are still many people that like a print publication but it is definitely changing and I think the younger generation today, are less and less prone to want to read a print publication I think they are more focused on their Smart Phones, their tablets. So, what we've done is five different websites and we have our print publications online as well as PDF's. We have articles published on the websites and other areas covered too. And in that area, we use Sencia Canada. They have been very helpful and we started dealing with Sencia in 2003."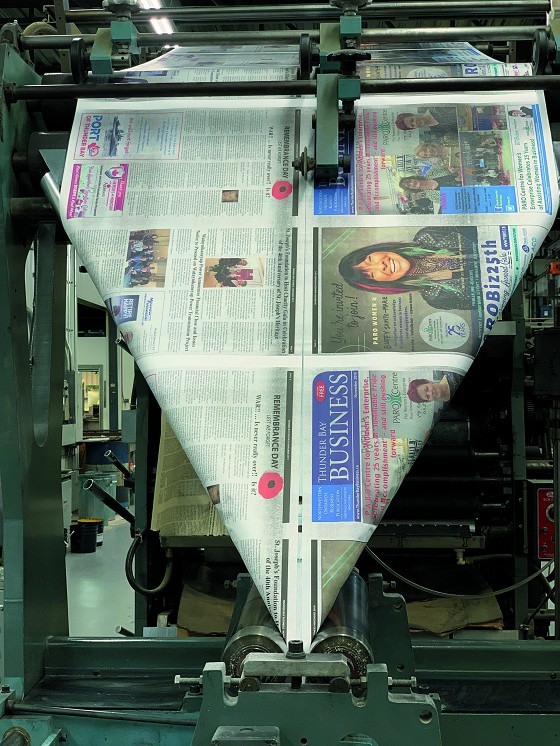 Sherry: "And what does Sencia do for your publication? How do they help you to produce?"
Scott: "So Sencia has a staff of over twenty employees here in Thunder Bay and they have a system they created called SIMS. It's a content management system where they have the programming set up and as a company ourselves, we can make changes to the site, any time we want to add new content, add pictures or even videos. So, we can have something up on the web within a minute. It's amazing the coverage you can get. I know that a lot of our sites are getting some 50,000 unique computer viewers per month. So, there's a lot of coverage and you can see where the coverage is coming from all over different parts of the world. And you can tell which articles are being read. So, it's a very in-depth program that they have created and this is only one of their services, as they do a lot of other things too.
"Sherry: "You mentioned websites that people can access the magazines on, what would they be?
"Scott: We have www.thunderbaybusiness.ca where you can get the business paper. The Great Outdoors is at www.slednews.com and www.golfingnews.ca
We also use social media to promote events we partcipate in and so on. I like Twitter and Instagram allows you easily to put up more pictures and videos combined in a post. Then you have Face Book and your YouTube channels, where you do your videos and there's LinkedIn, which is a real connection of businesses. Social media is a huge factor in the world today."To access the print publication on the Internet, the publication is on ISSUU, which you will be directed to, after calling up the thunderbaybusiness.ca. in your search bar. ISSUU is a major electronic publishing platform, founded in 2006.
Sherry: "Speaking with you a while back, of team effort, and you being the publisher Scott, it seems that pretty much allow people to be creative on their own, developing their own clientele?"
Scott: "So, the way it works today, it's much different than in the old days. In the old days you had employees that came into the office and put in their eight hours. Now everyone that helps us is an independent contractor. So, they work out of their own homes and they do specific things for us and are paid on specifically what they do. We have someone who helps us in graphic design ad layouts, a marketing person and then we have a person that writes for us…LOL!
What I've always wanted to do with Thunder Bay Business is accentuate the positives that are happening in the community. For example, the new Salvation Army Project on Cumberland Street, we did a feature story on it talking about it going up. And we also like to point out companies celebrating their anniversaries. We enjoy helping them celebrate their success in business. We also present stories on new projects for the governments. There are also have some good writers each month who talk about areas of interest, like health or finances and business. So, it's an informational tool for people and it allows people to find out more about what happening in the community…positive influence, not negative things, positive things.
"Sherry: "How do you see the future of print Scott?"
Scott: "As time goes on, things will become more electronic and quicker. Quicker access to information. When you do print, it takes longer to get print in to the readers hands. The beauty about the web is that you can add more sights and sounds."
Sherry: "Do you see print always being around?"
Scott: "I do, and for many, many years to come, but it is hard to say 35 years from now because you have to consider the environment. We don't really know what the world will look like 35 years from now. Will we stop cutting down trees making newsprint and putting out publications- it may be less likely, just from an environmental aspect. I think it is similar to the sense of what will cars look like 35 years from now, they may be all electric. There is tons of potential. Right now, there about 7.5 billion people in the world and I don't think we really know what it will be 35 years from now.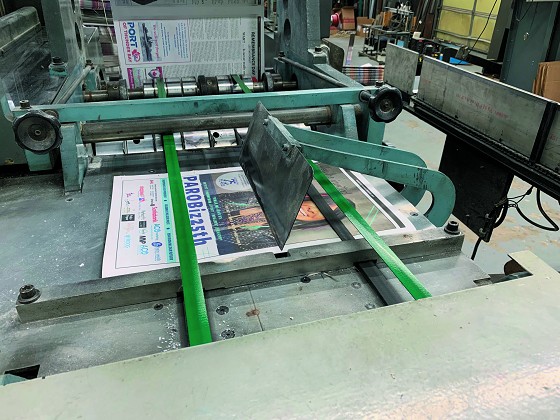 "Sherry: "I think the world is really different now from the time that you and I grew up."
Scott: "Yes, because just thinking about when I started this type of work, the computer that we used to produce the publication, just to do the layout, was like a 4 x 8 piece of plywood size…the printer and now you can do it on an iPad. It was very tedious and time consuming work back then."
Scott has a deep respect for entrepreneurs and business owners who have the responsibility of watching how every dollar is spent, in order to survive, especially in today's very competitive market, which includes advertising.The current team of North Superior Publishing Inc. consists of, Scott Sumner – Publisher, Sylvia Gomez – Marketing Manager, Sherry Hanes – Feature Writer and Ad Sales, Miranda Vandenberg – Graphics Specialist.Comments for congratulations to Scott Sumner are expressed sincerely by Sylvia Gomez, who has worked for North Superior Publishing Inc. for 14 years now and Sherry (Aalto) Hanes, who has been writing feature articles and ad content for the publication for the last 13 years. And also, Miranda Van den Berg, who has been the graphic artist specialist, making all ads look professional, for over the last 5 years.
It has and continues to be, a great experience working for and with Scott Sumner, who gives the freedom to fly with independent creativity and at the same time, direction to succeed.We, along with all those who admirably appreciate Scott Sumner, for creating and sustaining his publication, through good times and bad, in the interest of promoting Thunder Bay and the businesses that sustain us as a city and a region, we CONGRATULATE you Mr. Scott Sumner and we thank you for being the voice of positive influence for business and mankind.THE PRESS AND THE PRINT STILL GOING STRONG!Happy 35th Anniversary! As a feature writer for Scott Sumner, North Superior Publishing Inc., for the past 13 years, it has been and continues to be my personal pleasure for expressing passion through the presentation of news worthy articles of Thunder Bay and our Northern Region. Having the opportunity for meeting people from all over the world and being able to write about them in the Thunder Bay Business publication, leaves me with deep respect and gratitude for my publisher. I congratulate Scott on his 35 years of successful print publication and even though he insists, 'It is a team effort'...it all had to start somewhere! Congratulation Scott! Sherry Hanes