GREAT SNOWMOBILING AT CHARLEVOIX, QUEBEC

by Scott A. Sumner
The people of Quebec have a certain positive outlook on life it seems to me and snowmobiling is one of their favourite winter activities. The region of Charlevoix is a group of smaller towns to the east of historic Quebec City and is a very special setting. For the avid snowmobiler it certainly is a paradise.

There are easy air connections to Quebec City with Porter, West jet and Air Canada. When you arrive at the new Quebec City airport you will experience a very modern and well laid out facility that is one of the nicest you will find. Quebec City is an historic city in North America and offers much to see and explore.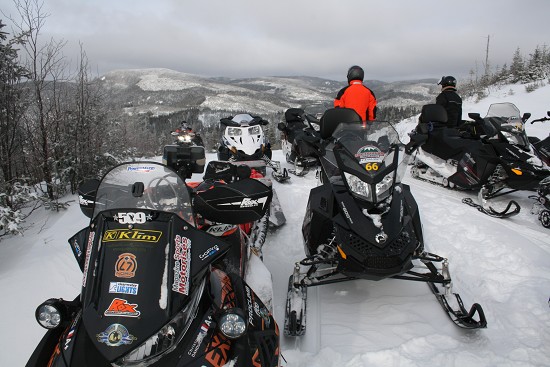 You snowmobile trip to the Charlevoix region could begin with a special train ride on Le Massif de Charlevoix, along the St Lawrence River where you can enjoy a beautiful breakfast, catered by Fairmont Hotels. Le Massif is a ski area and accessible by the train. The former manager of the Cirque du Soleil, who was born in the town of Baie - Saint Paul, decided to come back and develop a ski resort with the train and a new hotel. It will be become a major ski destination.

" We are like a gem not well known and have mountains, the St. Lawrence River and pretty forests. Snowmobile is not well known here yet but you will discover a different type of country with varied terrain and a nice view. There are some very nice outfitters here to welcome you as well," said Sylvie Marquois Dandurand General Manager of Tourism Charlevoix. They have excellent cuisine and can be off in the middle of nowhere with their electricity generated by the water. It is
very different from other parts of Quebec. Everything is small, charming and very secret. There are snowmobile rentals here more and more and we are at the beginning of something. We want the people to discover Charlevoix by snowmobile because it is very different."

Your snowmobile trip could begin at the famous 405 room Fairmont Le Manoir Richelieu that has everything you need to begin your adventure. " We are 112 years old and located right adjacent to the St Lawrence River. The resort was founded by a boat company that was traveling on the St Lawrence Seaway bringing rich Americans and Canadian to the hotel in the summer time only. They tried in the winter but in 1986 opened 4 seasons after the hotel was insulated," said Eric Quesnel, Director of Sales & Marketing for the Fairmont Le Manoir Richelieu. " We have beautiful winters here so want the people to come and enjoy that here. The property became a Fairmont 12 years ago after it was shut down for 6 months to renovate the entire building as well as adding a banquet room, indoor parking lot, outdoor sports facilities including swimming pool, fitness centre and kids play area with a $140 million renovation. The casino on property was expanded then as well. "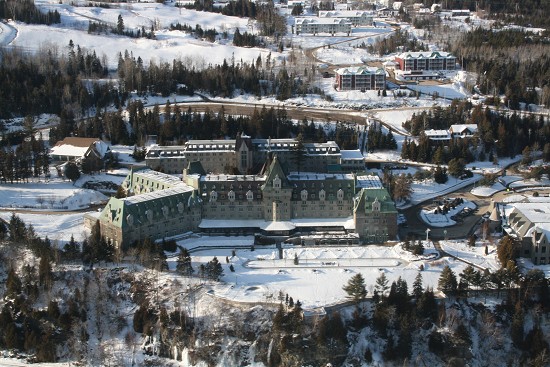 " This weekend were able to fit 113 snowmobiles with inside parking and had over 250 sleds outside for the snowmobile events. The snowmobilers are welcome at the Fairmont Le Manoir Richelieu a 5 star resort. We have great rates all season long starting from Sunday and Thursday at $139 per night. There are rental snowmobiles on site with all the clothing as well and a guide if you need one. We have a spa here and a casino for the evening. We are right on the trials and you
can access the hotel and underground snowmobile parking. We are a luxurious snowmobile hub and welcome snowmobilers here to do their favourite sport."

Also at the Fairmont Le Manoir Richelieu there is great skiing nearby, dog sled riding, snowshoeing and their own horses at the hotel where you can have a carriage ride for free.

In the summer the Fairmont Le Manoir Richelieu have a 27-hole golf course with all the holes facing the St Lawrence River. They also have whale watching which is very popular in the region along with tennis courts, volleyball and two adjacent national parks with walking trails. There is a large kids play area and baby sitting available.

After suiting up at the Fairmont Le Manoir Richelieu you are on the trials immediately and off to your next destination. The trails are very pretty to ride with great scenery and snow conditions. The area offers elevations of up to 3000 feet and some great snow conditions you might find in more western locations like BC.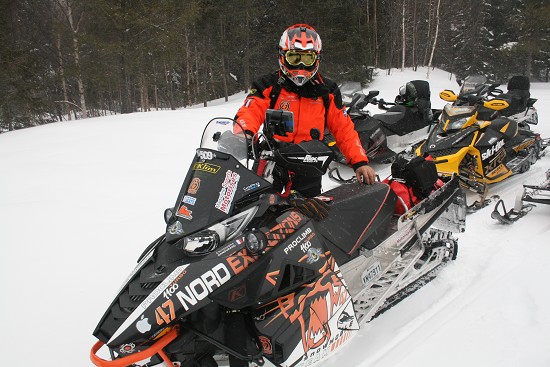 Another popular resort destination might be theL'Auberge du Ravage, which is a very unique large log cabin that features 12-second storey rooms complete with their own bathrooms. The main floor is a very luxurious setting with fireplaces and a fantastic dining area. The 5 star resort reminded me of watching an episode of the TV series " Northern Exposure" set in Alaska where Dr Fleischman and Maggie stumble on a luxurious oasis in the middle of nowhere on their search for the lost city. You can have blizzard conditions outside but be enjoying some fantastic wine and food in this special place.

It is always fun to have a guide on a trip like this who are very familiar with the area and can take you off trail to experience some beautiful country sites. The 47 Nord Expeditions compaany owned by Christoff and Paul will provide an excellent experience for you. These riders are absolutely avid snowmobilers themselves. Christoff runs a 2012 Arctic Cat Pro Climb 1100 Turbo sled and Paul a 2012 Ski Doo Renegade 1200, both decked out will GPS, left gas controls, extra lighting, many decals etc, etc. They love their sport!

The Charlevoix region is one of the most beautiful you will encounter on a snowmobile. It offers great-varied trails with good elevations and views. The snow conditions are excellent and make for a great snowmobile experience you should try.

See:

www.charlevoixtourism.com
www.fairmont.com/richelieu
www.lemassif.com
www.47nordexpeditions.ca
www.lacmoreau.com

for more information for your trip!