DUBAI: WHAT AN AMAZING PLACE
by Scott A. Sumner
If there is one city in the world that has tremendous interest amongst many people it has to be Dubai, UAE. When I found out last March I would be going to Dubai in August I knew by the enthusiasm I was getting about the location it would be a great trip.

My journey began with the normal Air Canada flight to Toronto late afternoon on August 15th. After a few hour wait in Toronto it was on to a Emirates Boeing 777 300 ER for the 13 hour non stop to flight to Dubai. The time change meant you lost 8 hours so I arrived there August
16th and was off to one of their 5* hotels, The Renaissance Dubai. I had a great conversation on the flight over with a 30 year old Canadian pilot with Emirates. He had started flying small planes here in Northern Ontario and now flew the Airbus 330 for Emirates. His next aircraft in which he was to be trained was the new Airbus 380, a 500 passenger world's largest aircraft . Emirates has 55 of these $400 million planes on order which gave me an idea of what to expect in Dubai. Incredible would be an understatement I was to find out continually in the next 10 days in the UAE.
Jenny Barrow is a Tour Guide for Dubai and Abu Dhabi with Vita Tours. She grew up in South Africa , was born in Austria and had a tremendous understanding of the area after coming to Dubai in 2001. " I love the energy with so much happening and everything possible. Dubai
is a clean safe city." smiled Jenny Barrow. Dubai has 40 % of the world's cranes on projects at the moment. A drive through the city reinforces this fact as there are endless construction sites with spectacular architecturally designed buildings going up. For example one area has 20 theme parks either open or under construction such as Dreamworks, Universal Studios, Marvel Comics, an Autodrome where you can drive an F1 car etc. This is all part of a $ 68
billion development, one of many in Dubai. In addition to this are 60,000 new hotels rooms that have to be ready at the same time.There is also a $ 6 billion metro transportation system under construction to help move people and eleviate traffic which is huge in Dubai. The Metro will be ready 9- 9- 9-.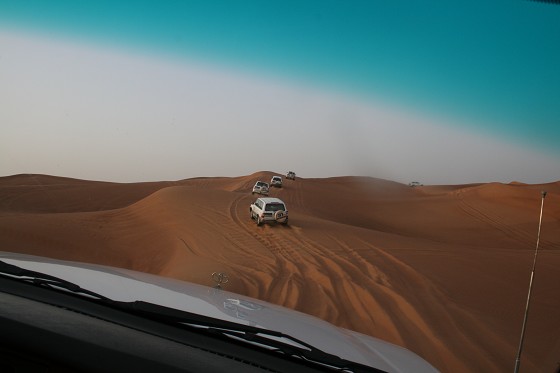 They are going to build the largest hotel in the world in Dubai called Asia Asia with 6500 rooms -half will be 4 star and other 5 star. The highest free standing building in the world is under construction. Now it is 700 meters and is to be between 800 and 900 meters when
finished. It will have offices as well as businesses and an Armani hotel with 160 deluxe rooms and 114 Armani apartments all of which are sold out. Next to this building will be the shopping mall, Dubai Mall with over 1000 shops opening the end of October 2008.There is another
mall coming as well which will be even larger.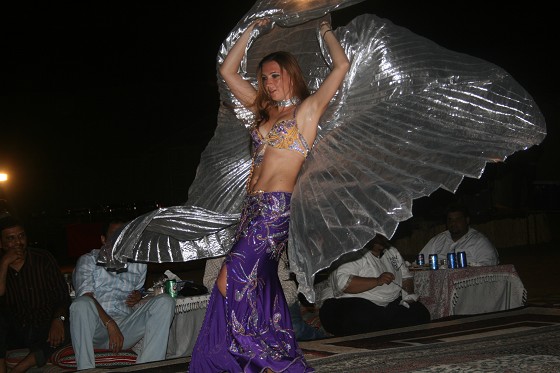 " The Guinness Book of records should be rewritten the Dubai Book of Records because everything in Dubai is going to be the biggest, the largest, most beautiful and most expensive in the world." smiles Jenny Barrow. " The malls will bigger than the Mall of America. In the Mall of the Emirates, a large shopping mall, you have the Ski Dubai with a slope of 400 meters where they produce 6000 tons of new snow each day with big blowers on top. It has been open for 4 years and has had over 1 million visitors in the last year. The children in the UAE have
never experienced snow or cold weather before. When the children came to Ski Dubai for the first time they rush back to their mummies when experiencing the cold and then they rush back in with big smiles on their faces. They love it and cannot have enough of it. A new Ski
Dome is under construction and will have a complete ski village in it."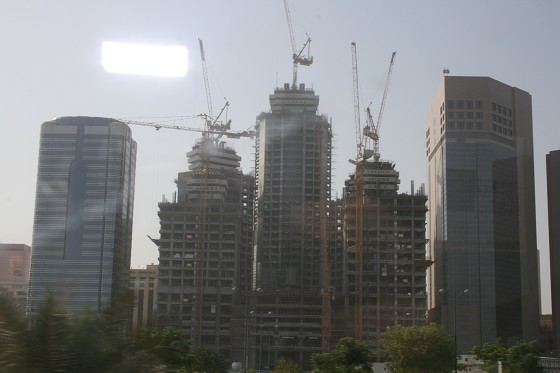 The latest population figures for the UAE including 7 Emirates are 5. 5 million people with 1.5 million in the Emirate of Dubai including 20 % Emirates and 80% foreigners representing 202 nationalities. Abu Dhabi has 1.7 million people and the other Emirate 2.3 million.
Abu Dhabi is the largest Emirate and Dubai second. During our trip we drove through 6 of the Emirates. With all these foreigners there is less than 1% criminal activities. " They are very diligent and don't need any problems. The people come for work with a 3 year permit- 5
years for government workers. In Dubai there are 400,000 new jobs expected in the next 5 years," said Barrow. "We don't have any taxes here, except on oil companies and banks. We have a small import tax which they are going to do away. Sales tax is coming next year at about
3%."
The champagne weather in the UAE is from October to April. The air is fresh then and between 22 and 28 degrees Celsius. During our August visit the air temperature was between 42 and 50 degrees Celsius. That was as hot as I have ever experienced and made for some
interesting golf games on the many beautiful courses we got to play. There are 19 courses now and they are building several more including the Tiger Woods course.
Dubai is going to run out of oil in the next 7 to 10 years. At the moment the GDP is 3% from oil. 97% is outside of oil of which tourism is about 50%. When oil was discovered in the early 60's they knew the oil was limited so started to diversify right away. The money went into
development and was an astute investment. " The Dubai rulers are different and have pride in their country. In Abu Dabi right know 85% of the revenue is from oil and they are starting to diversify with projects like the $68 billion entertainment development. Many heads of
states have marched though the UAE. We are the Switzerland of the Middle East and are interested in business, not conflicts or politics," said Barrow. " After 911 it was dead here but immediately the rulers went into action with good offers and by March we were back to normal.
In the UAE we have a parliament. Some are elected to Upper House and the Sheiks decide who will be President. We had half elected and half appointed and that will change in the next election. Being close to Iraq, Iran and Afghanistan hasn't effected Dubai. We are experiencing
fantastic growth!
If you ever get the opportunity to visit Dubai, I am sure you will as amazed as I was. It is really an incredible part of the world!