THE NEW CABOT LINKS SOON MAY BE CANADA'S FINEST GOLF COURSE


by Scott A. Sumner
www.golfingnews.ca
There has been much anticipation and excitement for a new true links style golf course in Canada for several years. It was my pleasure to play the recently opened preview holes of Cabot Links located in the beautiful ocean front setting of Inverness, Nova Scotia on Cape Breton Island.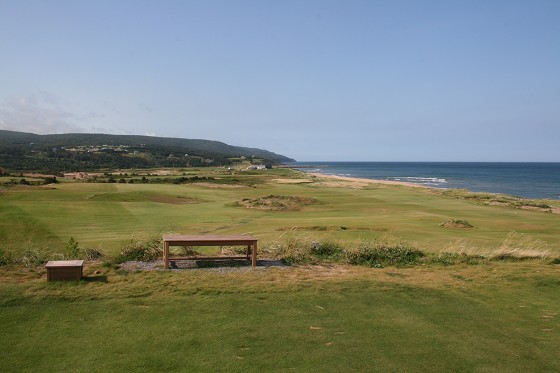 Ben Cowan- Dewar, age 32, is the managing Director and one of the owners of Cabot Links. " I started a golf travel company 12 years ago and had been fortunate to travel and play a lot of golf at the worlds great courses. After these experiences I wanted to develop a course myself and with that aspiration we looked at parcels of land, found the Cape Breton site and just fell in love with the land. We never brought people here before in the golf travel business but I had been here on my own. Adding another course here in Capet Breton would make the destination even more appealing,"said Ben Cowan-Dewar, who plays golf to an 8 handicap. " There was an idea to build a golf course long before we became involved. Nicklaus Design had even done a routing at one point. When I first took hold of the idea in 2005 it required about 2 1/2 years to obtain the land because there were quite a few parcels owed by various levels of governments and other stakeholders.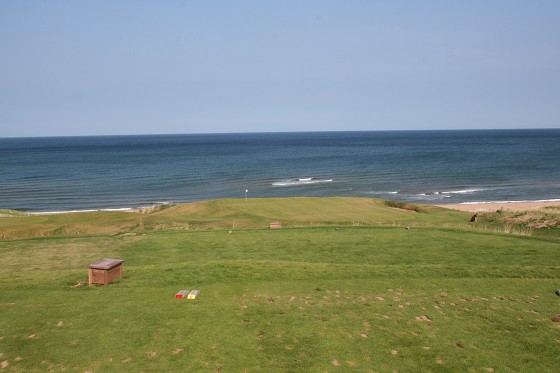 In late 2007 Cowan- Dewar and his team acquired the land and started construction in 2008. " We had the ability to take it slow, build all the key features and to open 10 preview holes this year and get a sense of the operation and see what people like. It has been a fun go-slow
approach. My partner is Mike Kaiser, owner of the golf resort Bandon Dunes in Oregon, who has been so successful by building several golf courses on one site and building even greater destinations. With Mike being the king of remote golf similar to Bandon it made sense he be a
partner. We are a destination not near a main centre," said Ben Cowan-Dewar. "This Cabot Links site is about 200 acres and we also have hundreds of acres for future development right adjacent. It is about finding a great seaside site. Rod Whitman is the architect and has done some Scoregolf magazine top 25 courses like Wolf Creek and Blackhawk both in Alberta. He has since opened Sage brush in BC. I had knew Rod for a number of years, played golf with him and was amazed with his work so set him loose on this site."

Ben Cowan-Dewar started playing golf as a very young child and used to draw golf holes as a 6 year old. He thought he wanted to design golf holes but instead he is now developing them! " This has been quite a venture and a lot of fun. It has been amazing to have it come to reality and see what were the towns dream before it was mine come to fruition. We believe in the site and destination and think it is something unique in Canadian golf terms. We are targeting the traveling golfer much like the success of Bandon Dunes in Oregon, which draws golfers from all over North America. The most common gateway here is to fly to Halifax and drive up because they have direct flights from many US and Canadian cities. There is talk of an airstrip closer to here so they can fly in their own planes or hopefully we will get a scheduled service here. It would be great to have Porter Airlines here," said Cowan-Dewar.


" The biggest challenge was putting together the land and beyond that is has been fun. We like our clubhouse, which is very unique, like the golf course. It is 5000 square feet and a modern look from a Halifax based architect. It is nice and I like how it sits on the land. We are
beginning construction on 50-room hotel in the next two weeks and hope to be open next summer together with all 18 holes. It will be a reasonably high-level hotel and all the rooms will face over the ocean. We are excited seeing the hotel take place. It is an expensive project
but we don't focus on the money we spent but just try to do a good job," said Cowan-Dewar. " I like links golf and have spent a lot of time in Ireland and the UK where you hit the ball along the ground and try different shots using the bump and run with some great contours. The scenery and seeing the water from all 18 holes make it special. The weather here today is nice at 27 Celsius and sunny. We do get days of wind but for the most part it is a reasonable nice climate. We have been as busy in poor weather with people who want to experience true links weather."

Cabot Links will typically open in mid April to mid November for a 6-month season. The body of water on which the course is adjacent to is warm and temperate into the fall and you can get nice fall days according to Cowan-Dewar who moved to Inverness three years ago from Toronto and built a home living year round. " We are targeting July 1 for next year for all 18 holes and anticipate the green fee rate will be around $100. We are a walking only course but have a couple of carts for people with mobility issues. One of the great traditions of a links course is walking," said Cowan-Dewar. " We are thrilled with the progress so far here at Cabot Links. There is so much to do in the area as well. Inverness had live harness racing yesterday and there is the beautiful beach. The Cabot Trail is a great part of any trip to the area"

It was great fun to play Cabot Links with caddie Neil. The setting really reminded me of Pebble Beach, which is high praise for sure. Playing bump and run shots like I have done before in Ireland golf is a nice way to play the game. Cabot Links is a course you definitely
want to play and I'm sure you will be absolutely impressed. I look forward to playing the course again when all 18 holes open next year! see www.cabotlinks.com for more information.