Exciting New Performance KIA Building Almost Complete
by Scott A. Sumner
We had the opportunity to sit down with Kevin French, Dealer Principal Performance KIA to talk about their impressive new, state of the art, from the ground up building in Thunder Bay's Innova Park.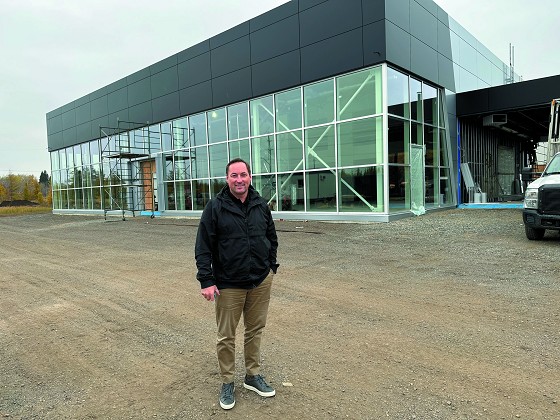 1.You have had a fairly long history at the dealership yourself Kevin. Can you give us some of your background?
"I'm originally from Emo,Ontario but left as a child and grew up in Thunder Bay. I've been in the car business for 23 years and have worked at the local Kia dealership since 2000. Prior to this I was briefly in the office supply business through an old hockey coach connection. I played some competitive hockey in Saskatchewan and North Dakota."
2. Can you give me some history on the KIA dealership in Thunder Bay? When did it open and I understand there was a previous ownership? The store has been very successful in Thunder Bay since the beginning?
"KIA came to Thunder Bay in late 2000 with Bruno Niederer and I jumped on board in 2001. It began in the current location we have been operating in with the front lot only. I only missed being here for 3 to 4 months of the beginning of the dealership."
" KIA in Thunder Bay was one of the first 10 to 20 stores in Canada, a very early store.They were in the US in 1993 and worldwide even prior to that and are a Korean company. The cars are now mostly manufactured in Georgia, USA and Mexico, due to their market share in North America, with a few coming from Korea. If car companies have good market share in a country it is important to have a manufacturing plant in the country as well to save on shipping costs etc."
" KIA has come along way over the years.When I started we were a 2 car company and may have had 4 of them on the lot. At the start, because KIA wasn't in North America, they built for Ford and branded as Ford. You start with basic cars and then get more elaborate."
"Performance KIA got larger quickly so the lot behind us here was purchased. As we got more customers for service type reasons, we needed more bays so we rented some bays next door from Nissan. As sales volume and inventory grew we acquired a compound to store cars and then Midas built next door. They bought the Midas building and we moved there next. Bruno retired in 2017 and I became dealer principal, not owning the land or building.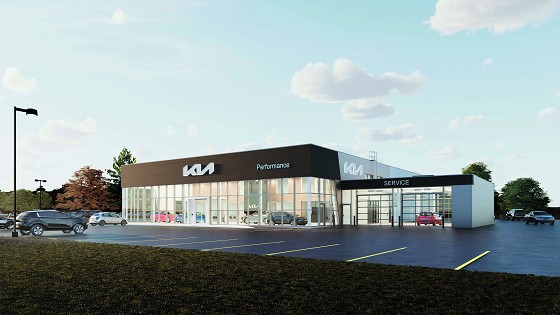 3. The KIA dealership is soon moving into a brand new state of the art facility. This is a major accomplishment and I'm sure has taken great planning and effort to accomplish. Tell me about the process and steps along the way? What was involved in this build including the time frame involved, contractor, sub trades and their work?
" We decided to build a brand new dealership and are one of the first KIA buildings brand new from the dirt up in Canada. At that time KIA changed their logo from red to black and silver and no one had built a brand new store with this new image. There was a bit of down time until they told me what we could build and what is was going to look like. Then steel was back ordered nearly a year which delayed the project a good year and half. The project from when the land was purchased to the finish line will be about 3 years."
4. The new KIA facility looks beautiful! How has it changed from the previous location? What are some of the unique changes that have been made?
"The building will be on 5 acres, with our total property being 11 acres which we won't use all of at the start. The building is 18,500 square feet with a 4 car drive through and 12 bay shop. KIA Canada has a plan and all we can do is follow their plan. We can display 6 cars inside in the showroom. There will also be a spot in the showroom where we can deliver the car to a new customer in front of the office where everything is finalized."
"Covid, inflation, shortage of workers, high interest rates and supply and demand has driven the price of the building up. The dealership is nearing $10 million in cost.We are excited to have a good facility for our staff to work in that they are proud of as well as offering a great experience for our customers. We will have 266 parking spaces that are organized and we can group cars well."
" We can get some support on the signage from KIA because of the new logo imaging. The new logo is new and fresh and reflects change from the start in Canada 23 years ago representing quality. KIA is now near the top of quality."
"We have 19 staff currently based on our facility and inventory. We can expand when we get to the new building and have more inventory."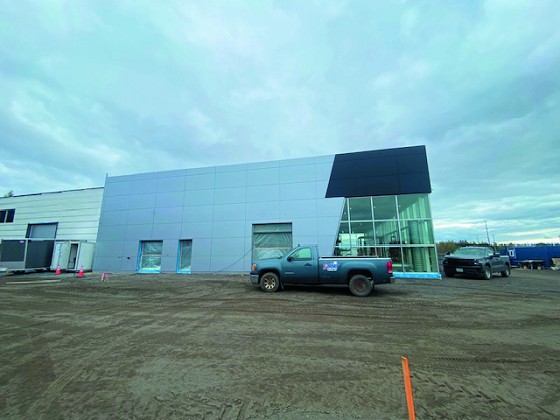 5. It has been quite a journey getting to the finish line with the new building?
"The building project has taken about 1 1/2 years longer than expected but it could have been worse.We haven't been getting the inventory we are used to getting, and have a back log of sold cars. For the last year every single car we get is pre sold. In the past you would always have a large inventory on site."
" Used cars are also harder to come by today because there is a shortage of new cars and less trade ins.When people come to the lot and there are no new cars they are fighting over the used. Now most cars are presold. We do have a good base of KIA customers in Thunder Bay to draw from. Late 2024 should have improvement in the numbers of cars on the lot."
" We look at the real estate as a long term investment, you don't look at it as overnight- we call it for the kids. Most of the dealers in Thunder Bay are second and third generation businesses and somewhere along the line somebody had to do what I have done today. We are a first generation business."
" Tom Jones has been doing a good job. In Thunder Bay projects like the jail have created a demand for trades people and we don't have enough here I think."
6. KIA has made great strides with their product offerings. Tell us about the progress including new electric vehicles from KIA?
" KIA has put a lot of emphasis on electric vehicles. We are fully embracing electric vehicles. One of our sales representatives, Mandy drives one, my finance manager drives one now and my wife and I just
ordered one, its coming.We are fully embracing it with the new dealership with an EV island charging stations, as well as inside. By 2025 KIA will have over half of the lineup being totally electric."
7. When do you plan on being fully operational at the new location?
"We get the keys to the service centre November 15th and will be fully out of our temporary location by November 30th.We will pave the lot and landscape next June."
" It's going to be exciting in the new building for all of us and I hope for our customers as well."