Northwestern Ontario communities come together at Nuclear Exploration Event
Hundreds of people from Ignace, Wabigoon Lake Ojibway Nation and surrounding communities came together to learn more about nuclear energy, nuclear safety, community willingness, local environmental research and more at the recent Northwest Nuclear Exploration Event hosted by the Township of Ignace.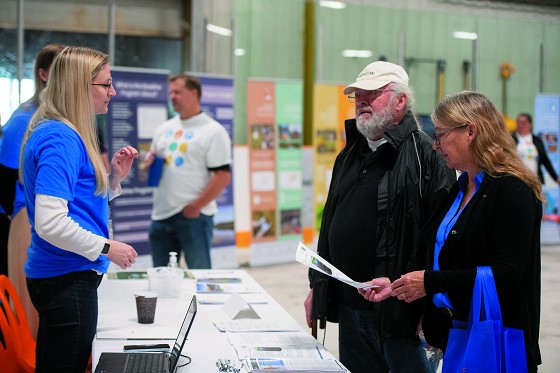 "The NWMO team was excited to participate and to answer questions from the community about the proposed deep geological repository for Canada's used nuclear fuel," said Lise Morton, VP of Site Selection at NWMO. "Dialogue like this is critical to the site selection process and it was fantastic to see so many people take the opportunity to learn more about the project and other aspects of the nuclear industry."
A highlight of the event was the open dialogue facilitated by consultants working for the Township of Ignace's Willingness Committee. Attendees shared their views on the proposed deep geological repository project, a critical step in the Township's process to ensure the public has ample opportunity to provide their feedback.
"This event was all about the community, offering people the chance to hear from experts from various sectors of the nuclear industry, ask questions and gain a deeper understanding of the project so that as a Council, we consider their perspectives," said Interim Mayor Kim Baigre.
The event also shone a spotlight on science learning thanks to demonstrations by Science North, exhibits in the NWMO's Mobile Learn More Centre and presentation by Professor Jason Donev about science fiction on how we view science. Attendees also had the chance to hear new about the Township of Pinawa, a Manitoba community which is home to the first demonstration site for a new type of energy generating small modular reactor.
The NWMO thanks the Township of Ignace for their continued engagement and looks forward to continuing to support people to learn more about the project.  
About the NWMO
The Nuclear Waste Management Organization (NWMO) is a not-for-profit organization tasked with the safe, long-term management of Canada's used nuclear fuel inside a deep geological repository, in a manner that protects people and the environment for generations to come.
Founded in 2002, the NWMO has been guided for more than 20 years by a dedicated team of world-class scientists, engineers and Indigenous Knowledge Holders that are developing innovative and collaborative solutions for nuclear waste management. Canada's plan will only proceed in an area with informed and willing hosts, where the municipality, First Nation and Métis communities, and others in the area are working together to implement it. The NWMO plans to select a site in 2024, and two areas remain in our site selection process: the Wabigoon Lake Ojibway Nation-Ignace area in northwestern Ontario and the Saugeen Ojibway Nation-South Bruce area in southern Ontario.