PLANES, AUTOMOBILES, SNOWMOBILES AND A SHIP: MY ADVENTURE IN THE QUEBEC MARITIME REGION
by Scott A. Sumner
At this time of the year the thoughts of many people are about traveling somewhere warm to escape winter. I guess I'm exactly opposite as the colder weather and snowmobiling are high on my list!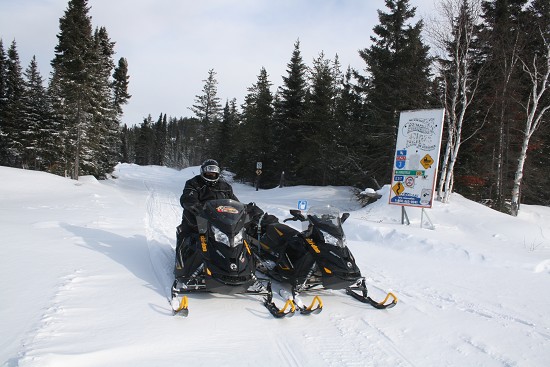 Quebec is my favourite destination anytime of the year but the wintertime offers some fantastic snowmobiling opportunities and this year my travels would be to the Quebec Maritime region. My trip began with a flight to Toronto, then Montreal and Mont Joli. A unique experience on these flights was when Air Canada placed a Boeing 777- 400-passenger jet on the Toronto to Montreal route, a 45-minute flight. The 777 is a plane you usually see flying to Europe but an earlier cancelled flight meant they had to play catch up with passengers. It was a fun experience! After landing in Mont Joli in a Dash 100, we drove to Rimouski.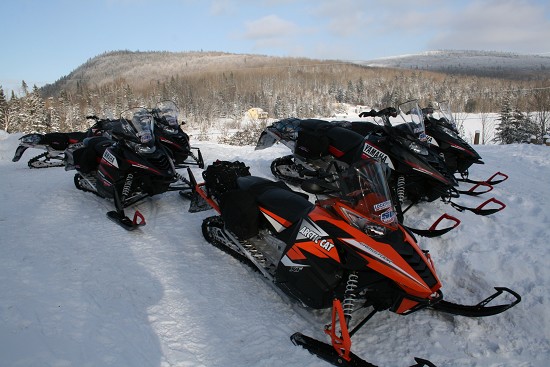 The Quebec Maritime region is composed of the 5 eastern regions in Quebec. The main economy here is fishing and research on fish species. Sydney Crosby played hockey here in the Quebec Major Junior League called Oceanic. " You will start your snowmobile trip here in Rimouski with your guide, Steve Gaudreau who loves to ride. It is then on to Saint Gabrielle and to Matane to Matane Motorsports. Then take the ferry from Matane to Godbout and ride the south shore to Bai Comeau and then Forestville for an overnight. The last days ride is to Sacre Coeur and then on to Quebec City by car." said Suzie Loiselle, Media Relations Officer for the Quebec Maritime region.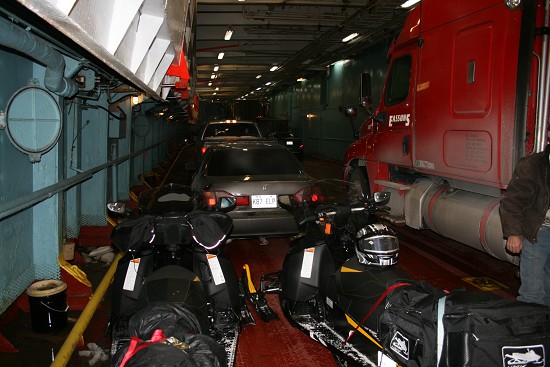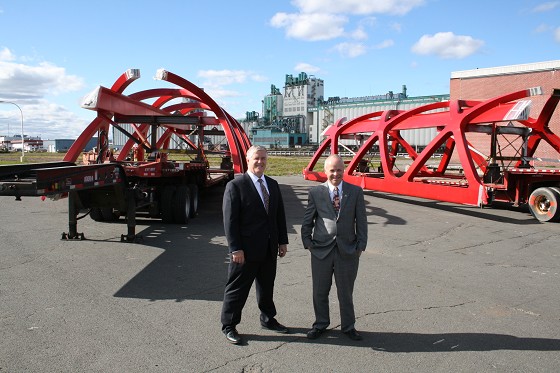 A very unique part of this trip for me as a snowmobiler would be crossing the St Lawrence River by ferry with your snowmobile. This is only ferry where you can take your snowmobile on the ship along with other cars and trucks including transport trucks. " You can bring your own sled or rent a sled here, which are usually brand new 2014 Ski Doo sleds. We have over many km's of snowmobiling trails that are well groomed. There are guides to help you and a system in place where you can call and ask for information anytime. You can do loops from one main hotel or longer routes." said Suzie. " The Gaspésie Tour can be over 800 km and can take up to a week. A normal riding day is about 200 km. We can have up to 6 meters of snow here similar to the Mont Vain in Lac St Jean Saguenay. We have the longest snowmobile bridge in the world here as well."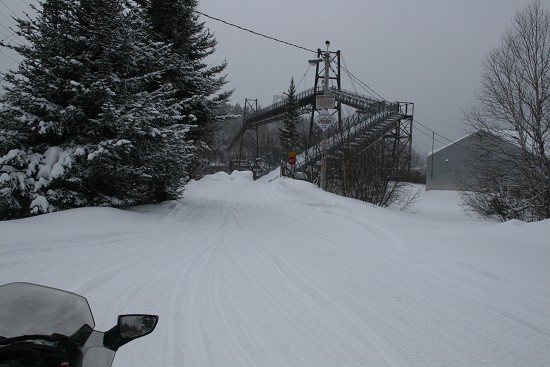 Our ride began well in crisp cool weather aboard our 2014 Ski Doo Renegade 900 ACE sleds. The trails were beautiful as usual in Quebec- wide, well groomed and picturesque! My only wish was for a full-faced helmet. At home I am used to a motocross style helmet and goggles but the cool weather made for a helmet change for day 2.
Our day began with an early start to board the ferry, M/V Camille-Marcoux at 7:30am. The ship is 37 years old with a new replacement coming late in 2014, which will start operation March 15, 2015. New regulations on security and environment require the change. In 1975 the ship cost $13 million while the new one is $147 million. People take the ferry for work to save time in their travels. You can save over 500 kilometers by not traveling back to Quebec City to reach the other side of the St. Lawrence. The ferry goes twice a day in the winter and three times in summer. The snowmobile ferry cost is $42, a car is $42 plus each person pays an additional $17.50 and a transport truck is about $360. The route to go to GodBout is 55 km and Bai Comeau 61km. The water at the crossing is very deep, up to 1000 feet. The water is saltwater with a change at Lac St Jean to a salt and clear water combo.
" We see many grain ships coming by on the north part of our route. The water tide here can be 11 feet. We get up to 600 people on board in summer time and during the winter we get 200 to 300 people. There have been snowmobiles on board each day. We even break ice with this ship.," said Mathew Harrison, Stewart. After driving our snowmobile off the ship it was directly on a 250 km ride to Forestville. Today the weather was warmer but near blizzard conditions made for some difficulty seeing.
My guide on this trip was Steve Gaudreau who was born near Quebec City and ran his own rental company in Quebec Eastern until recently. He sold to Matane Motorsports recently because it was 7 day a week job and Steve wanted to spend more time with his family. He still loves snowmobiling and continues to do some guiding. Steve is also a test pilot for a Quebec snowmobile web site and this year is riding a 2014 Arctic Cat XF 7000. " We started our ride in Rimouski with Matane Motorsport on their 2014 Ski Doo Renegade 900 ACE's. It was windy and cold but the trail was excellent and well groomed with sunny conditions," said Steve. " The Gaspésie region allows for trips of 5, 6 or 7 days. You must take that full trip once in a lifetime, as there are big mountains and the sea in the same picture. We call it the Little Rockies. When you talk about snowmobiling 8 out of 10 will say Gaspésie is the best. We saw a group here today riding from Paris, France."
In this area of Quebec you can begin the snowmobile season at the end of October and ride until early May. You can bring your own snowmobile or rent one there and have a guide. If it is your first time it is good to have a guide according to Steve. Snowmobiles rent for $200 to $250 per day and a guide will cost $ 300 per day but a riding group can split the guide cost.
Our final day of riding was bitterly cold again with winds of up to 70 km. However when you are well dressed the riding is fun especially with a few stops along the trails to warm up with hot chocolate! We arrived at a very unique property called Centre de vancance Fere 5 Etoiles that means a 5 star farm in English. The farm is sitting on 700 acres and offers different types of cabins and many activities to enjoy.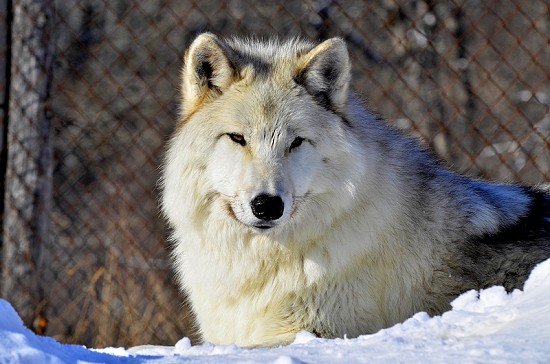 " We have an orphaned animal centre where we take animals and give them a second chance. There are nearly 40 species here including moose, fox, cougars, wolf, deer and bison. All of the animals were in trouble and orphaned or taken from zoos in the US which were closing." said Dereck Blouin Perry, Outdoor Sports Guide. " We also have nice dining, many snowmobile rentals from 1 hour to 6 day guided tours as well as dog sledding with a 50 dog kennel here. There is snowshoeing, ice fishing and trapper interpretation. You get to see the animals and pet the animals. Many of our cabins bring us close to the Saguenay River with some really high views."
The property is adjacent to the Saguenay Fjord, some 300 meters deep in places. The lowest water depth is salty and very cold while higher up is mild and freshwater. You can see whales from here.
My snowmobile adventure had come to an end and it was off to Quebec City by car for the return flights home. This part of the world is absolutely beautiful and can be experienced in the winter especially well by snowmobile.
For further information visit www.quebecmaritime.ca