MT TREMBLANT GREAT GOLF AREA TO VISIT
by Scott A. Sumner
www.golfingnews.ca

The arrival of Porter Airlines in Thunder Bay has been great for creating connections to other parts of the world. Their 5 flights a day to Toronto's Island airport has made traveling to the destination of Mt Tremblant near Montreal very easy. It was my pleasure to visit Mt Tremblant to play some fantastic golf and see this pretty part of Quebec.
You can leave the Thunder Bay airport mid morning with a stop in Toronto and be in Tremblant by 3 pm. That's a pretty good connection and once there you have the option of picking up a rental car or taking the shuttle directly to you hotel. The Mt Tremblant airport is located about 30 to 40 minutes away Tremblant. This airport is very interesting as well as it is the only privately owned airport in Canada!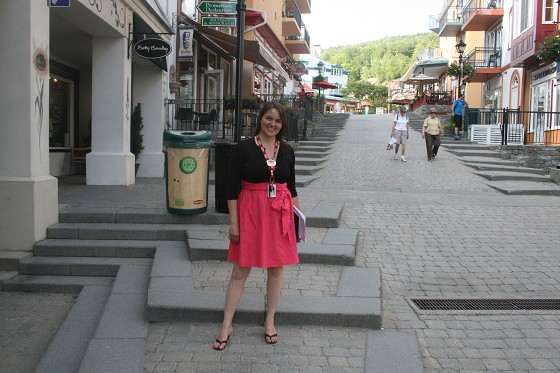 " Mt Tremblant is a 4 season resort where you can find anything from everything basically. If you are outdoors there is so much to do that even after a week you can spend so much time you won't even experience everything," said Katherine Lacasse, Public Relation Manager
for Tremblant. " In the summer our main specialization is golf with the Le Diable (Devil) and the Le Geant ( Giant) courses right on property. In the winter we sell ski tickets and in the summer we sell activity cards which can allow you to do so much like take a luge ride, play mini golf or rent bicycles for our trails. The kids can access the beach and tennis club on the shores of Tremblant Lake. There is also canoeing, paddle boats, kayaking, boat tours, pontoon rides, rock climbing, horse back riding, white water rafting and mountain biking."
Mt Tremblant is a family type resort but even as a couple you can find a lot of romantic things to do according to Lacasse. There is casino at Tremblant which has been open since June 2009. It is the middle of the woods on the other side of the mountain.
Mt Tremblant is a Intrawest company development.There are about 1900 units from condo to hotel rooms with some on 2 floors. Included are other brands such as Fairmont, Westin or Marriot. The two golf courses are the Le Diable, which is know for it's red sand bunkers. Le Geant is in the mountains and the views are beautiful with a lot of plateaus. Mt Tremblant have packages for lodging and golf or activities. On the comprehensive website you will find everything. www.tremblant.ca
There are about 8000 people living in the town of Mt Tremblant which is located about 1 1/2 hours from Montreal and about 2 hours from Ottawa. There is the Mt Tremblant airport which is about 1/2 hour away. If you fly from the Toronto City Airport it takes about 55 minutes to get here. You can take a shuttle from the airport where they will bring you directly to your hotel. It is a nice drive from the Mt Tremblant airport. You drive through some historic villages.
In Tremblant you can walk to where you need to go. You can also take a shuttle to the golf courses and a panoramic gondola to the casino. This gives you a beautiful view of the resort. The fall season is very popular with the leaves," said Lacasse. " Our main event in the summer is a blues festival which is held from July 8th to 17th. We have big names like Taj Mahal and all the shows are free. Some can watch the event from their
balconies in their hotel rooms."
" I think we are very comparable in price to any hotel you would stay at around the world. You also get the added value of a pedestrian village, both summer and winter. The gondola and beach club are free. In the winter there is a ice skating rink and fresh tracks program where you ski on the mountain first in fresh snow. It is the whole deal and you get a lot of value. We have lowered some prices on peak times to help get people to come," said Lacasse. " We hear a lot of languages here with french for sure but you hear lots of different accents.I feel on vacation here all the time. Everything is to make you feel comfortable here."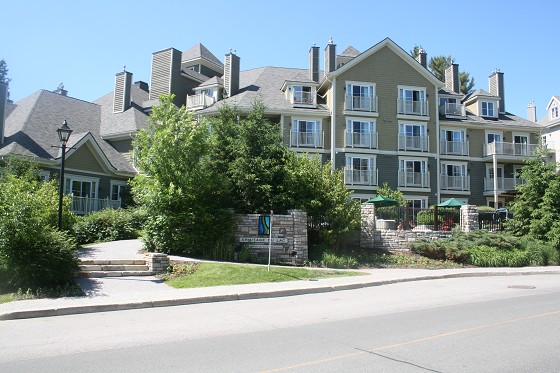 My hotel in Mt Tremblant was Ermitage Du Lac located right in the Mt Tremblant village. It was a great place to stay with beautiful rooms complete with fridge, stove, microwave, etc if you wanted to make some of your own meals. A nice breakfast is included during your stay.
Another unique feature of Mt Tremblant is their race track 6 kilometers away. There is a Ferrari Driving school there and they have different race events throughout the summer.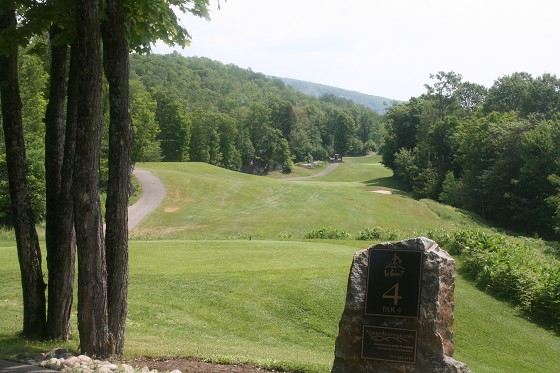 My first course to play at Mt Tremblant was La Geant. This course is right at the main entrance to Tremblant and proved to be a very picturesque setting. The Tom McBroom design offers very undulating terrain which provides a good challenge for golfers. They are investing in drainage here at the Le Geant. Last year $186,000 was spent on Hole number 2 itself. They want to be able to be open more often evenin wet conditions.
My day at Le Geant was on a Friday which would have 184 players on the course that day. The cost to play Le Geant is $79 during the week and on the weekend $99. Their season starts in May until late October according to Denis Marchand, a starter at the course. The summer can be warm at 30 celsius in the area and my day was sunny and warm. I really enjoyed the scenery at La Geant.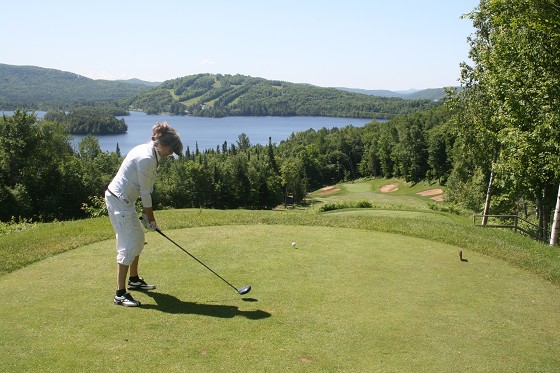 On Saturday it was an early 7:20 am tee off at Le Diable. This well known Quebec course was built in 1998 with architect Dan Fry. The first thing you will notice at Le Diable are waste bunkers. They are huge and make you more motivated to hit a ball on the fairway during your game. They do add a nice ambience to the course and are something I have not seen often. The fairways are more flat here than at Le Geant. The quality of the greens are the same at both Intrawest courses with bent grass. At Le Diable they are redoing all the sand traps with new sand and there are many traps. Le Diable is a great challenge for golfers. You have to get used to playing from large waste bunkers especially if you aren't a straight hitter of the ball! I really enjoyed the scenery at Le Diable as well. It is just a few minutes away from the Mt Tremblant main centre.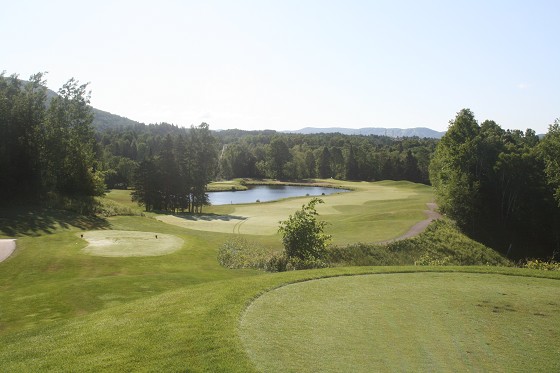 My last course at Mt Tremblant was La Bete at Gray Rocks. It was fun to play with Daniel Cordier, one of the owners. " We bought Grey Rocks 20 years ago and it was a large hotel with over 300 rooms, 22 tennis courts, a ski hill and one golf course at the time. La Belle. We built a second course La Bete around the same time that Le Diable was being developed. La Bete is located on 300 acres and the architect was Graham Cooke along with his partner," said Daniel Cordier. " I like the property very much. We made sure that most of the tee shots ended up with an elevated tee which gives a certain feel for the golfer. I have played the course almost 850 times and what I like the most and appreciate is there is not one hole that looks the same as
another hole. I like being here in the spring and summer even though the fall is usually the best time on a golf courses. My wife and I spend 8 months of the year living in France where I live on a golf course. We are crazy about golf!"
During my time at La Bete the rate is $99 including the cart which is a good value. You can get twilite rates as well. In the fall it is beautiful with the leaves, the mountain and the lake. It is really worth to come here in the Fall according to Daniel Cordier.
It was fun visiting Mt Tremblant and playing some golf. This is definitely a world class resort and one you can get to easily for a nice vacation summer and winter.