PARO Centre for Women's Enterprise Encourages Businesses To Keep Contracts and Dollars in the North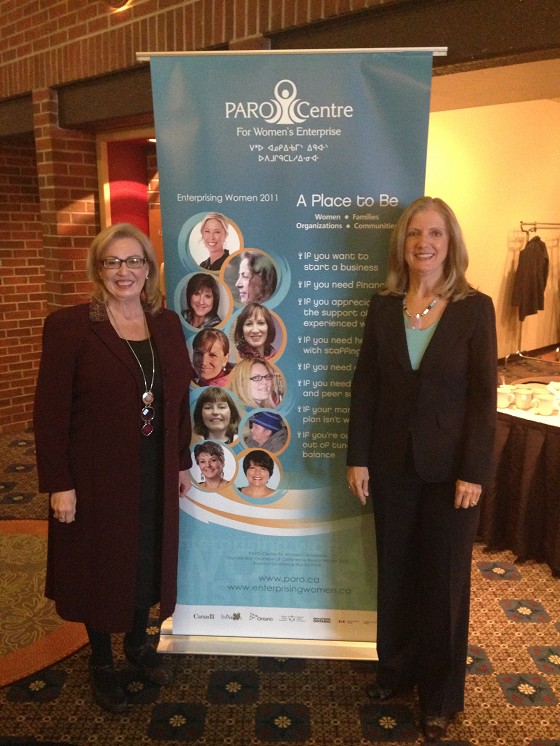 by Scott A. Sumner
Each year the PARO Centre of Thunder Bay holds a special event called the Enterprising Women Event. This year the Valhalla Inn ballroom was active with presentations and exhibits. In the evening PARO will be presenting their Enterprising Women Awards and their PARO Awards at an awards gala.
" We use this medium to help women to understand and acquire and grow the skills they need to grow their businesses. Today we have invited large purchasers to present to the conference about their needs. For small businesses they have to learn certain skills to deal with these large organizations," said Rosalind Lockyer of PARO. " Right now billions of dollars are going out of our area, as the small medium business doesn't see them as part of the supply chain. We are trying to open up the gates so they can see themselves as part of this chain."
PARO is serving more and more women. Last year they helped 59 businesses to start. This year PARO has helped 103 businesses to start, which is good growth. PARO also works with 87 businesses to help them maintain and grow. They helped to create 292 jobs in the region. Also PARO helped women businesses access grant and loans totaling over $3 million since 2009 to go in their businesses. " This is important for our Northern economy. Small businesses spend their money in the local economy. We want a sustainable local economy and look at the big picture," said Lockyer. "Our Enterprising Women Awards were chosen by a panel of 4 two women entrepreneurs and 2 practices we work with after nominations. Our PARO Awards are chosen by their piers."
Dan Munshaw is the Manager of Supply and Management for the City of Thunder Bay. " We need to reach out and help business to grow, develop and we share information about the rules we work with at the city. Council wants to promote and encourage economic development. We look at what are the values local suppliers can bring to us at the city. They have ability and can react to change. Local businesses doing business with government need to know the rules so they can use the rules to leverage and grow their business using a partnership approach." The City of Thunder Bay has a capital spend of about $40 million each year as well as operating ongoing supplies used on a day-to-day basis.
Betty Wood is the Lead Strategist for Business Enterprises of We Connect Canada. We is a national not for profit organization lead by large corporate partners like our banks, TELUS and so on. Their mandate is to increase access to opportunities for women owned and managed businesses. " Our main activity is certifying the business is women owned and managed and we do this on behalf of the corporations so they know these businesses have been validated as supplier diversify. We also have activities where the women can meet with corporate buyers and have matchmaking sessions to make a match say with promotional products. We have partnered with PARO in Thunder Bay to see if they can help us in this area with our programs. It is about making the introductions. After that the women owned business must compete for the business. We offer training and have webinars to businesses across the country." Supplier diversity is a new activity in Canada and started in 2009. It has been very strong in the US and started there in 1997.
Suzanne Tighe is Owner and Managing Director of Nurse Next Door and won the Enterprising Women Award 5 Plus employees. "We launched in March and already have 25 people on payroll which shows the need in this community. We have 4 registered nurses on staff including one that specializes in foot care. We also have personal support workers and a housekeeper."
" Think of us like a concierge service. We do everything from companion care, right through to end of life and everything in between. We have taken this 100 year old industry, flipped it on it's head and said it is time to celebrate aging instead of shoving our aged into long term care. Most people want to stay in their home and not be in an institution. We work to allow people to stay in their home. We encourage our staff to develop relationships and try and do a 2-hour minimum visit to allow some time to help. Love is in the details to make someone healthy and happy. On Monday I am going to Toronto with someone who needs an escort to a hospital there. www.nursenextdoor.com is franchise based in Canada with 50 agencies in Canada and in the US
" In Thunder Bay we are geographically isolated so the demand is greater. People don't realize home care is out there until they need it and are in a crisis such as mom needs help right away. Baby boomers are working full time and need help to tackle everything. We give daily updates to the son or daughter on their parents. Sometimes people don't need nursing care but just someone to make sure mom is eating properly, taking her medication, going out for walks or a car ride and becoming part of society."
" I am a people person and love helping people. I go into to the home initially and do the caring consult and I am thinking right away who would be a good match from our staff for them."