"Measure twice…Cut once!"


By Sherry Aalto

Who isn't excited about the new home for the Carpenters' and Joiners Local Union 1669? Nearing to its' completion, the new building for local 1669, is located at 1306 Capitol Way, Thunder Bay, Ontario.

The Carpenters' Union recognizes that an ongoing commitment to apprenticeship training is the foundation for a successful future for our trade. As the need for new construction grows, so does the need for more skilled tradespeople. Today, in addition to the true hands-on experience that is derived from on-the-job training, our educational facilities provide outstanding learning opportunities in the classroom as well.

Carpenters today operate much more efficiently because of developments in technology and construction. Understanding the tools of the trade would be difficult without a learning environment that also takes advantage of the latest teaching methods.

'The Carpenters' District Council of Ontario is proud to operate a number of state-of-the-art training facilities across the province at which apprentices can learn and perfect their trade. Our training
courses and facilities are highly sought after by new students seeking a career in the trades and by established journeypersons seeking to upgrade their skills.'

It would be accurate to say that anticipation and gratification is the mindset for everyone for the move from their old address, and rented space on Fort William Road, in the Lakehead Labour Board Building, to their newly owned location on 1306 Capital Way. After 49 years and
being in a rented location, an upgrade was definitely overdue.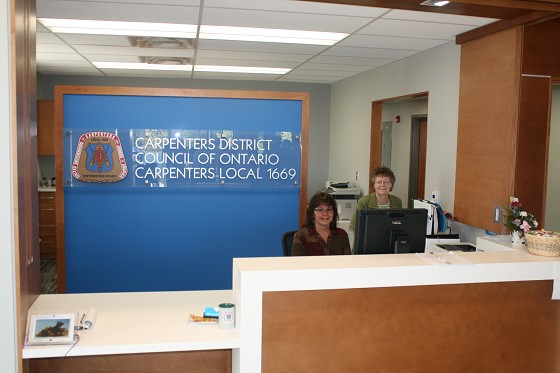 FORM Architecture Engineering was commissioned by Local 1669 for design and saw the opportunity to develop a great functional space for the local! According to Matthew Mills, Project Manager, the standard 'square box' design would be superseded by a welcoming and inviting
space! FORM Architecture Engineering is the prime consultant responsible for architecture, structural engineering and interior design.
The projected cost for the new site was slated at 5.5 million dollars. The building itself is impressive, not just in its' design but also in the construction materials used to the advantage for 'best use' and cost savings efficiency. The entire project was designed using, what is known as BIM Technology (3D software). To explain: BIM Technology is firstly the acronym for Building Information Modeling, and BIMs is: Building Information Models. BIM is a process involving the generation and management of digital representations of physical and functional characteristics of places. Building information models (BIMs) are files (often but not always in proprietary formats and containing proprietary data) which can be extracted, exchanged or networked to support decision-making regarding a building or other built asset. Current BIM software is used by individuals, businesses and government agencies who plan, design, construct, operate and maintain diverse physical infrastructures, such as water, wastewater, electricity, gas, refuse and communication utilities, roads, bridges, ports, tunnels, etc.
BIM in Construction Management: Participants in the building process are constantly challenged to deliver successful projects despite tight budgets, limited manpower, accelerated schedules, and limited or conflicting information. The significant disciplines such as architectural, structural and MEP (Mechanical, Electrical, Plumbing) designs should be well coordinated, as two things can't take place at the same place and time. Building Information Modeling aids in collision detection at the initial stage, identifying the exact location of discrepancies.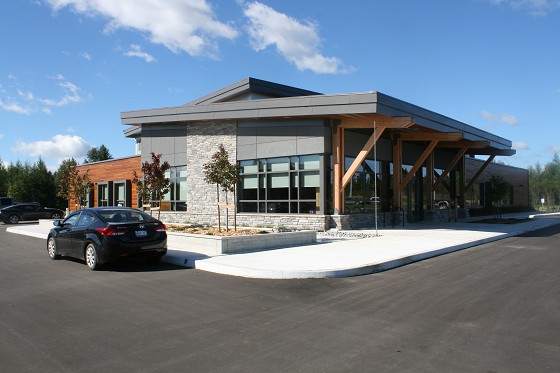 "The BIM concept envisages virtual construction of a facility prior to its actual physical construction, in order to reduce uncertainty, improve safety, work out problems, and simulate and analyze potential impacts. Sub-contractors from every trade can input critical information into the model before beginning construction, with opportunities to pre-fabricate or pre-assemble some systems off-site. Waste can be minimized on-site and products delivered on a just-in-time basis rather than being stock-piled on-site.
Quantities and shared properties of materials can be extracted easily. Scopes of work can be isolated and defined. Systems, assemblies and sequences can be shown in a relative scale with the entire facility or group of facilities. BIM also prevents errors by enabling conflict or 'clash detection' whereby the computer model visually highlights to the team where parts of the building (e.g.: structural frame and building services pipes or ducts) may wrongly intersect.
The new headquarters for the Carpenters' and Joiners Union will be 12,750 square foot and is ready for its' members and trainees and is constructed in the new developing area for industrial business in INNOVA Park. The new building will lend way to an additional 7,000 more square feet of space which will in turn provide the training space needed to prevent potential skilled labour shortages.
The double height (26-feet high) training area will house scaffolding and various types of lift equipment for apprenticeship and upgrade training. Also, there will be two 25-seat class rooms with a removable wall, allowing for a large class or special gatherings. The training space will showcase exposed structural glulam beams and columns highlighted with base details reminiscent of pile caps.
The actual building itself is of a primarily wood structure. It will be a stick frame building with a heavy timber frame component. The interior will feature tongue-and-groove wood ceilings, some paneled wood walls sections and large timber accents in the lobby.Without saying, wood was the choice for the construction of the building as it is the passion in the office for the Carpenters' Union
and because it is a significant building product from our area.The exterior will feature a natural stone façade around the central core (lobby), complemented by wood siding, glass and EIFS. Corrugated metal siding panels will clad the rear of the building. The design even calls for an area to the rear of the building landscaped with indigenous tree species (spruce, pine, fir and some hardwoods) typically harvested for their lumber for construction in the region. It will be called the Northern Forest Species Lumber Tree Plantation.Mills states "We wanted to emphasize a Northern Ontario design theme for the building."
While the building won't be LEED certified, Mills says it will incorporate many sustainable elements, including a high performance building envelope with energy saving windows and doors and above-code insulation values in walls and ceilings.
At FORM, Mills first started using BIM a dozen years ago and now the company employs BIM on all of its projects. That is unusual among design firms in Ontario.
As explained by Matthew Mills, "It really cuts down on changes to the project and helps the client visualize and understand what is being created," he explains. "BIM has been much easier to get a feel for the project from a visual perspective and it has allowed members to offer instant input on the design." Wayne Sohlman, President and Local Union Coordinator could not agree more.

Wayne goes on to express, "They (FORM), clearly understood what it was that we were looking and listened to everything that was important to us!"

This new impressive structure will be ready for occupancy sometime in August, 2016. And now only days away from moving into their beautiful new home site, the anticipation grows!

Sorry guys and gals!!! Even with BIM technology…you still have to 'Measure twice…Cut once'!