What women entrepreneurs need to succeed in Ontario
THRIVE; Prospering PARO Women conference tackles barriers and enablers for women in business.
On November 24th, PARO Centre for Women's Enterprise held their annual THRIVE; Prospering PARO Women conference, bringing together women in business to share the teachings and successes that come with navigating the business world, post-COVID.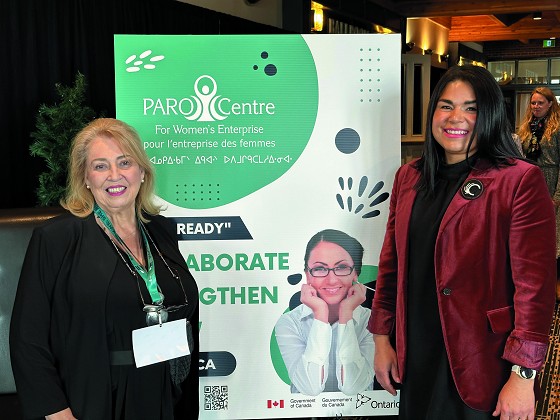 The conference, held at the Valhalla Inn in Thunder Bay, covers a variety of topics pertaining to both emerging entrepreneurs and scaling business professionals. THRIVE sees diversity as a strength, and touches on the needs and goals of Indigenous women, Francophone women, 2SLGBTQQIA+ individuals, women who identify with disability, and those who are new to Canada.
Says Rosalind Lockyer, CEO of PARO; "THRIVE is all about giving women entrepreneurs the chance to meet face-to-face post pandemic – a place where they can talk about triumphs and challenges, what barriers they've faced and what they've learned. Whether they're new to the world of business or have a lifetime of experience, there's so much to be learned from each other."
The conference also discusses how COVID-19 disproportionately affected women-owned businesses in Ontario; data shows that women shouldered the majority of increased child and elder care responsibilities during the pandemic, and women-dominated sectors such as small business, retail, food and services, were the most vulnerable to the economic losses of the pandemic.
Continues Rosalind Lockyer, CEO of PARO; "Despite the hardship that befell women-owned businesses during the pandemic, PARO women are optimistic about the future. The number of woman-owned businesses is on the rise, both locally and globally, and with the determination to break down barriers that women have demonstrated in business, we see nothing but a bright future."
The THRIVE; Prospering PARO Women conference also features keynotes from Cheekbone Beauty founder, Jenn Harper, and comic, storyteller, and mentor, Deborah Kimmett. It is being held as both an in-person and virtual event, inviting individuals from all across Ontario to partake in the teachings of new and seasoned business professionals.
Jenn Harper, CEO and Founder of Cheekbone Beauty Cosmetics Inc. was keynote speaker
" We started in 2016 with just me in the company until 2019 when my appearance on the Dragon's Den TV show aired. Then we needed help so I hired two people and of course my family was helping with unpaid support. Now we are 12 employees and we work with many different agencies for marketing support, sustainability support, creative support, PR agency support and many other consultants all in the background that help the company grow. We are now a multi million dollar business."
" You are always learning. I met a really successful business women in the jewelry industry at a conference in my early business days and asked her if she ever felt she didn't know what you are doing like I did sometimes and she said all the time. I would wake up everyday and think I don't know what I am doing. But I still just figured it out and got a team of people to help who had the skills I didn't have, like getting a CFO in place and the right science team for R&D."
" I am really excited about the future for Cheekbone Beauty. If you would wake up every some days, especially in the early phases, and still do your business for no money it means you are really passionate about it. We all need money but it shows you have a passion for the business and should keep going."
Rosalind Lockyer, CEO of PARO
"We thought it was time to let people know that women in business survived the pandemic, but not only survived but did well and thrived. We want to put the good face out there. Crisis can bring you success if you look for the opportunities. Being optimistic and knowing who you are and what you want to do is important. Jenn Harper, our speaker today, is a great example of that. You can take advantage of the types of supports that are available around and you can thrive."
"Our community needs diversity, all people in all walks of life to be the best that they can be. We don't want to leave anyone out."
" At Paro, because of the way it is in the virtual world, we learned to operate in the pandemic and can now help women anywhere in the province or in Canada even. We can meet in person, which is wonderful and nurturing, but we can also talk together in a virtual way everyday."
About PARO
PARO Centre for Women's Enterprise is a women-centred economic development organization that supports women, families and communities to thrive. For 27 years, PARO Centre for Women's Enterprise has supported women of diverse ages, cultures and needs to start, scale and grow their businesses. PARO Centre for Women's Enterprise is a key driver in Ontario's entrepreneurial ecosystem, and beyond.