What was CEN CAN 2022 All About?
by Scott A. Sumner
Thunder Bay and area got to experience the natural resources industry close up and personal September 13-15,2022
I talked to Glenn Dredhart, organizer of the CEN CAN EXPO 2022 at the CLE.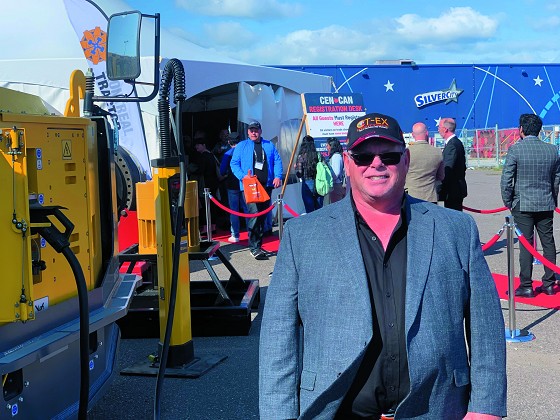 What happens at the CEN CAN event?
" The people who buy products for their mining companies are on site. Many of the manufacturers who make those products are here. What happens is it is like going to a mall where everything is under one roof at one given time and you can do the shopping that needs to get done. You only have to come to the CLE grounds to do it.We plan on having this on an annual basis so fingers crossed we will be back in Thunder Bay to do it.
Why did you choose Thunder Bay as the host for CEN CAN?" It is needed here in Thunder Bay. The industry as everyone knows is looking for people to fill certain job positions. They are looking at trying to access 10,000 jobs for the next 3 to 5 years just in the mining industry alone.That doesn't include the construction or forest industry requirements." NW Ontario is fairly new to the mining game so this event introduces people to the industry to help them find out what is going on. We have conferences planned over the two days of the show, networking activities where people can shake their hands and see the products that they are looking for. The operations are looking to increase production in a sustainable manner, decrease their costs and have a longer life of their mining operations so in the long hall it helps Thunder Bay and the surrounding communities.This is the place to be.We just finished an event like this in Timmins Ontario,The Canadian Mining Expo, in the spring. For the mines from Red Lake, for example, it is a 27 hour drive to go to Timmins so we are trying to facilitate their needs by hosting this event."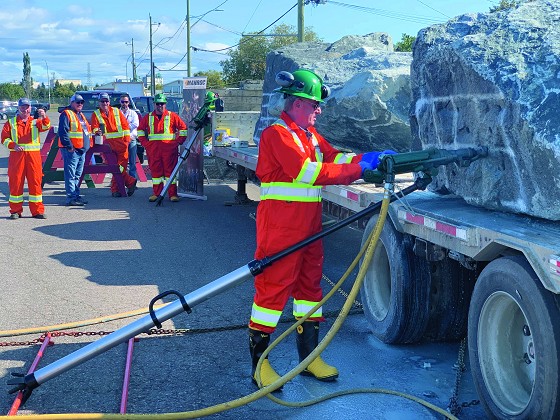 CEN CAN looks like a massive event to organize.
" There are many stages to this event that people may not understand until they come and see it. Once they see it they get a better grasp of how much work is put into it. As you can see from the grounds and all this equipment it is a lot of organizing, our staff is very busy. It doesn't just take weeks or months it is nearly a year to prepare and do this event."How does it affect Thunder Bay economically?
" We filled every motel or hotel, B& B and other lodging are basically booked for this event. All your flights coming in the city are booked and you can't rent a vehicle in Thunder Bay during this event so economically it is a great boost for Thunder Bay.
"I work with the City of Thunder Bay on this event and when we meet it is not just about here but there is a longer view to this picture. We will get manufacturers and suppliers that come from outside the area who will come and test the market for a two day event. If the connections are made the first thing they will do is open up a warehouse, the second thing they will do is open up a manufacturing facility and it just keeps going on from there.Long term economics is there, short term economic benefits are there. It is definitely a great
even for the community."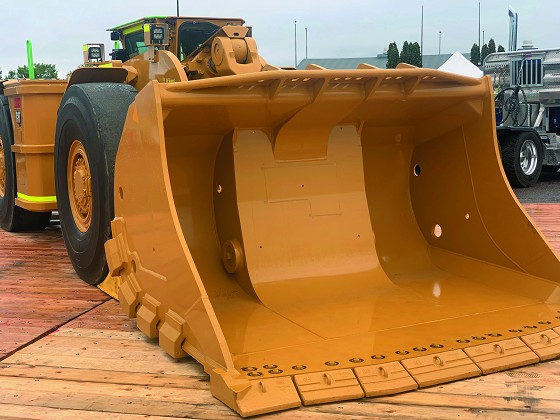 How long have you been doing these type of events?
" Canada Trade Ex has been doing trade shows for over 30 years and just celebrated our 30th Anniversary last year as a business. Over the years we have built a large database on the manufacturing and supply side but also from the mining perspective as well. It is easier for us to connect and put the two teams together- the buyers and the sellers. This is our line of business."
Tell me about the job hiring aspect of the show?
" There is a huge job fair happening here. We have over 50 vendors that have their human resource representatives on site so anyone looking for a career or a new career this is where you can go. Come in with your resume.The mining industry at one time was looked at working underground in a dirty atmosphere. The industry is changing, it is a clean industry and there are literally 100 plus different job options within the mines from geology to nursing and the industry pays very well."