Til-Ka Construction Partners with Rainbow Restoration International of Thunder Bay!
There are always big smiles at the end of a Rainbow Restoration!

By Sherry Hanes
When life happens…. Call Rainbow!
Jim Tiller, Owner/President of Til-Ka Construction, located at 636 Squier Street, Thunder Bay, Ontario, partners with Rainbow Restoration International, adding this service to his already well established, new
home construction company.
Along with Jered Zieroth, who was brought on board by Til-Ka, is General Manager of Rainbow International and is ready to manage the new facet of the company. As a team, they are firmly focused on the bottom line – 'customer satisfaction'. Jered, previously, the CEO of Thunder Bay United Way, is more than ambitious and brings with him, his expertise in management of the mandated operations.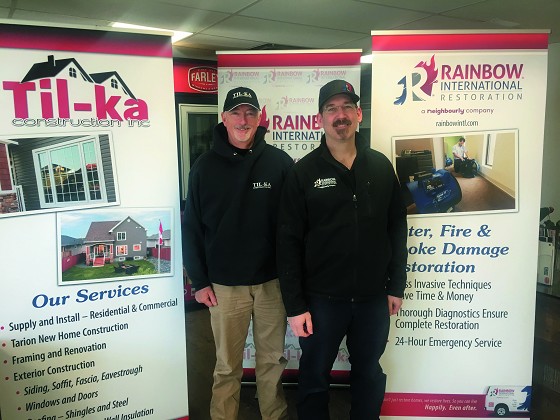 So? Who is TIL-KA Construction and who are they becoming? Jim Tiller shares, "Til-Ka was established in 1995, in Thunder Bay, and we are a 'Registered Builders' company, in Ontario, with an Ontarian Warranty Number so, we build new homes. There is also a full exterior side to the business, that includes installation of windows, doors, siding, soffit facia, roofing and blown in insulation. Then we have our
commercial construction side, which deals with mid-size commercial work." Jim has a labour force of about 20 for Til-Ka and about, six for the Rainbow Restoration side of the business. Jim knows that, even
though it is early yet with Rainbow being newly introduced into the company, many, many people are dealing with the effects and results of the natural elements and there is always room for one more restoration company in the region.

Jim Tiller was always focused to one day, be in restorations, and in 2017, when the opportunity was presented to him, he immediately took on the arduous task of preparing for the new additional services to his company.
Typically, in the past, Til-Ka would be working with insurance companies as Til-Ka Construction, for probably a dozen years or more, performing restorations to homes and businesses, but now Jim will lead
his own company in restorations and he says, "It is a good business to get into."

The opportunity with Rainbow Restoration International: In October of 2017, Til-Ka was contacted by Rainbow Restoration International under the umbrella of Neighborly, the umbrella company,
of the Parent Company, formerly, known as the Dwyer Group. The original company, Dwyer Group, was founded by Don Dwyer Sr., in 1981 which is now a holding company of 22 service brands, 19 of which are franchise brands. Collectively, these concepts offer customers a broad base of residential and commercial services. Neighborly now has nearly 3,700 franchisees and 11 corporate support centers throughout North America, U.K. and Germany. Our North American brands include: Aire Serv®, Five
Star Painting®, Glass Doctor®, Molly Maid®, Mr. Appliance®, Mr. Electric®, Mr. Handyman®, Mr. Rooter®, Protect Painters®, Rainbow International®, Real Property Management®, The Grounds Guys®, Portland Glass, Cumberland County Glass, Mosquito Joe®, and Window Genie®.

How it works: As more Neighborly franchises are in a locality, municipality or city, those entities often work together as a team. The franchises are owned separately but they call upon each other for
exact services for a customer and they also make recommendations to clients for other services, within the Neighborly umbrella. For example, if a customer would like to acquire home or office cleaning
services, a cleaning service contact, under the umbrella of Neighborly, would be recommended to them and all the customer would have to do is make the call. The same works in reverse. If a Neighborly franchised company has customers that require restoration services, that company would oblige and provide the customer with the contact information for Rainbow Restorations International, through Til-Ka Construction Company.




Continued

When it comes to restoration services, customers can exercise their freedom of choice to call which ever restoration company THEY choose. Restoration and emergency services, is an immediate and major concern for clients. Clients who suffer damages, in either minor or catastrophic degrees, are at the mercy of the elements causing the damage. Anyone who puts in a call for restoration, is already dealing
with high, even extreme levels of stress. What the client's needs is the reassurance that they will be out of despair in the shortest period of time and that the services provided are performed by professionals.
Understanding the roller coaster of emotions that clients experience, is the first step is securing their confidence by providing understanding and assurance. The next steps are engaging in assessment
and strategy to 'restore', just to put it in a nut shell. With years of experience in construction, Jim knows precisely, the ins and outs of building functionality and esthetics so, restorations are a natural
progression for him in his business. Natural elements in weather, can do unforeseen damage to your home and or business, such as ice damming, hail, felled trees, snow build up on your roof tops, or water coming into your home. Other restorations involve fire and smoke damage, sewer back-up and a host of other uninvited circumstances affecting structure and esthetics.

How it works with insurance companies. Typically, the client will call their insurance company and the insurance company will call one of the authorized companies that they deal with. But what the client doesn't usually realize is that, they have the right to choose the company that they want the insurance company to deal with. With Til-Ka branching out with Rainbow Restoration International, Thunder Bay, customers who are seeking to deal with a reliable, authorized restoration company, can now call Rainbow Restoration.

To date, upcoming on 24 years of service and experience, coupled with a long-standing reputation for customer satisfaction and competitive pricing, Til-Ka Construction Inc. showcases an impressive portfolio of new home construction, interior renovations and commercial construction. Supporting functionality and esthetic appeal, Til-ka has been helping improve and update the look and feel of clients' properties. Whether you're planning improvements to make your entire home more energy efficient or designing an addition to add more office and storage space to your business, Til-Ka has the experience and
skills to create your vision. Til-Ka Construction Inc. is Thunder Bay's authority when it comes to residential and commercial renovations, inside & out. Til-Ka takes, very seriously ensuring that customers are completely satisfied with the finished product and they want the customer to be so happy that, they'll return to Til-Ka Construction Inc. for your next renovation project – and of course, tell all their
friends and family about their great experience with Til-Ka.

The same principals, that Jim has built his reputation on in business, resonates, in his newest service addition, Rainbow Restoration. With the expertise of Jim Tiller and Jered Zieroth at the helm, the highest
achievable standards, for customer satisfaction, exceeds the bar. Rainbow, itself, has a proven set of values, that is directly inline with that of Til-Ka and those values are, R. I. C. H. - respect,
integrity, customer focus and have fun. When it comes to experience, knowledge and thousands of ultimately satisfied customers, the proof is
in the restoration.

YOU Choose! Make Rainbow Restoration International your very first call: 807-700-1552.

Or you may drop by their office at 636 Squier Street, Thunder Bay,you may also email them at thunderbay@rainbowintl.com
you can also visit their website at www.rainbowintl.com/thunder-bay.
or you can find them on FACEBOOK at Rainbow International of Thunder Bay.

Working Hours: Mon-Fri: 8AM-5PM
Sat: Appointment only
Sun: Closed
After hours emergency services. CALL 807-700-1552.
Mark down this number and keep it handy because everyone loves a Rainbow!