Thunder City Speedway Attracts Crowds
by Scott A. Sumner
Wednesday nights there is a new activity that is attracting thousands of people in the Thunder Bay area- Thunder City Speedway.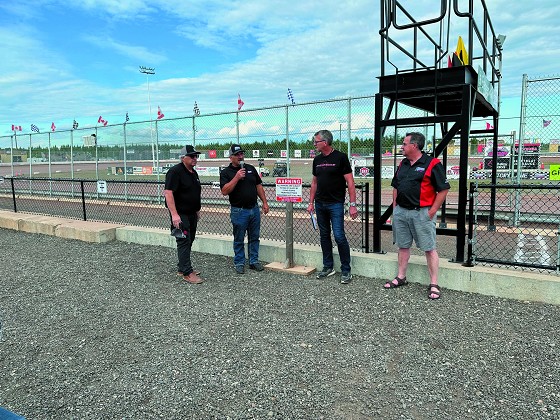 Louis Nadin is the co owner with his brother Norm who brought this beautiful facility to Thunder Bay. I asked him some questions on race night recently.
Why bring this type of facility to Thunder Bay?
" We have a passion for racing and were approached originally by Richard Schutte to help him build this facility. Everyone knows the story of how he passed away. We took over the running and building of the track, bringing it to this level. There has been a huge amount of work, thousands of man hours, a lot of money and time and effort. I think we built a first class facility, not sparing any expense or cutting any corners. We have the theory of doing it right the first time."This facility will be here for a long time now?
" It is a legacy we want to leave to the city and region. Racing has been a big part of this community and this is something Norman and I would like to leave behind to our families and the citizens of Thunder Bay. Maybe we can help the youth get into some other sport, get into their garages in the back yard with their grandfathers or fathers and keep it going. As business people if you are sucessful, you have the opportunity to give back. It is not always about making profit and money. This is our second full season and we had the inaugural race in September 2021."
The people of Thunder Bay and area are really supporting the track?
"We have been hitting average of about 3000 attendance each week, although the weather plays a lot on that. We are only 10 minutes from the city so you can come out and enjoy some races. We have 130 cars registered and that is not counting the American drivers that are coming up here. We get local talent to sing the national anthem."
The drivers have invested a lot into the sport?
" The drivers cars can range in cost from $5,000 up to $100,000 with the average being maybe $35-40,000. They put a ton of effort and resources into this and have many sponsors that contribute to them. There is also a lot of money being spent in the community through suppliers with tires, fuel, parts- it is a big economic spin in the community. With 130 cars and 4 pit crew per car that is 420 people right there spending money and coming out and bringing their families. It is a family oriented event. The vendors are busy, especially at intermission, providing income to them as well."
Kevin Holland, MPP" I am really excited to see racing comeback as I grew up with Riverview Raceways which was a weekly event for many families. It is really great to see families out again. It is good to see the heritage funding being put to good use.There has been a substantial up take in the grants and we are seeing some first class facilities. As part of the government we want all the businesses organizations to enhance their facilities."