Thunder Bay's Post-pandemic economic recovery is underway in 2021 and 2022;
however, headwinds are abundant moving forward
by Scott A. Sumner
Maria Vidotto, General Manager of Thunder Bay Ventures, is pleased to announce the results of the 2022 edition of the Thunder Bay Economic Activity Index (TBEAI). Dr. Camillo Lento and Dr. Braham Dadgostar,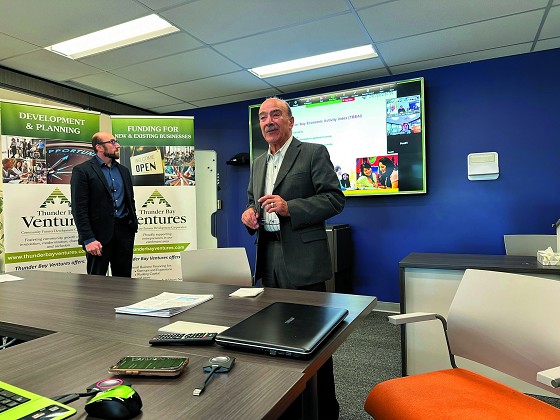 professors in the Faculty of Business Administration at Lakehead University, presented the results to a group of partners recently. The TBEAI is a unique, customized regional index that considers the nature of Thunder Bay's economy. The objective of the TBEAI is to better reflect the reality and dynamic of Thunder Bay's economy and to help the community stay informed about changes in economic activity. This year's TBEAI focuses on the following:
·Thunder Bay's GDP and economic activity outlook·
The pandemic's economic impact on Thunder Bay relative to the Province, Trends in employment, retail sales, and real estate, Inflation, interest rate, and recession outlook
A full report is available online at
https://www.thunderbayventures.com/wp-content/uploads/2022/10/ TBEAI_2022_Final-1.pdf
Some comments from the presenters.Dr. Bahran Dadgostar, LU
" It was good to see people show up today for our presentation to see how the economy of Thunder Bay is doing. It seems we are doing not that bad but with the problem of the pandemic and inflation we may run into a little bit of trouble, not only us but the rest of the country also."
"How deep we go to a recession is a question but it seems it shouldn't be that bad.If we go into a recession some of the areas will be impacted such as restaurants, hospitality, travel those type of industries where people may not have money. One year of higher interest rates, higher for long term investments like mining for example which is a ten year plan, won't stop the process of investing into mining."
"Unskilled labour might find it a little bit more difficult in a recession because it is easy to lay them off. For skilled labour it won't be too bad.""Thunder Bay will have an opportunity to attract more people here because jobs are available and cost of living is lower than many cities in Canada.Thunder Bay should develop a plan to bring more people here. We have to go after these people because there are lots of people after them as well."
"Thunder Bay is not very well known and people need to know what kind of city it is and what kind of opportunities are here.Thunder Bay needs to work together with all entities to attract people. The city has changes quite a bit since I left 3 years ago to move to Vancouver."
Based on the Conference Board of Canada, 2022 Q2 GDP at Basic Prices for Thunder Bay ($ 2012) is estimated to be $5.4 billion. Source Dr.
Camillo Lento.