Thunder Bay Port Virtual Open Of Navigation Event
by Scott A. Sumner
The Thunder Bay Port Virtual Open Of Navigation event provided some good information on how 2021 went and what can be expected in 2022.
Port officials were quite happy with some good activity in the 2021 season.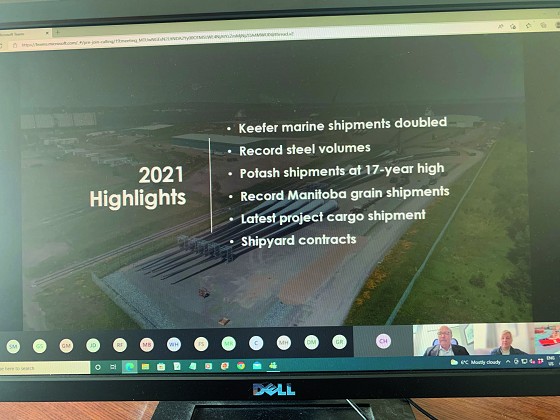 There were record grain shipments through Thunder Bay from Manitoba, the majority of their grain, despite the overall lower grain shipments. The port transported 74% of all Manitoba exports. Overall the grain shipments was a decline from last year but well above the pre wheat board days. The Port of Thunder Bay did decline the least of any wheat port. The Port of Thunder bay is the largest export port on the seaway and the furthest inland port in Canada.
Potash shipments saw a very nice rebound doubling in 2021 and they are expecting further increases this year.
The Port of Thunder Bay had some major inbound shipments of gas pipe that were very sensitive to damage to Alberta and were handled very efficiently through the Port during the year. The latest project cargo ship came to Thunder Bay in January 2022
The Port of Thunder Bay capital spending program of further track improvements and lay down areas came fully in to effect and was fully utilized in 2021. It was a good investment as it came in handy for the port.
Thunder Bay saw some improvements to the shipyards with ship inspections and is starting to show promise for the City of Thunder Bay as further economic activity.