Third Generation Business Expands With New Building:Tony's Cabinets and Alyssa Marie Designs!
by Scott A. Sumner
Alyssa DiSimone of Tony's Cabinets and Alyssa Marie Designs is the third generation of their family working in this well-known Thunder Bay business founded over 53 years ago."My grandfather, Tony DiSimone, started the business in 1968 and thenmy father, Vince took over in 1989. Now, I have taken over. My dad still runs the commercial end of Tony's Cabinets, and I am taking over the entire frontend of the business." explained Alyssa.Tony's Cabinets and Alyssa Marie Designs are completing their new 6000 square foot building located at 377 Cumberland Street North which will allow their operations to further expand.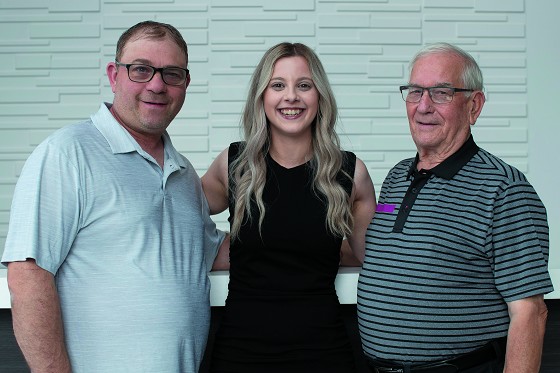 Vince, Alyssa and Tony DiSimone
"My grandfather started the business out of his basement and then moved to 170 Clarke Street. He still comes to work every day. The business always specialized in cabinetry starting with residential. When my dad took over, he got into the commercial cabinetry end. We also began complete projects from start to finish like a general contractor in the last few years. Now we have branched out into be a complete home design centre that includes cabinetry, custom furniture, appliances, plumbing and rugs," explained DiSimone. "We also help people design their homes through ALYSSA MARIE DESIGNS as I am an interior decorator. This can include their entire home, a specific room or paint colours."
Alyssa moved from Thunder Bay to study at Conestoga College in the Kitchener – Waterloo area and immerse herself in the two-year interior decorating program. She never thought she would take over the family business." I wanted to be a teacher and I was set on that until one day I attended a work conference with my dad and there was a guest speaker named Jennifer Gilmer. After seeing her presentation, I completely changed my mind and knew I wanted to do design as a career. So, I shifted into the design program. It was an easy decision for me to come back to Thunder Bay to work.
We had a vision as to what we wanted to do and began the hard work."At the start there was a 200 square foot showroom at 170 Clarke Street for Alyssa to showcase their design offer. This new building holds a 4800 square foot showroom to showcase the art of the possible!" It was a challenge to work out of the old building, but it worked for us at the time. We decided we wanted to go bigger and go all the way. We bought the vacant land on Cumberland which is three blocks from our manufacturing shop and constructed the new building," said Alyssa. "We acknowledge that it is a big financial investment for our family. It is a big move to make but my father and I are on the same page and think the same so we are in it together.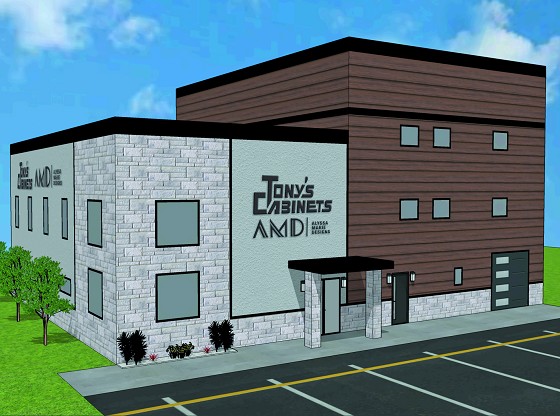 "As Alyssa was growing up her father, Vince would take her along to many job sites, quotes and coffee chats with clients, so she grew up in the business. She also has relationships with the trades people that her father and grandfather have worked with over the years so that is a unique attribute that Alyssa brings to the table - a bridge between design and implementation which she crosses - academic and real-world construction. Many designers do not really think about what happens on the job site because this is typically someone else's problem. Alyssa always considers what is happening because any issue with design become her dad's responsibility.
"I go to all my job sites and have grown up in this business. I even make laminate counter tops on the weekend. We do what we have to do to get it done." notes Alyssa.The main focal point over the years for Tony's Cabinets has been cabinetry but they have branched out to be a general contractor and can do an entire job from the start to the finish with licensed trades."We begin by talking about what the client plans to do, basically what type of renovation or build. We ask for a rough estimate of the size of their space and their wants list. We then create a 3D rendering, go through it with them and then go through materials choices. I educate the clients on the different products so they can make good choices that are within their budget, explained DiSimone. "We then quote the job and if it is a go ahead, we re-measure, place required orders and start the work. It is plain and simple, and we try to complete our work as quickly as possible. Once we start the job, we are there until the
job is done. We don't start, leave and come back.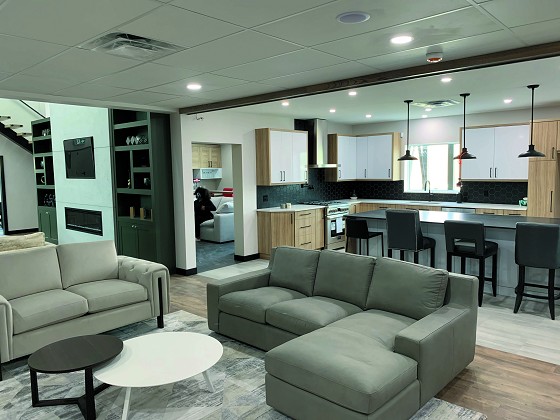 "The new building now allows Tony's Cabinets to showcase the plumbing fixtures, furniture and appliances which complements the cabinetry aspect of the business. This has worked out nicely."It has gone very well. For the last year I have been working out of a catalogue and have sold complete packages. We have brought in high-end appliances which were previously only available out of town. Our goal is to bring in products that people would have previously gone out of town to purchase. We have exclusivity to all of our brands in the area," said Alyssa.The timing of the global pandemic has posed some challenges for the construction of the new building for the company.
"The pandemic has honestly been terrifying to keep it going but we have very good trades people. We pre-bought materials when we saw what was happening with prices and have kept pretty much on schedule, but there were some delays. It was scary," said Alyssa. "On the other hand the pandemic has got more people renovating their homes. This has probably been our busiest year to date. When people are sitting at home for months, they start looking at their rooms and want to change them. We have been lucky that we are in a field where we could keep working. We are grateful that our clients are loyal and come back to us for all their jobs. It also gave us the reassurance to proceed with our new building.
"There are currently 8 employees in the companies including an assistant designer and an appliance specialist."I designed this building myself and then handed it to an architect and said make it work. I think the economy of Thunder Bay is good. Previously, there was no higher end store, and we are expanding so consumers have that choice. People understand quality and Thunder Bay needs this type of a store." noted Alyssa." I love what I do and don't see it as work at all. My day looks different every single day and that is what I love. When people come here, they know what they want but just need help putting it all together. Every project is different. People are investing more in their homes since Covid. It is less expensive to renovate your home than build new given higher construction costs."
Be sure to check out this impressive new store at 377 Cumberland Street North with unique product offerings right here in Thunder Bay!