These Guys Really Know Their Stuff!
Buhler Mechanical Services Ltd.
Celebrating 20 years of Quality Services, at Affordable Prices!

By Sherry Hanes (March 2020)
Residential, Commercial or Industrial –
There's always somebody 'home' to help you!
Celebrating 20 years of excellence for highest quality products, very competitive pricing, largest product selection, superior quality installation, no pressure sales written quotes, financing options, in-home shopping, fast, reliable service, 24/7 emergency service, follow up quality check and instructional visit on all installations, … you would have to say,… Buhler Mechanical Services Ltd., at 911 Tungsten Street, (your local Lennox Dealership), does it all.
Barry Buhler, owner of Buhler Mechanical Services Ltd., shares a few key points of interest with our readers, about becoming a Lennox Dealership in Thunder Bay and few other notable comments.
Barry Buhler: "We became a Lennox Dealer in 2001 and solidified our position as a leading dealer in Thunder Bay with our acquisition of Merriman Sheet Metal & Heating shortly afterwards. Merriman' had been one of Thunder Bay's leading Lennox Dealers in the residential division since the 1960s. I've had experience with Merriman' and Lennox since starting my refrigeration & air conditioning apprenticeship there, after completing college. I had moved on to work in the commercial & industrial field after a few years there, gaining a wide range of varied experience. We had originally started the business serving mostly commercial and industrial clients. Our acquisition helped to balance our work in all three sectors."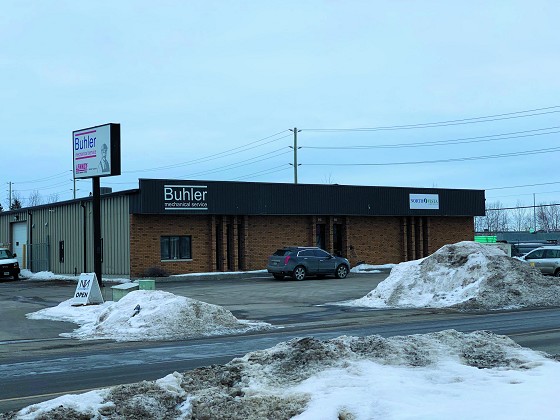 When it comes to numbers for staffing and supporting local employment interests, Mr. Buhler had this to say: "We typically have eight staff. We are affiliated with local 787 refrigeration & air conditioning workers and local 397 Sheet Metal Workers Union. We have a core staff of highly trained individuals with a combined work experience of 100 years, a great work ethic and the ability to bring on more staff in short order for larger projects. We are involved heavily in the retrofit market in all three sectors. Most of our clientele are long term customers with whom we work to tailor custom systems based on our experience in the field and with their specific equipment. We strive to produce a higher quality end product with the needs and budget of the customer in mind. We have a full-service sheet metal fabrication shop in which we can produce custom products from small residential ducting, welded kitchen exhaust, industrial ventilation and anything in between. We have a TSSA registered quality control procedure in place for commercial refrigeration and air conditioning piping systems of any size or form. ((The Technical Standards and Safety Authority (TSSA) for certification. TSSA oversees examination of operating engineers and operators to confirm their qualifications.)), We also have qualified gas fitters to install and service from the smallest residential furnace to the largest industrial burners and boilers."
As far as location? Barry reports, "We started off in a Westfort commercial building. We quickly outgrew the location and relocated to our current, larger premises, at 911 Tungsten St. With our centralized location, it provides us quick access to the whole city for improved service."
As everyone knows, having your home or business, heating/boiler/cooling systems, water tanks, etc., serviced regularly and properly, is paramount for efficiency, longevity, and saving money. Following these simple servicing guidelines, prevents the inconvenience of untimely mechanical malfunctions, like in the middle of the night when it's cold outside or, in the middle of a busy day for home or business. Also, as a point of interest, … if you are thinking of updating your present heating/cooling system, etc., for example, there may possibly be some savings advantage on your current Insurance policy, possibly, … but, you will have to call your personal insurance provider(s) for that information.
Taking care of the inside of your home or business is as important as taking care of your vehicle, for example, like changing the oil regular or, keeping your gas tank topped up with fuel, in the heat or the cold. Because your home or your business, is your biggest investment ever, maintaining its mechanical systems, should be afforded the same attention. Don't you think? So then! Buhler Mechanical Services Ltd., located at 911 Tungsten Street, Thunder Bay, is the sales and service provider you'll want to call because, … these guys really know their stuff!
Barry Buhler of Buhler Mechanical Services Ltd., would like the current, past and future customers to know, "We are proud to have serviced Thunder Bay for the last 20years and looking forward to the next 20! We take great pride in providing our customers with uncompromising quality in our installations and backing it up with 24/7 emergency service.
Thank you!"
It doesn't get any better than that!
Call, Fax, email, or stop in and visit the friendly professionals, at Buhler Mechanical Service Ltd. Located at 911 Tungsten Street, Thunder Bay Ontario.
Phone: 807-344-1234
Fax: 807-344-1200
https://www.buhlermechanical.com/contact.htm
Email: info@buhlermechanical.com
Buhler Mechanical Services Ltd.! Where there's always somebody 'home' to help you!