THE NEXT LA COSTA: GOLF, SPA, AND FOOD EQUALS RELAXATION
by Scott A. Sumner
The west coast of North America is always a nice place to visit and during the last week of April I had the opportunity to travel to the San Diego, California area and specially the famed La Costa resort. Your trip to La Costa is really quite easy with a short flight to Toronto from my home city of Thunder Bay, Ontario to Toronto and then a direct Air Canada flight to San Diego. You will arrive a t 1pm at the San Diego airport and after a 30 minute car ride enter the beautiful 450 acre La Costa grounds. As the LAX airport at Los Angeles got bigger and reached their capacity the San Diego airport benefits with more direct flights. They also have the John Wayne Airport just North of here some 45 miles at Carlsbad.
Paul Joseph McCormick is the Vice President and General Manager of La Costa located in Carlsbad, California. He grew up in the Niagara Falls, New York side and came often to Trout Lake, Ontario near Barrie Bay in Canada where his family still owns a cottage. Paul went to college in Las Vegas, spent 6 years working in Hawaii, opened the Luxor in Las Vegas and worked at the Grand Traverse Resort, Michigan and PGA West Barton Creek before coming to La Costa.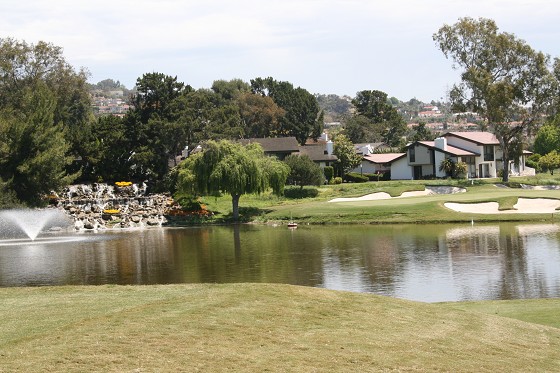 The La Costa property was originally built in 1965 and at that time it was the place to go with a destination spa, one of the first in the US and a beautiful golf course. " In those
days the men's side of the spa was about 2 1/2 times the size of the ladies spa. Then the old cronies would go in and get massages. Today it has all changed. The ladies spa is about 2 1/2 times the size of the men's." said McCormick.
Through the years La Costa has had a high profile holding 37 PGA events and also having an array of the Hollywood set visit. Even recently they have had many celebrities like actors, TV personalities and sports figures so La Costa has a rich history. In the old days the Rat Pack would do a warm up here with their lounge show and after that take a break and go to Las Vegas.
Once you are at La Costa you are with in a close distance to many other areas including 1 1/2 hours up the road to Los Angeles. La Costa was built in 1965, had its hay day and then a Japanese company bought it. They experienced some trouble and KSL bought it in 2001 and started a full renovation process. KSL owns Club Corp which has 160 golf clubs including the Club Link properties in Canada, Western Athletic Clubs, the Squaw Valley ski area, Orion Cruise Lines in addition to the KSL resorts which has 6 properties. Their head offices are in Denver.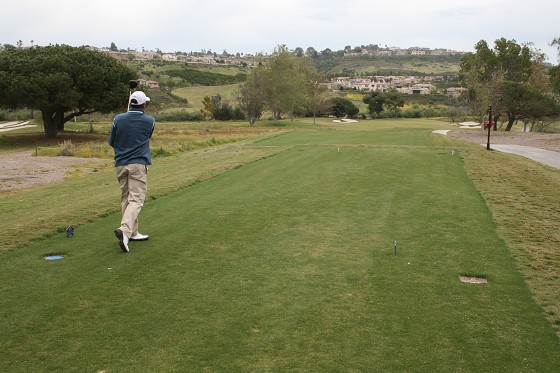 In 2006 KSL sold the property to Goldman Sachs and retained the management contract . They owned it for 4 years until 2010 and then KSL brought the property back from Goldman Sachs because they were having a rough go, as it was a tough time to be in the hotel business.
" After buying the property back we started a $50 million renovation which included the Champions Golf Course, all of our food and beverage outlets, the meeting space, guest rooms and our retail outlets as well as the overall aesthetics of the resort," said McCormick. " It is a stunning place. Our plans are to move forward with some improvements to the second course including fairways, tees, greens, irrigation and then the aesthetics. On the Champions course 75% of the work we completed you can't even see, as it was all underground. We wanted proper drainage."
La Costa is located on 450 acres on prime real estate in Southern California with a tremendous location an hour from Orange County, 1 1/2 hour from LA and 30 minutes north of downtown San Diego. They are in a sweet spot with a good density of population. La Costa has 610 rooms at the resort ranging from villa products with 3 bedrooms to your standard hotel rooms, some on the course and other near private pools. The property is spread out more campus style so there
is lots of walking to enjoy the gardens and foliage. La Costa hasreceived many accolades including the number 1-wellness spa in the nation.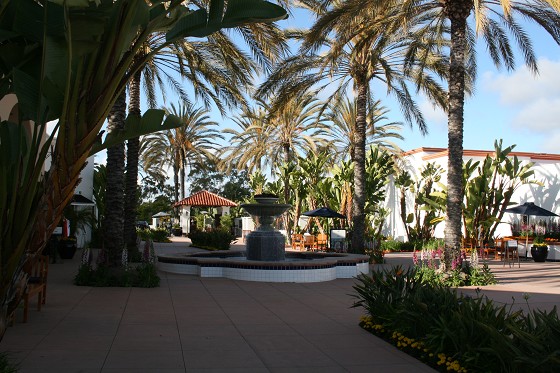 " We leveled the first spa and rebuilt this brand new spa in 2003/4. It has it's own courtyard and cafe, separate pool, roman waterfall showers and 42 treatment rooms. We were the originals in
Southern California. We look at ourselves as a wellness destination where 12 months of the year you can be outside. Our philosophy is fresh air equals fresh thinking. Our guests spend 80% of their time out side. The San Diego weather is probably our most wonderful benefit here at La Costa," smiles Paul McCormick. " We also have Deepak Chopra's world wide headquarters right here on the grounds of La Costa. La Costa has something for everybody. As a family we have
waterslides and pools, great camp programs and a kid center where you can drop your kid's off and mom and dad can go to the spa or go golfing and have a wonderful vacation. The kids do as well. We have guys groups which come and play some golf, watch some sports, have a cocktail and can relax with our wonderful adult .The ladies have the spa which is great."
At La Cost a package is the best option for guests which can include a spa, golf and room package which can run for a couple from $600 to $800 night. La Costa offers so much to do with 42 different classes every week in fitness as part of your experience. The resort is also located 1 1/2 miles from the ocean. Another very unique aspect of La Costa is the close proximity they have to golf companies Calloway, Taylor Made, Titleist and Cobra Puma. In fact Cobra Puma have their testing centre located right at La Costa. Since March they also have the PGA Tour Academy, the west coast facility, right here at La Costa. You can visit Calloway for instance and do a tour, which is pretty spectacular. You can even get fitted for clubs there. The manufacturers chose to be here because of the consistent weather where they can test their product in a wonderful environment.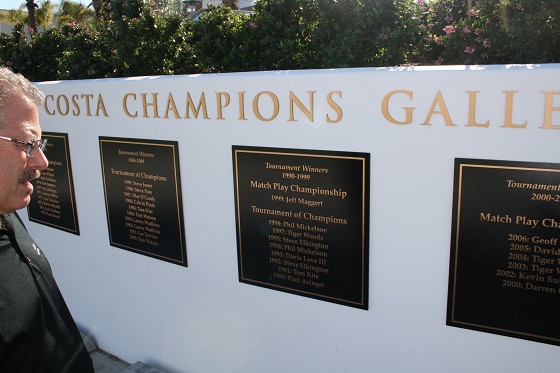 The Champions course at La Costa has been totally renovated. " We took about 30 acres of turf grass and replaced it with native grasses moving in a green direction saving on water costs." said Damian Pascuzzo who along with partner former PGA Tour and Champions Tour player Steve Pate and architect Jeff Brauer returned the course to world class standard for which it had become famous. Jeff Brauer helped with 30% on the work. " The flood water now stays in the rough away from the fairways."
" Steve Pate and I started working together in 2003 and joined formally in 2006. We made 23 visits to the course during construction. It was a fast track renovation. They wanted better playing conditions to overcome the reputation of being wet and soggy. The bones were bad and needed a new irrigation system. Our soils were high in salts and the sand capping we did helped flushing that out. The soils were a challenge to work with. Sand capping the fairways allowed the water to stay long enough to feed the grasses but then drain away."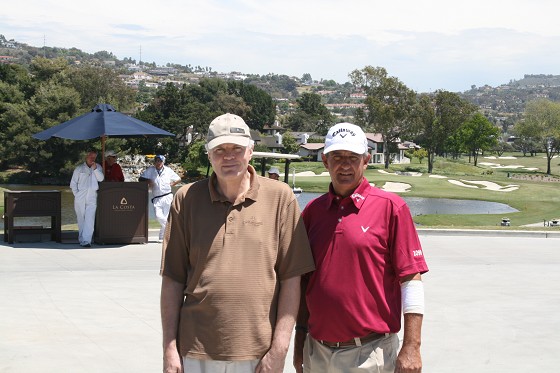 La Costa is one of the most beautiful properties I have visited in my frequent travels around the world. The grounds are just beautifully maintained and the over1000 staff members at La Costa make your time there very enjoyable. The recent renovations make your living accommodations first class and your dining, golf and spa experiences excellent. You should make your next vacation La Costa.