The Canadian Lakehead Exhibition Since 1890!
by Scott A. Sumner
It is starting to become a tradition for me to attend the annual CLE >Summer Family Fair. I'm not really a person who would go on the rides but it is fun to see the kids enjoying themselves with their families. I do like the food and the atmosphere in general! Upbeat, happy, colourful is the name of the game!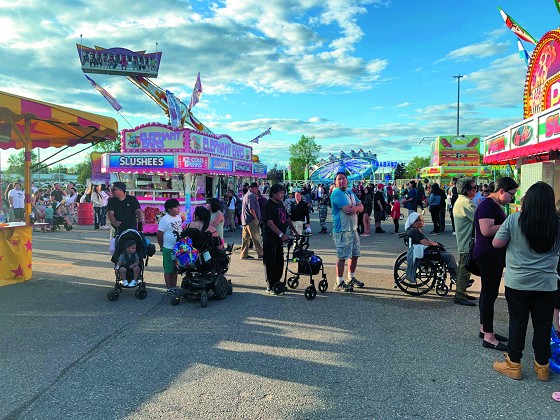 Of course my main reason for going to the CLE is the music. There is always a great line up of Canadian rock artists which I enjoy. This year my choice to hear play was Kim Mitchell! I just like his sound and have seen him live several times in Thunder Bay. Kim has had many well known hits over her career which has been a longone! Roclandwonderland, Expedition Sailers, Rock N'Roll Duty, and my favourite All We Are. Kim is now 70 years old and still performing quite a bit according to this website. He suffered a heart attack in 2016 but is doing well now and enjoys performing live.
The CLE runs for 5 days and usually attracts 55,000 people. This year they announced attendance at 74,000 which has got to be the biggest single outdoor event in the Thunder Bay.
It acts as a major contributor to the CLE financial operations and draws many out of town attendees from Northwestern Ontario that make the trip each year.That is also good for our economy as they have to stay here, eat and can shop especially for the upcoming school year. Yes the CLE is an important event for Thunder Bay.Well done!