TEAM JUDNICK RACER ROSS MARTIN WINS AGAIN


by Scott A. Sumner
www.slednews.com
Polaris elite racer Ross Martin, age 23, has made his team owner Scott Judnick a happy man with his 3rd Pro Class win out of 4 at Duluth in the last two years. The 2007 Pro Open series champion start out the 2008 season where he left off last year. " It felt real good. I got off to a good start and just went from there for 24 long laps. You just have to pace yourself and stay calm. I had the holeshot and was leading. The sled was running real good. The Amsoil must have helped," smiled Ross Martin who finished 2nd, 1st and 2nd in the qualifier heats to be No 2 seed in the final. " Our chassis has been around the longest and we have more stuff dialed in from last year. The 24 laps made for a great race as you had to prove you could do it. I rode a calm consistent race."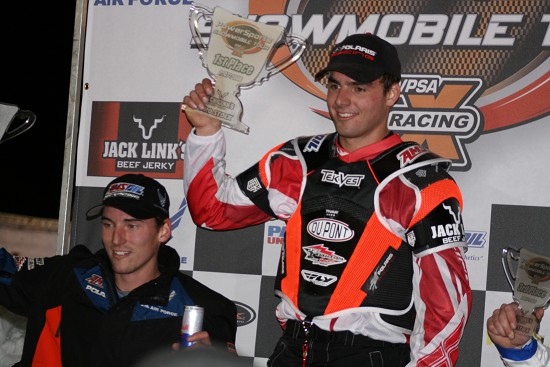 Martin likes the new stock sled from Polaris. " The 600 seems a little faster and running well. Everyone works well on the team. I believe the mechanics are the best in the business," noted Martin who had 5 National wins last year." Last year in stock my brakes locked up
in the second to last race which hurt our title chances. It was a tremendous year though and hopefully every year gets better. This summer I had shoulder surgery. It was one of those things that always bothers me and just gets worse. It's real good now."
Team owner Scott Judnick was a very, very happy man after their win in Pro Stock. " When we were all done last year I said to myself what happened last year here at Duluth was so special that I might not have appreciated it as much because it is such as tough thing to do. The stock class win yesterday is three straight for Ross which has never been done before here at Duluth. We have 10 nationals in both stock and open so Ross won 25% of the races last year with 5 wins," smiles Scott Judnick." It's unbelievable. All of Polaris is ecstatic. We are not having any issues. The sled is bulletproof and everything is going so well right
now but we aren't over confident as a lot can happen in the next six weeks."
" Both Ski Doo and Arctic Cat have new buggies this year so I'm sure they have some bugs to work out. We are the hunted at this point. The kids absolutely love the new 600 sleds and they are really pumped up because they are going to get to trail ride them. Ross and Matt go out west and ride at the end of the season," noted Judnick. " We have 16 Polaris sleds for the three racers. Each go through two practice sleds and have three race sleds. We have another couple we hold in reserve in case we can't fix something. Our new sponsors are Jack Link and Amsoil. It is so nice to have the new sponsors who are from right here in the
Duluth area. The fit is great and their colours match with us."
Team Judnick will do some elevation testing before the X Games.