Thunder Bay Hydro and Kenora Hydro Announce Merger
by Scott A. Sumner

It's official: Effective January 1, 2019, Thunder Bay Hydro and Kenora Hydro have joined together in a merger. Announced today, the new combined company will be known as SYNERGY NORTH serving customers in both the Thunder Bay and Kenora.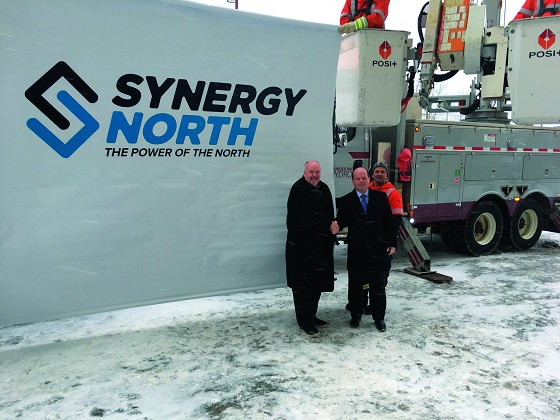 The merger to SYNERGY NORTH is set to significantly change and improve the electricity landscape in Northern Ontario; specifically for customers. SYNERGY NORTH establishes the ability to better serve
customers through efficiency and with innovative customer service amenities.
SYNERGY NORTH will now service more than 56,000 residential and business customers in Northwestern Ontario. The new corporation will be led by former Thunder Bay Hydro President and CEO, Robert Mace under the governance of one Board of Directors.
Says Robert Mace, President of SYNERGY NORTH; "The combination of the two local utilities significantly improves our ability to address the increasing demands of Ontario's evolving electricity sector. As a single company, we are creating efficiencies that allow us to invest in innovation, upgrade our distribution and service systems, and ultimately deliver more value to northern customers. By merging our resources, we are a stronger and more sustainable distribution company for the future."
The new SYNERGY NORTH brand, which was developed by a local firm, will be seen by customers across the region in the coming months. Customers should expect to receive communications about their electricity accounts such as bills and notices from SYNERGY NORTH. The name of the online bill payment system will also transition from My Account to MyEnergy,although customer login information including usernames and passwords will not change.
"In addition to the new name and look, customers in both communities will continue to receive a high level of service; and can expect to see some new amenities from our utility in the coming months. We are
delighted to be leveraging the skills of local people and the experiences of two northern companies to build improved connections and customer relations," continues Robert Mace.
"Our new tagline is 'THE POWER OF THE NORTH' – a proud statement that we are stronger and more competitive when we work together," says Robert Mace.
Robert Mace, President CEO of Thunder Bay Hydro provided these comments.

" Everything will work the same as before in Thunder Bay and Kenora. The savings will be mostly administrative with 1 CEO, 1 set of auditors, finance etc. The benefits will be greater on line electric
offerings in Kenora."
" It is difficult for small utilities to survive. The regulatory burden is much higher now so harder for a smaller utility. About 15 years ago there were over 300 utilities in Ontario and now around 60."
"The merger will allow us to save $800,000 to $900,000 annually which will help the rates here when we apply for any future rate hikes.
" The City of Thunder Bay will own 90% and Kenora 10% of the new company. Prior to today there was Port Arthur Hydro and Fort William Hydro before the merger of Thunder Bay. The other locally owned hydro's left in NW Ontario are Sioux LookOut, Fort Frances and Atikokan."
"The new name is Synergy North. It signifies energy coming together to be more efficient, power and dependability. We will change our branding on trucks etc over time."