Snocross Legend Blair Morgan Enjoys Coaching
by Scott A. Sumner

It was last year at Duluth I met with one of the sports best of all time, Blair Morgan. Blair was at the race track for the first time in many years since his motocross accident that left him a paraplegic. He was back at Duluth again this year and enjoying his Ski Doo rider coaching role.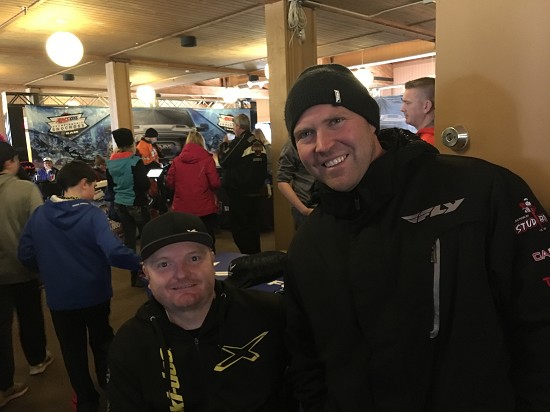 Above Left Blair Morgan with friend Robbie Malinoski
How did the last year go for you Blair?
" It was an alright year. I went to most of the events helping out the Ski Doo guys. Tim Tremblay had a few injuries but still finished second in the points. The guy is tough as nails. Elias Ishoel was doing well also but crashed. Lincoln Lemieux did well. I think they are all stepping up their games."
" Elias is in Norway and not on the same program but is still young at 18. He has the raw talent and kinda just bangs around and hangs on. It is really exciting to watch him.
" It is fun be back into it. It is kinda the same just like I never left even though a lot of years have gone by."
"It is really cool seeing the people at the chalet. Some of them were 10 years old when I last saw them and now they are grown and have 10 year olds. It s pretty cool that way. Some of the younger kids don't know you but the older guys do."

What's your impression of the 25th Anniversary Duluth track?
'The track looks a little longer than before so it should be good racing.

Has the racing changed in your opinion,since the days when you raced?
" Today it seems a lot of the guys try to take it to the next level with the speed, fitness and their comittment. Back in the day some guys would race on Sunday work on Monday kinda thing but today all these do is race all year round with motocross as well."
"For me it was all year round then because I raced motocross. Maybe that was one of my strengths because I raced all year round. Back in the day the sleds were designed to sit down on but because of my motocross background I never sat down that much. You could jump it
better that way and the sleds have changed since then."

What keeps you busy in the summer months Blair?
" I am involved in my sons soccer coaching and managing as well. We have the family farm. My daughter does dancing so it is really busy looking after the kids. I ride snowmobile at home as much as I can."
Blair is now 41 and stopped racing 8 years ago in 2008.