SCOTT VISITS SCOTTSDALE: LOTS TO DO IN ARIZONA
by Scott A. Sumner
www.golfingnews.ca

It is always nice to visit an area where you have never been before and in early December I had the opportunity to see the Scottsdale area and experience this beautiful part of the world. My trip was primarily to play in a media golf tournament with over 90 media attending from
all over North America, Europe and even Iceland. We were able to play 4 golf courses, stay in the beautiful Xona Resort Suites and even see a hockey game between the Phoenix Coyotes and Minnesota Wild where our own Taylor Pyatt scored a goal. The hockey game was interesting with some 5000 fans in the 18,000 seat fancy arena. The people there are very proud of their team and hope for better things with new ownership. One evening we attended a reception with many of the sponsors of the event. It was fun to meet Jane Spicer, President of Daphne's Head Covers, a 30 years old company based in Phoenix started by Jane and her mom as a fundraiser to buy a sail boat when she was a little girl. " We went from puppets to toys to head covers. When I was 16 I sold the first headcover and still have the same first customer. We started out in the living room, made them, sewed them, did accounting and delivery. I was the entire sales department as a 16 year old girl. Now we are global, in 120 tour players bags and at the best resorts in 65 countries in the world so it has grown," said Jane Spicer. " We sell to Pro shops, have distributors and you can see our selection on our web
site. The head covers cost $ 24.95 US. We were going to stop at 75 different types and never never do over that but I think we are now at 180 and introducing some new ones at the Florida show this January."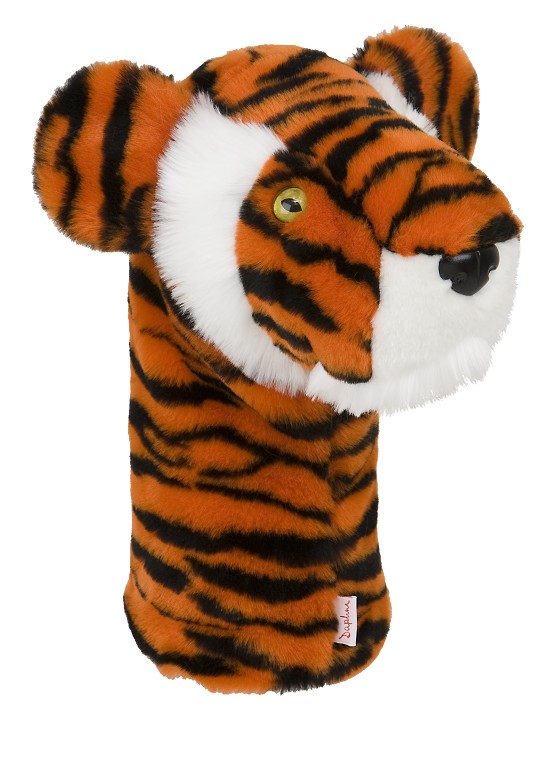 Does Jan have a favourite head cover? " It is like asking me who is my favourite kid. I do like the golden retriever, because our golden retriever comes to work with me every day. I like the Tiger Woods series. We have had a nice relationship there for many years. They all have same type of meaning."
The main warehouse of Daphne's Head Covers is in Phoenix and now they have a small manufacturing plan in China and are back and forth. They have 15 employees in Phoenix and field sales representatives around the world. Daphne's is a multimillion dollar company.
The Dixon Golf company has an environmentally friendly product line that includes the world's first high performance eco friendly golf ball. Basically there are abut 300 million golf balls that are deposited in landfill sites every single year in the US and those balls contain harmful materials such as lead, tungsten and zinc. " The Dixon ball is made with materials that are not harmful and can be recycled. We also take the recycled balls we obtain and remanufacture playground material for children, astro turf and the first eco friendly putter
which is in development right now," said Stephen Lee, Founder of Dixon Golf. " We make balls. Our golf balls are kinda like Colonel Sander's. He wouldn't tell you the recipe. All I can tell you is we have the three time world long ball champion here tonight, Sean Fister. He
represents our company as spokesperson. In a lot of the courses we sell to in the valley we are outselling Titleist, Nike or Calloway. We have a lot of Seniors on the Seniors Tour using our ball."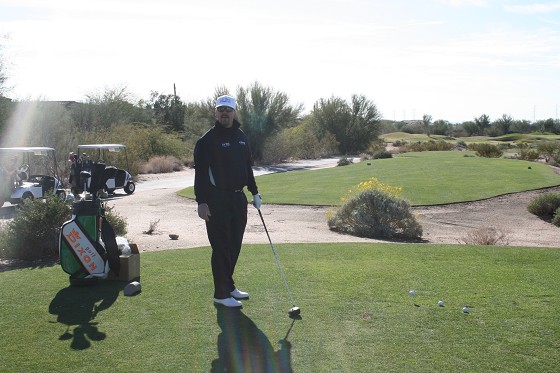 Dixon Golf is in 16 different countries and have put together a unique fundraising program for schools, churches and athletic groups to raise funds badly needed. " We give away $300 of our balls for a $30 dollar donation. It is $1 dollar sleeve. Our balls are sold for $10 to $12 per sleeve in pro shops. They are getting $300 of golf balls for $30 donation which is tax deductible. We have a community interest. In this promotion we make no money. It is for brand recognition and a loyalty program. We get customers and it helps support various
organizations. The product is spreading and we are helping the world. We have a recycle centre at the Karsten Ping Course here. We are helping the environment and the charities." smiled Laura Nordstrol who is the VP of Operation with Dixon Golf Promotions based out of
Tempe and Mesa. Their golf balls are manufactured overseas. Two of our courses played were Eagle Mountain and Greyhawk. They were both spectacular layouts I am sure every golfer would enjoy playing.
Bill Mesa is the Regional Director of Sales for Eagle Mountain Golf Club, OB Sports Golf Management which runs 5 courses. The course opened in 1996 by designer Scott Miller well known in Arizona. " They did a good job of placing the homes in proximity of the course and not to take away the beauty. It is well put together. The homes are multi million in cost. We are a daily fee course open 365 days of the year. The best way is play here is to go to www.eaglemtn.com. We always have specials on line along with all our contact information. If they are bringing a decent sized group with accommodations we will offer great incentives. The rates vary by season but January til March is peak season. If they have the dates we will help them with a good rate but you should be planned ahead. We are doing 200 rounds a day easy during that time. It is peak season so we try to get out of the red then and make some black. January the average temperature would be 65 to 70 degrees. February is in the mid 70's and March 80's so it is perfect. 98% of our weather is great."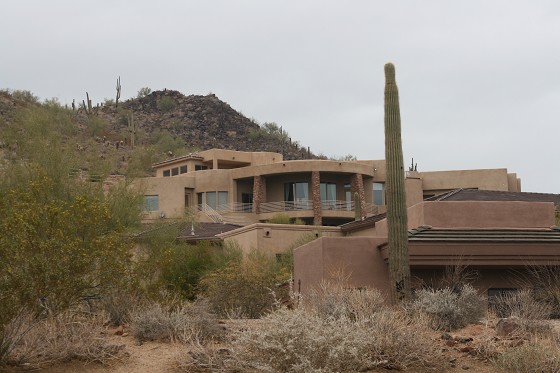 Joe Shershenobich is the Director of Golf at Greyhawk which has 36 holes, 2 courses and just held the Frys Open at the Rapture course for the third year in October. We played the Talon, the original course opened in December of 1994 by David Graham. The Rapture opened in 1995 a Tom Fazio design. " We had the land and the demand for two courses. They are both desert courses but have two different personalties. We have quite a big property with two driving ranges, it is quite spread out. We are very fortunate our owners are both golfers so while it is a residential development they always envisioned a golf business with the residential after the golf."
" Talon is the original 18 which hosted the first two Anderson Consulting World Series of Golf finals. It is now known as Accenture. Barry Lane and then Greg Norman were the two winners then. It is very picturesque and has an island green. We are a public golf course, have great 36 holes specials and love Canadians. Canadians love Scottsdale. They can stay at Xona Resort Suites. We also have a great relationship with the Fairmont Scottsdale Princess. On a week day our green fee rate is $199 and weekend $229. There are also some great tournament
deals and a great 36 hole special. They should call and ask for some help. You can use the website www.greyhawk.com The weather in January to March is great. Scottsdale is a golf meca and I put this destination up against anywhere in the world. There is plenty of golf, plenty of night life, it is easy to get around and there are great resorts."
I have to agree with Joe. Scottsdale is an amazing place to be and one I will definitely visit again next year!