SCOTT SIMMONS, CEO OF GOLF CANADA
by Scott A. Sumner
I sat down with Scott Simmons CEO of Golf Canada recently at the 2014 RBC Canadian Open and asked him some probing questions!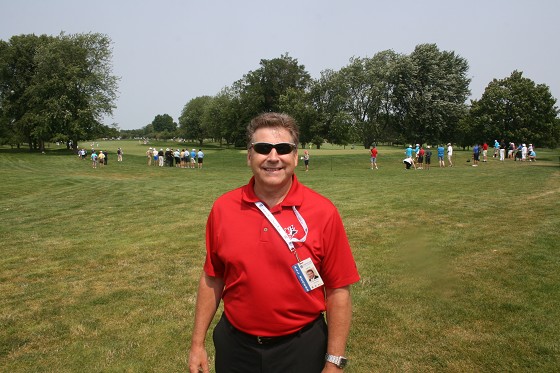 Royal Montreal is a special place to host the Canadian Open!
" The Royal Montreal Golf club is heaven on earth and it is a beautiful day here at the RBC Canadian Open. We have world class players and I wouldn't want to be anywhere else." "In 2001 Tiger was here at Royal Montreal defending his victory the year before at Glen Abbey. We were here in 2007 when Steve Jones edged out Greg Norman. The Presidents Cup was here in 2007 and we all remember the match then between Mike Weir and Tiger Woods in singles. It has been 13 years between Opens and the clubs can only host so many times."
How is the 2014 RBC Canadian Open going this year?
" We are having a great year. RBC has been such a great partner, you couldn't ask for any better. This is our year 7 with RBC. We have moved the event to many courses and are really proud of the great fields, infrastructure and volunteers which make it a world-class event. Team RBC has sponsored some great players like Snedeker, McDowell, Furyk and Els whom are adding to a great field. It is a fun week for Canadian golf."
" We have many spectators. When you get great weather and a leader board it helps attendance. Typically from Monday to Sunday we are about 100,000 people for the week. We generate some proceeds for both mens and womens opens that get reinvested into golf in Canada. There are also government's funds, corporate sponsorship, entry fees and licensing. The RBC Open on television is great promotion for Canada, for Quebec, for Royal Montreal Golf Club for golf and Golf Canada. We work to talk about Canada and golf this week."
What is the state of the game of golf in Canada?
" Golf is fantastic in Canada. This is the number one participation sport in Canada. It is a $14 billion business, bigger than every other participation sport combined in terms of economic impact. Rounds may be down probably from 70 to 60 million, which is a concern, but something the industry is addressing. For 2 decades the industry didn't have to do anything, just open the course in the morning. Private clubs had long waiting lists and huge initiation fees. There are cycles in golf and maybe the tee sheet isn't full or waiting lists as long but it just means the clubs have to be more innovative. There are good plans in place like golf in schools. Now we are being more creative to promote golf."
There are lots of new ideas on how to attract more people to golf?
" Nothing is changing the game of golf. Some people are being innovative to help those just getting into the game to enjoy it more say with shorter holes or bigger cups. This will help kids start out with golf's version of water wings. There are lots kids playing in teams to start out which they love. Golf is the greatest game in the world. The future is good and will turn up because of the power of 2000 courses, 3500 PGA of Canada pros and Golf Canada programs. If we have a Canadian wining a big event it will be huge to promote the game. These players will win. The Canadian flag on the leader board in itself will drive participation in the sport."