Rox Speed FX Handguards Will Improve Your Sled!
by Scott A. Sumner

For many years I have made the trip to the Amsoil Duluth National Snocross held at Spirit Mountain. It is always fun to see the snocross racers in action with their specialized sleds.


I have always noticed the handguards they use for protection and almost all of the riders seem to use the ROX SpeedFX brand. This season I talked to Ryan Jenson of ROX at their booth in the chalet. We arranged a set to try on my sled, a 2014 Arctic Cat El Tigre 6000. My interest was to make some improvements to this sled, which in 2014 was voted by many as snowmobile of the year.

The Rox handguards including mounts were designed specifically for this sled and could be installed yourself.

I am definitely not a mechanic, but was able to install them on my sled quite easily with a few wrenches and screwdriver.

The first thing I noticed riding my sled with ROX now was it felt warmer. The wind break they provide to your hand area is great and I think if you haven't ever ridden a sled with them you will want to try. Also it made me feel more protected from branches or other obstacles you might encounter riding your sled. The safety aspect is very important and probably the first priority for the snocross racer user.

The other thing I like about ROX Speedfx handguard is the look. You feel a bit like a snocross racer and they makes the sled look better.

I think you should check out ROX at your dealer or on their site www.roxspeedfx.com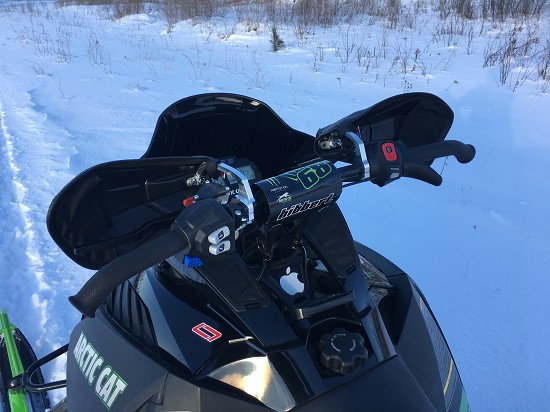 History
The history of Rox Speed FX, Inc® can almost be defined in just two words: vision and family. Rocky Cutsforth grew up in a family with the attitude of, "Sure, we can do that!" It didn't matter what it was, from building a massive grill to feed a crowd to creating products for the power industry. Rocky's father, David Cutsforth, was and continues to be an inventor, creator and visionary. He passed these qualities along to his kids including Rocky whose passion was motorsports. So, when his feet kept sliding on the running boards of his sled, he went to work creating a form of traction. After some trial and error, the Rox Speed FX® "Sled Tred" was born and slipping on your running boards became a thing of the past. This was the first product of Rox Speed FX, Inc™
which began in 1999. Rocky continued designing more products including a line of handlebar risers that he patented. It soon became clear that Rox Speed FX, Inc™ was not just a hobby, but a business.


Things were going along great for our family and for the company; however, on May 20, 2010 we were all stunned to hear that Rocky passed away unexpectedly in an accident while driving an ATV for a photo shoot. The family was in shock. Although it just didn't make sense, this was a reality and life had to keep going.

Interestingly, a month before Rocky passed away, he said to his wife Lynn, "If anything ever happens to me, my cousin Chris could come in and do my job. What he doesn't know, he could learn, but he's the one who could do it." Rocky's words proved to be true. Chris brought with
him 25 years of experience in manufacturing and operations management – and of course, a passion for the motorsports industry. Chris and Rocky grew up together riding and racing anything with tires from the time they were 5 until their last ride together a month before Rocky's passing. This, along with experience from previous work environments gave him the credibility to step into a role that was quite challenging considering the situation.

Chris picked up where Rocky had left off and Rox Speed FX, Inc® continues to be a successful and innovative company. Our team is passionate, creative, and committed to continue what Rocky and his father began. It has been built on strong values, hard work and is backed by a family that rises to meet every challenge with perseverance and enthusiasm. Our mission is to provide safe, comfortable, great quality products that will enhance your riding experience.