Rosalind Lockyer Receives Honourary Degree!
by Scott A. Sumner
We were able to reach Rosalind Lockyer, CEO and founder of PARO while she was on vacation in rural Newfoundland to ask her some questions about her recently received Lakehead University honourary degree, her early years and the formation and growth of PARO.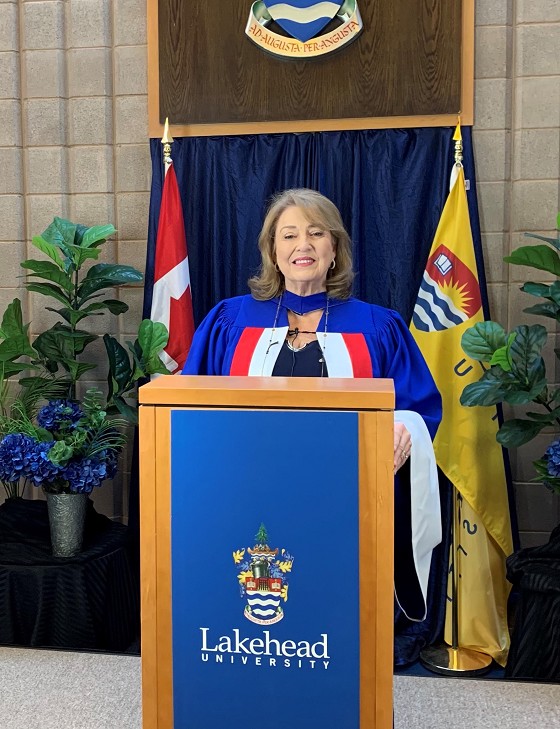 You are back in Newfoundland for vacation.This is where you grew up?
"I was born in St John's, Newfoundland. My daughter who was very young at the time was called upon to go to the National Ballerina School to attend their professional school. She had been performing in Newfoundland. Of course she wanted to go, as that was her dream, and we decided to move Oshawa first and then to Thunder Bay."
"Rural Newfoundland is much the same as rural Ontario. It is a challenge for entrepreneurs. Governments need to improve rural cell service and provide good internet as they want business to succeed and you need these services just like more urban centers have. Most of Canada is rural."
You started your career as a teacher?
"In Newfoundland I went to Memorial University and became a teacher. In Thunder Bay later on I went back to Lakehead University to get certified for Ontario."
You have had your own background as an entrepreneur Ros?
" I had a craft business, I would say I was an artisan. We made apple dolls that had carved out faces to look like important figures like Pierre Trudeau. We then would dress them and sell them across Canada through an agent.The face was an apple that shriveled up and dried with a wire body with knit sweaters based on the character. It was a trendy thing then.We also made costumes."
"The apple dolls petered out and my husband and I started a business here in Thunder Bay called Mary Brown's Chicken, as well a business called Skippers Johns Seafood with product from Newfoundland. Some came >as frozen but the biggest part was fresh seafood from Newfoundand."
"Many of my family are in business. My brother, my husband and my father were all in business. My father was a carpenter and would build houses and then sell them. My husbands parents were fish merchants and had a big general store in Newfoundland. They sold fresh fish and salt fish and exported to places like Jamaica."
"There were a lot of business people in our family so it was a natural progression. I was a teacher by trade when we moved to Ontario. Instead of teaching I decided to be an entrepreneur."
You had some medical problems that affected your early business?
"In the early 90's I got sick with colon cancer and was getting operations for three years. When I started to get better I thought Idon't want to go back teaching so that is when I started doing apple dolls with my neighbour and the Mary Browns and seafood store with my husband. When I became ill my husband decided to sell the businesses as he was the manager of an insurance company as well. It was too much at
the time."
The early start of the current Paro operation started at this time?
" When I got better I wanted to do something new in business. I first started with a very short term contract with Thunder Bay Ventures for about a year. Before I moved from Thunder Bay Ventures I convinced them to give me some loan money to give to women from Jobs Ontario and Thunder Bay Ventures."
"It was then that I started Paro is 1995. The actual organization that became Paro was a project called Women's Community Loan Fund which was a peer lending system that we still do today.The Paro peer system, our model, is the largest in North America with 180 peer lending circles."
" Then we got our charitable non profit status and changed our name. We decided to call it Paro with our then Board of Directors, some 27 years ago this January."
So you founded the Paro organization Ros?
"I was definitely the founder of Paro. It was originally a project of jobs Ontario. From that I founded the organization with a board of directors as a full training organization for business and women with mentoring, training, counselling, peer lending, grants and loans and networking. There was the Ontario Trillium organization as an original funder and then we took on more and more funding partners. We have been growing really since 1995. We work all over the province now."
You had to be an entrepreneur yourself to make this growth happen?
"The original project was my idea. At the beginning many would say what do you mean give $1000 to women so that they can start a business.You can't start a business with $1000 and what do you mean they can have a business out of their home, this is crazy! But you see how crazy it is ow because the proof is in the doing. I see that now with the women.You dream what you want to dream and you know yourself and what you are capable of. You are just as good as anyone else if you work at it. No one is going to do it for you though. People are not always going to say when you have a dream this will be simple just go and do it. In my time I had a lot of people say this won't work. You had to show them it would work one step at a time and then they would give you more money."
The LU award has been very important to you Ros?
"It is a such an honour. You can't believe the pride I feel. I didn't even have it on my bucket list or dream about it because you don't have anything to do with it and other people nominate you. They have a very competitive process through the board of governors and the senate."
"I was so honoured and surprised with the Honorary Doctorate of Humane Letters by Lakehead University. It recognizes my life work, everything that I stand for. Our heart and soul goes into supporting the women and it is not easy growing an organization and hearing this won't work so many times. You can't please everyone no matter how hard you try and try to achieve.You have to take the bad side with good."
The Paro organization has been around for a long time but still faces some uncertainty?
"Paro has several funders that are very supportive.We have to apply for funding every time with no certainly. We don't really know how it will be now with the pandemic. Every year we have to go through negotiations with lots of reports in and written work to show the funding is >required. It is a lot of work. I have been fortunate because of the values of Paro I have this wonderful group of women on the board of directors. People come to work for you because of your values."
Paro has grown tremendously since the early beginnings Ros?
"We usually have about 30 staff that work different time schedules say on the road or on the zoom as we call it now. Paro drives around Ontario and gives women money to help grow their business. Now we zoom around Ontario."
" Last year our showed stats we reached 23,000 women from our start so you can add a few thousand, say 25,000 now. We have put out millions of dollar amounts and loans to women. It is now all of Ontario after Covid. People would drive to our events before, from say Cornwall, and on ice roads from the north. It was a natural evolution for us to begin to serve more areas in Ontario.The pandemic has caused Paro to
expand.There was nothing like Paro in Southern Ontario.The women didn't meet the criteria with other lending sources or government and they searched us out and it happened quickly. Previously we were working in the Fednor territory. We got some funding from the province so that allowed to work anywhere in the province.Our Fednor money can only be used in their Northern Ontario territory.
So for Paro the pandemic has kept your team even busier Ros?
"Paro has had to work really hard during Covid as were given extra money to put out through Biz World. We had to help the women make their business plans for this funding. So there was a lot of administrative and training work. The whole Paro team went over and above to get the funds out to women."
"Our team had been working from home at times so we were used to it or just being on the road. It wasn't that difficult to have the people working in the office to work from home as we were used to it. It is really an online office. Training in person to training can be done on >zoom."
The pandemic has been difficult for women entrepreneurs?
" It has been very difficult for women during this pandemic because they have their children at home and the added burden of looking after their elders who may be out of long term care."
"The businesses have had a lot of strain and they are our heroes and we need them to survive after the last 1 1/2 years. Retail, tourism, >accommodation, the service sector, spas have all been hit hard. People are getting tired and burnt out. You have to look after yourself, pace yourself, take more breaks and still do your 8 hours."
" These vaccines are coming and will help tremendously. There still >maybe 30% of people who don't want to get vaccinated but businesses can say you can't stay here or get an airline ticket or say go into the US unless you have proof of vaccination. So if that starts happening they will get vaccinated. If everyone isn't vaccinated there still is some risk."
Do you have any interest in retiring Ros?
"Over the last few years I have thought about retiring but it just gets better all the time. I really enjoy what I am doing. I work with wonderful people, have a wonderful board of directors and while I am capable of working I want to do it."
" Rebecca Johnson, councilor Thunder Bay and Levina Collins, President of Paro are wonderful models of women that want to change things and make the world better. With women there is the child rearing stage where we can't do as much as we want to do so sometimes that means
working later in life. We do community development service, supporting people and doing what we can to make it a better community to live say
in Thunder Bay or Northern Ontario or all Ontario as social entrepreneurs. That's what I am with our community partners. Its not really a job for me anymore.We support each other as women for the community."
Growing up in Newfoundland has made you a certain type of person Ros?
" In Newfoundland people have a sense of humour and enjoy life, being around people and doing work in the community. It depends on the culture you are brought up.
"Thunder Bay has meant the world to me as well in many ways. I have been embraced in the community and I work with so many great people."