RENO
-LAKE TAHOE AREA OFFERS GREAT SNOWMOBILE OPPORTUNITIES

by Scott A. Sumner
www.slednews.com
When you think of the Reno- Lake Tahoe Nevada area , I am sure many of you think of casinos, the desert and maybe some great skiing. It was my pleasure to experience something a little less known in the area- snowmobiling! Yes. this area has some spectacular riding opportunities as I was to find out first hand over the next four days. Reno is quite easy to access by air using airlines like Air Canada as I did with a flight through Winnipeg Denver and then Reno From our midwestern city you could also fly Delta through Minneapolisand be in Reno by early afternoon.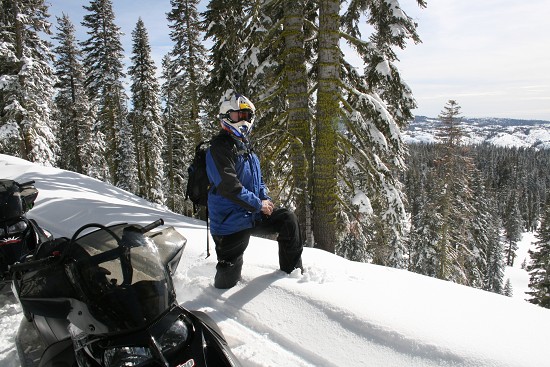 My host for this adventure was to Chris Chrystal, Media Relations Manager for the Nevada Commission on Tourism. Nevada\ has a population of 2.8 million people most of whom live in Las Vegas\. In the Reno\ and Tahoe area there are about 500,000 people. About 2/3 of Lake Tahoe\ is in California\and 1/3 in Nevada\. "We promote the entire state of Nevada world wide. All of the casinos are on the Nevadae while the California side has nice hotels without gaming. Reno</place has some 20,000 hotel rooms for conventions and the business traveler. Gaming used to be the driving force but this is no longer true. People come here for many reasons in addition to gambling. They definitely come to have fun. In Reno there is fine dining, good shopping, entertainment and new state of the art spas."
A unique dining experience was Basque dining created by immigrants from the Basque area of France and Spain who came to the area in 1900 to herd sheep and make a better living here than in their homeland. Many folks opened restaurants and are part of this legacy. They speak the Basque language. Basically this is family style dining. You dine at a long
table with others you may not know and order a main course. Everything else is brought automatically. It starts with soup, French bread and then beans or pasta and another meat dish like ox tails. Then your main course arrives with a bottle of red wine. Afterwards it is desert. I really enjoyed the Basque experience at Louie's Basque Corner.
"In Reno Lake Tahoe you can ski, snowboard, snowmobile, do snow hikes, tubing or sleigh riding. Also we have a dry climate so the roads are mostly dry meaning you can bicycle in the dead of the winter. Some people play golf in the winter months except after a heavy snow. You can ski in the am and golf in the pm if you want. It gets up to the 60s temperature wise in the winter months sometimes," said Crystal. "It is much warmer in Las Vegas. We have pine trees, they have palm trees. We have the seasons here. Las Vegas has subtle changes. Canada is our number one source of visitors here and we are always happy to welcome them here because they are good friends of ours."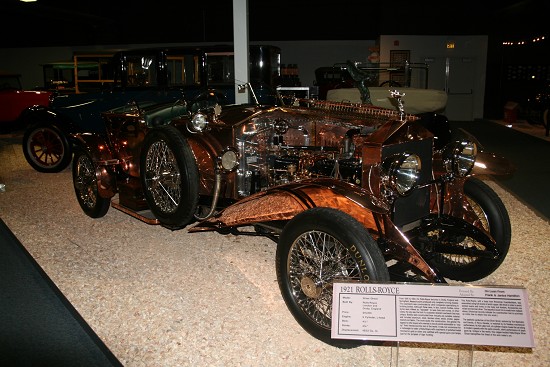 My first stop after arriving in Reno was the National Automobile Museum, located in the downtown area a short walk from the Silver Legacy. It features some of the Harrah Collection of automobiles that includes some extremely special cars. It is set up in 4 galleries with streets connecting them and is well worth the visit!
After a good night at the Silver Legacy 1100 room casino resort, it was a less than 1 hour drive through Truckee, California and then on towards Sierraville for my first snowmobiling adventure with Bob Kellog, owner of Eagle Ridge Snowmobiles which has been operating
for 15 years. "We take you out on the snow covered forest service roads working under a special permit from them. Our rides are geared to the people on each tour and their abilities. First there is the complete run down of the machine. We build up there skills
from there, as we have meadows where you can play and learn. We go to some really scenic spots on our tours," said Bob Kellog.
The area in which Eagle Ridge Snowmobiles operates is the largest in the area with 650 miles of property and 200 miles of groomed trails. In California</place /></state /> the grooming is paid for by the registration stickers. "The snowmobilers doubled their fees on themselves to make better trails with the requirement that the additional funds generated had to hit the ground or the trails and they have," according to Bob Kellog. "The grooming is done 5 times a
week. We are on the west side of the Sierras. It is a state snow park so you can bring your own sleds here if you want."
Eagle Ridge Snowmobiles operates Ski Doo Summit 550 sleds for the guides and Ski Doo GTX 550's?for the riders. Their 2 hour ride is $120 and you can go up to 5 hours for $300 with lunch included. "It has been a great year. We are at the crest of the Sierras and get
some beautiful views down into the meadows. The east side of the property looks down on the Sierra meadow, the largest alpine meadow in North America</place />," smiles Kellog. "I?have seen as much as 12 feet of snow in 2 weeks here. The storms come in sets of three with
up to 1 foot of snow each. We are at 6800 feet here and the sweet spot for snow is 7000 feet. The freedom to go out into the national forests and show people our awesome views is what I like the best about our operation. We get a lot of happy people leaving here. Our temperatures are usually high 20's and 30's and we get over 300 clear days per year of sunshine."
After a great day of mountain snowmobiling, it was off to the Cal- Neva Resort, Spa and Casino at Crystal Bay, Nevada. This historic resort was once owned by Frank Sinatra and is home to many of his fellow stars. The building even has tunnels underneath where the
famous could arrive and make their way to say the performance areas undetected. It is a unique place to see.

Just a short drive down the road from the Cal Neva was my next snowmobile destination, Zephyr Cove. Here I met Chris Burke, Director of Operations for the Aramark Lake Tahoe snowmobile marina and public transportation department. If Aramark seems familiar to you, it is a $11 billion company that does institutional foods, etc and even operates in my home city at our local university.
"We have been in the snowmobile operation here since 1990. It is unique as we run guided tours with a special permit with the National Forests Service and have permits to run 90 rental sleds, 4 times per day. We may be one of the world's largest snowmobile tour
operations and play an important role in the snowmobile industry. 90 % of our customers are first time riders and come from the Silicon Valley including San Francisco, Sacramento, San Jose as well as Texas and Florida with people coming for here primarily for skiing
etc. I anticipate we will take 20,000 people snowmobiling this season, so think about the role we play in the sport. They are first timers and even if 1% of those fall in love with the sport it is great, smiles Chris Burke. "Right now we have a 10am, 12 noon and 2 o'clocktour. We sign them up, suit them up and take them up by bus 15 minutes up the road to 7100 feet where our snowmobiles are located. On our rides we will get you up to 9000 feet. We have to have 1 guide for 6 machines so usually we have a lead guide and tail guide for 12 machines. I will have 9 teams of guides up there at one time. The trails are serpentine so the speeds are slower. Our goal is customer service as we are dealing with people who may not even have seen snow before. You are on the mountain for 2 hours. There is a stop at a nice meadow where we serve hot chocolate."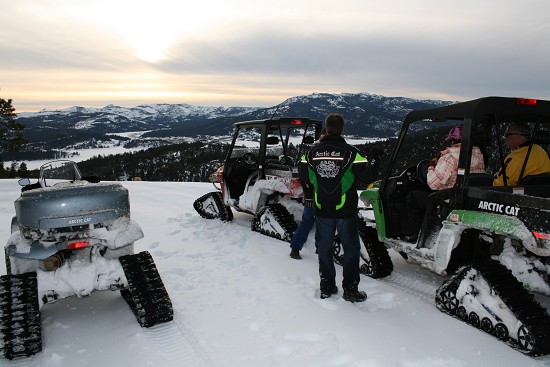 In addition to the group tours you can have a private tour at Zephyr Cove where you are climbing off trail. This is what I experienced and really enjoyed. As an experienced rider this area offered some spectacular snowmobiling at elevation. Thomas Civitano is a guide for Zephyr Cove and grew up in New York</place /></state />. "I rode snowmobiles a few times back in NY and just loved it so much that I moved out here. We get a range of riders from experienced to first timers. They get to see how exciting the sport is. You can do some climbing and
get into some nice fresh snow," said Thomas Civitano. "My favourite part is to get out into the back country and experience that solitude and just enjoy Mother Nature. It is really neat to
climb to those spots where you feel no one has ever been before and just soak it in. In my off days I have my own machine and ride one day and ski one day. I never really thought snowmobiling could be so fun. This is one of many areas out here that have just awesome riding. We can get 5 to 15 feet of snow. The snow can be wet but will give a good base."
The riding at Zephyr Cove will begin at the end of November and end first two weeks in April and in the mountains until the end of May. It costs $119 single and $159 double riding on a sled with helmets included. They will suit you up with everything else you need for
$15. Zephyr Cove has a free shuttle service from all the casinos for those who don't want to drive in the snow. They have a $1million worth of grooming equipment and groom the trails which anyone can ride, even with their own sleds. Zephyr Cove has Yamaha Venture
Lights and Mountain Phazers.
After another great day of beautiful riding my next stop would be the MontBleu Resort some 5 miles away. This impressive casino operation is in the heart of Lake Tahoe</place /> adjacent to the Harrah's Lake Tahoe Casino and Harvey Resort Casino. These three facilities were really hopping with guests and offered great night life. It was fun to see Joan Jett and the Blackhearts perform a real rock show in front of a sold out 700 crowd at Harrah's.
Riding snowmobiles with Tim Erskine, Lead Tour Guide for Coldstream Adventures was a great time. With some 2 feet of fresh snow on the ground, we went up into the Coldstream wilderness and were able to look down on resorts like Northstar. We saw one of the first
immigrants cross country trails used from the east to west coasts and did some groomed trial riding and some powder riding. "It is God's country here," said Tim and I agree! Larry Hahn is the founder of Coldstream Adventures and started the business because of his love of snowmobiling. "We are having a real good time doing it. It is a great way to make a living and bring other people out to enjoy the sport. We have had movie stars like Montel Williams on our rides. There are some real private places to go and it isn't overcrowded with snowmobiles. This area is one of Tahoe's best kept secrets. We can get 25 to 30 feet of snow on the ridges." notes Larry Hahn. Coldstream Adventures will do basic tours for $130 or $150 with 2 people on a sled. You can ride all day for $265 with lunch included.
After a mid day ride it was off to High Sierra ATV Tours for a new experience for me ATV riding with tracks in the snow! Our first stop there was to watch the final 10 minutes of the Canada US gold medal Olympic Men's Hockey game. In owners Jay Read's man cave I
watched Sydney Crosby score an overtime goal to defeat Team USA. That was a great start to our ride for this Canadian!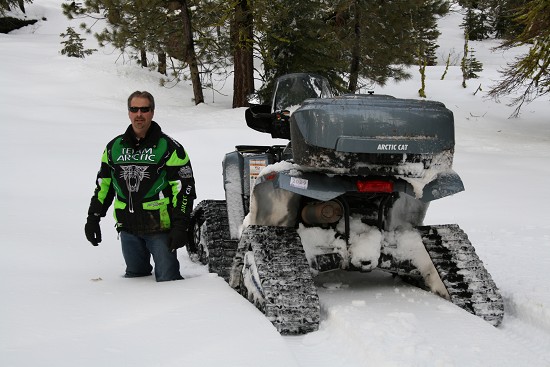 Riding with Jay Read of High Sierra ATV?Tours and his friends was a definite highlight of the trip for me!! "This was an extreme tour where we went up over AdamsMountain peak. We started off at 5300 feet elevation and then went up to 7800 feet using
Arctic Cat 1000 and 650 Prowlers. We also had an Arctic Cat TRVcalled the cruiser with windshield and matching trunk fitted with Tattoo tracks made in Canad.. These machines are unstoppable and can go anywhere a snowmobile can. I do rent them out to wind turbine and line repair people as well. Today there was 3 or 4 feet of snow and the ATV's stay right up on top," said Jay Read. "I love this, it is my retirement job. I ride all day. I was going out 3 times a week before I started it as a business. I love snowmobiling as well, I like to go fast!" A 4 hour ride at High Sierra ATVTours is $200. In the summer time they do wheeled ATV rides as well.This day was made especially good with the help of James Bell of Wild Sierra Adventures which has an office located in the Silver Legacy. JIm set up all the activities and was my guide throughout the day. His company is a great place to start in planning many different activities in the Reno- Lake Tahoe area. www.wildsierra.com
My snowmobiling at Reno Lake Tahoe had come to an end and it was back for my final night at Circus Reno in an executive suite complete with two bathrooms, large dining room table and separate master bedroom with jacuzzi etc, a very luxurious place to stay. After a full day of riding it was fun to have a great meal at the Oyster Bar, at Atlantis Casino. This unique restaurant features fresh sea food and is situated right over US Highway 395 where you can
watch traffic from your table. This was a fantastic experience!
My trip to Reno and Lake Tahoe showcased some great snowmobiling in a dynamic setting. This is a place you must visit to experience first hand for yourself!