Pure Gold Mine in the Red Lake Area
Undergoes Turn Around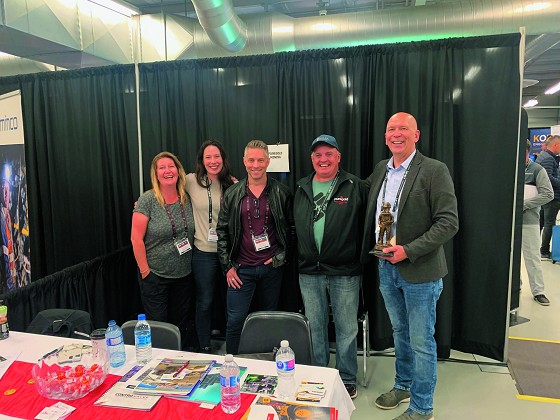 by Scott A. Sumner

Pure Gold is an interesting gold play in the Red Lake area. It is an old mine that closed in 1974 and had a mine shaft, headframe and surface buildings. Another company came in 1996 and tried to make a go of it but couldn't and the property was acquired by Pure Gold about 8 years ago and 2 years ago went into operation.
Brian Wilson is the VP GM of Pure Gold based with their head office in Vancouver.Brian has been in the mining field for 371/2 years and started out breaking rock with a hammer interesting enough.
" We have a 1000 ton a day mill, a tailings facility and an operating mine. It has two portals we mine from surface with 274 employees, all new jobs for Red Lake.We have been on a journey of cutting costs and improving safety and pouring gold. It has been a interesting journey and in the month of August we had our best ever since we reopened the property-over 4500 oz produced," said Brian. "We are traded on the TSX and in May we raised $32 million that gave us the runway to turn the mine around and to install some new compressors, set up a bunkhouse up there that we purchased and are currently setting up water and sewer to get in going."
" You have to be efficient in mining in Ontario and Canada as you are on a global market going up against mining companies in Africa, Russia or China that have cheaper power and labour. As Canadian miners we have to be very aggressive, lean and do what we say we are going to do. If we do all of that safely we can execute mining."
In Canada miners can make a great living of $100,000 or more per year. Pure Gold has some contractors on site but about 95%of their staff are their own employees.
"We have 1.6 million oz of gold, and are a 100,000 oz mill per year so we have a16 to 18 year life span mine. We also want to start the exploration going because there are green fields all around us that haven't been drilled with 50 sq km of land near the Balmer complex. We are right in the middle of a booming area with the Kinross, Evolution and Barrick mines there is a lot of mining activity." said Brian.
" I started my mining career in Red Lake and three of my children were born there. I migrated down to Sudbury and have been working in Thunder Bay. I chose to go back to Red Lake as I feel I owe it to the community where I started my career to help turn that mine around and give back to the community that gave me a great career. It is a success story and we have great resources. I'm looking at visible gold every day, it is unbelievable."
Recently gold sells for $ 2200 oz Canadian.