POLARIS FOUNDER DAVID JOHNSON STILL RIDES SNOWMOBILES
Rest in piece Mr Johnson
by Scott A. Sumner
It was an absolute honour to sit down and have lunch with one of the three founders of the Polaris snowmobile, David Johnson. Mr. Johnson will turn 90 in February and is still an active snowmobile rider at his home in Roseau, Minnesota. " We began working on the snowmobile in 1954. The name Polaris was there from the start as a partnership with Hetteen Hoist and Derrick in the site of the current liquor store in Roseau," said David Johnson who had Alan and Edgar Hetteen as his partners in the business. " We were the northern most manufacturing firm in the US at that time and made all types of machinery for farming and then started playing with snowmobiles. We were mainly interested in making something to play around with in the snow ourselves. We were lazy and didn't want to walk too long." smiled David Johnson.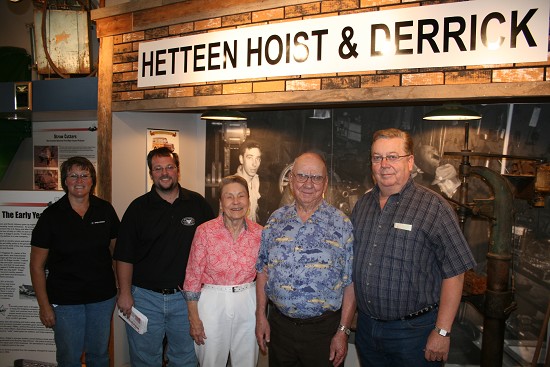 At that time the small company had about 40 employees starting in 1948. " In 1954 to 1955 we made a small snowmobile like those of today. Today at Polaris there are about 2000 employees. They are always trying to hire 200 more but they are hard to get. People don't want to work anymore. We did not have any idea it would be this big when we started. Then it was the outdoors people wanting to get outside and ski, snow shoe or hunt and the snowmobile helped get them out in the winter," said Johnson. " At the beginning the sleds broke quite a bit. There is a lot of difference in making a snowmobile for your own use but when the public get on it you have to keep going and make it better and better which has been done well by Polaris."
The first person to buy a Polaris snowmobile was named Harley Jenson. He bought No 2 Polaris for $ 425. Jenson was from Northwest Angle. He cut wood out on the Lake of the Woods and had to walk 3 miles on the ice to get out there and 3 miles back so used the Polaris to eliminate the walk. The No 2 Polaris snowmobile is now on display( see picture front cover) at the Polaris Experience Centre next to the plant location in Roseau.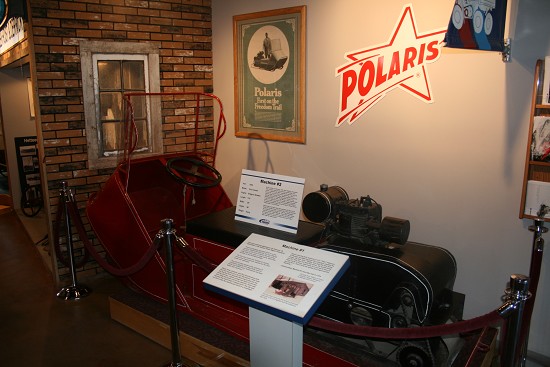 The company started in an old dance hall with about 1000 square feet of space and right now there is 800,000 square feet in the plant. David Johnson was in the navy and sent $ 11 of his $ 20 pay each month back to partners Edgar Hetteen and Alan Hetteen to help run the business. He was in the business before he even got home from his service. It was struggle at first according to Johnson. You needed good backing and money. In those days the employees made 75c to $1 dollar per hour. The partners would sit down then and give them 25c cent more.
To this day David and his wife Eleanor Johnson ride snowmobiles especially to their camp some 70 miles away. This year the couple will get a 2013 Polaris Switchback 600 and 2013 Polaris Widetrack. " We can go to our camp there and back and ride some 200 miles. We have Nexus and a remote area border-crossing pass so can go into Canada. I still love the sport," smiled David Johnson who can put over 2000 miles on in a season. The Johnsons have 4 children and two of their youngest sons have worked at Polaris. " I am waiting for the snow to come this year. We only made one trip to our camp at Northwest Angle last year because the snow conditions were so bad."
" I think the snowmobiles of today are very good and don't break down. I don't go 70, 80 or 90 MPH anymore. 50 MPH or so is what about I like. Last year crossing the lake going to our camp I tipped over a couple of times because we came back in a snowstorm. I couldn't see beyond the windshield. I would not recommend anyone riding in a snow storm on a lake because you can't see anything." laughed David Johnson.
Johnson and his company started in the ATV business in 1983 with what they called a Trail Tractor. Today the Polaris Company has two models of motorcycles and David Johnson enjoyed riding motorcycles in the past. " In the beginning if there was something to do we did it so worked long hours and 6 days a week,"said Johnson whose health is good. " I will continue to ride snowmobiles and ATV's although we like snowmobiles better because it is cleaner with no mud. Our life has been good through all of our history."
The Johnsons live about 2 miles from the Polaris manufacturing facility and David still visits the plant about twice a week.
Rob Miller is a snowmobile-manufacturing engineer for Polaris and on the trail Committee of the Roseau County Trailblazers that has 180 members. " We have the largest club in the state of Minnesota and about 350 miles of trail to look after. We have a large ditch trail and a large bush trail so have a pretty good variety and connect to the other clubs in the area. You can cross the border into Canada just north of Roseau. We have a lot of Polaris riders and many travelling riders. We have two groomers. The trail permit is $45 for three years here in Minnesota." said Rob Miller
Lyle Grindy is the Director of Promotions for the City of Roseau which has a population of 2600 people. Major employer, Polaris employs over 2000 here. " We have some employees that live in Thief River Falls and commute everyday 140 miles 12 months of the year. A few years ago the city was under water and Polaris made every effort to not flood with dykes etc. Roseau is a hockey town with three sheets of ice. In the trails system in the state of Minnesota there are more groomed trails than 4 lane highways. This is an outdoor community. www.roseau.com and www.goroseau.com