Ontario Revitalizing Community Infrastructure in Oliver Paipoonge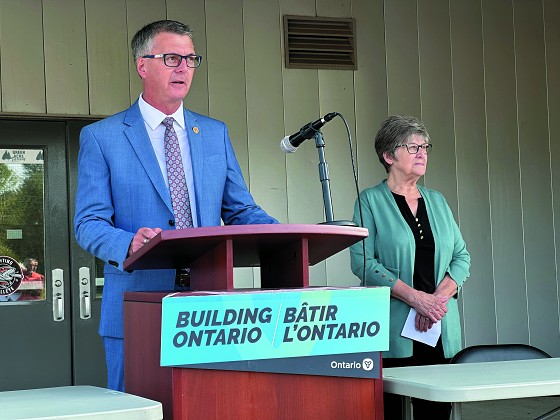 The Ontario government is providing more than $842,000 through the Northern Ontario Heritage Fund Corporation (NOHFC) for two community infrastructure projects in the Municipality of Oliver Paipoonge.
This investment will improve municipal and recreational infrastructure, promote tourism and enhance quality of life for northerners. "Investing in our halls, arenas and recreation centres demonstrates the government's commitment to maintaining healthy communities in Ontario," said Kevin Holland, Parliamentary Assistant to the Minister of Northern Development. "These enhancements and upgrades will ensure the facilities remain a safe and welcoming environment for the residents of Oliver Paipoonge and will extend the life of these facilities for future generations."
The Municipality of Oliver Paipooge is receiving $486,132 from the NOHFC to renovate and extend the life of six separate municipal assets: • The Murillo Community Centre will have electrical upgrades, foundation waterproofing, roof and door replacement and an overhaul of its HVAC system • The Rosslyn Community Centre will have electrical upgrades, parking lot repairs and new windows and doors installed • The Intola Outdoor Skating Rink will have electrical and lighting upgrades and a new indoor shelter • The Kakabeka Outdoor Skating Rink and Recreation Complex will have upgrades to the rink boards, chain-link fencing, lighting and baseball facility • The Rosslyn Outdoor Rink will have rink boards and chain-link fencing replaced and improved lighting • The Murillo Outdoor Rink and Recreation Area will have rink boards and chainlink fencing replaced and improved lighting NOHFC is also providing $355,991 in funding for Oliver Paipoonge to modernize the Norwest Arena by replacing the propane-fueled ice re-surfacer with a battery-powered machine, repairing the refrigeration equipment, installing a new railing, purchasing kitchen equipment and making electrical upgrades for automating the ice plant to enhance efficiency and reduce costs.
"We are very grateful for the generous funding awarded by the NOHFC to improve sports and recreation facilities in the Municipality of Oliver Paipoonge," said Lucy Kloosterhuis, Mayor of Oliver Paipoonge. "We thank the NOHFC for ensuring that the many users of these community facilities will be able to continue to enjoy their sports and recreational activities, and we thank the Government of Ontario for recognizing how important their financial support has been for our community."
Quick Fact • The Ontario government launched new and improved NOHFC programs that support more projects in rural northern communities and make it easier for more people and businesses to apply. The programs target existing and emerging markets, provide more work opportunities for Indigenous people and address the skilled labour shortage in the North. Additional Resources • The NOHFC, Northern Development Offices and Small Business Enterprise Centres are available to support northern communities, businesses and other stakeholders in identifying economic development opportunities and assist in accessing government funding programs. • The NOHFC's Community Enhancement Program builds strong and resilient northern communities through targeted investments in critical infrastructure.
Lucy Kloosterhuis, Mayor of Oliver Paipoonge
"This is certainly a good day for Oliver Paipoonge. All of our recreational facilities need some work in one way or another. When it come down to using tax dollars you are going to look at your roads, land fill sites and buildings first. Sometimes these other things go to the bottom of the list. This funding from the province we can do over $1 million of work and only put $250,000 of your own dollars in. It is
a big savings for us. The increased cost of maintenance for the buildings and purchasing equipment, everything has gone way up and we certainly don't want to increase the taxes that much. This year we had to cut back on some jobs we wanted to do but we are doing well.The people that volunteer in these facilities are so important."
Kevin Holland, Parliamentary Assistant to the Minister of Northern Development.
" I grew up in these area and this arena has many childhood memories for me. I played hockey here and know the history of how this came to be with the rural communities coming together to fund this project. For small communities to have a facility like this at their disposal is fantastic. NOHFC is designed to support facilities like this including smaller communities."
"The funds will go to electrical upgrades, a battery powered ice resurfacer to get away from propane, improved system for ice and maintaining, new kitchen equipment all which will enhance the area."