Nitro Circus Performs In Thunder Bay!
by Scott A. Sumner

It was an amazing expereince having the worldwide known Nitro Circus come to Thunder Bay with their travelling road show. As an avid motorsports fan their action packed show was a spectacle to see! 12 tractor trailersand a crew of 60 people set up this elaborate show of motocross, BMX, skateboard and contraptions.
Editors Note: Rest In Peace Paul Smith
Some notes from Nitro Circus!

Brandon Schmidt, age 23, is a Professional Snowboarder and BMX Rider
from Stockholm, New Jersey
" I grew up loving to ride bikes, skateboards or whatever and watching Nitro Circus. I told myself from a little kid on I was going to be part of Nitro Circus. So I had to decide do I go to college or find a job. I made an edit of my riding and sent it Nitro Circus and within 2 days I got an offer to come to New Zealand and tryout. I got a job offer and now 4 years later have been all around the world with my childhood hero Travis Pastrana, it blows my mind."
" I will ride BMX and snowboard with wheels on it. People want to come out to see something that has never been done before. If there is injury my drive is to get back as soon as possible. It is the love, passion and the willing to progress in the sport."

Ricky Melnik is the Athlete Performer Manager with the Nitro Circus. " Thunder Bay is our 28th stop out of 39 on our North American Tour. We are really excited to be in Thunder Bay. We have had a very good response with over 5000 people in attendance."
" I started in action sports with snowboarding and got hurt in motocross etc so decided to get into marketing and worked my way up the ranks."
" Today we will have about 30 athletes. Adam Jones is here who just recently competed in the World Games and X Games and is a multi X Games Gold Medal winner. Bruce Cook Canadian hero is here and has come back to ride the dirt bike after injury."
" These guys start their own apparel companies and can continue on with the business after riding."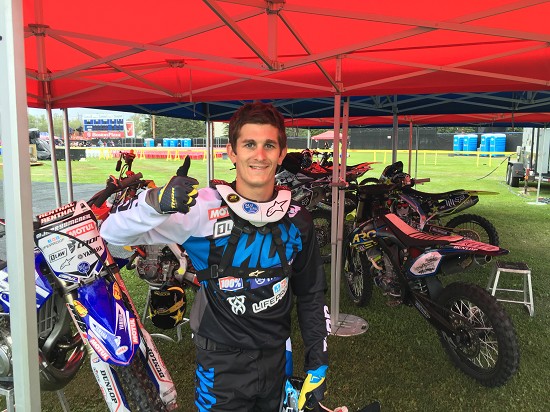 Jarrod McNeil, age25, is a motocross rider from Australia Kerang
"I started riding motorcycles at age 2 1/2 and racing motocross at 9 years old. Freestyle began at age 15 and I have been with Nitro Circus since the start in 2010. We have been to Australia, Japan, Europe and the US and Canada with South America next."
" I still race some motocross races outdoors but mainly it isfreestyle. Since April of this year last weekend was our first weekend off. I am based in the San Diego area about 1 1/2 away."
"I love Nitro Circus . There are not many other opportunities for people to travel around the world, ride motorcycles and do what they love performing shows for the crowds. It has been a life changing experience being able to come on Nitro Circus and live our childhood dreams."
" There is always fear say with new tricks but this is a very professional set up with the best portable landing and take offs."
" I hope to continue riding Nitro Circus , X Games and Nitro World Games. I got Gold Medals this year in step up and best whip at X Games this year."
" Financialy it has been ok with sponsorships and I could get ahead buying a property and having my own house and track. It will allow me to take my riding to the next level by waking up and just riding each day. Injury is part of the sport but drives you to get back on the bike again, it is just part of it."