New Golf Business for NW Ontario: Pure Golf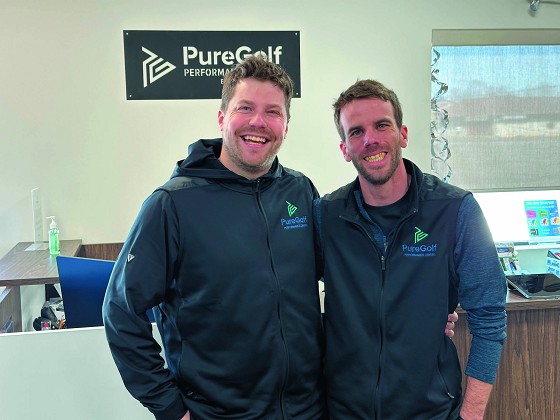 by Scott A. Sumner

Cameron Kennedy, co-owner and Master Club Fitter and Evan Littlefield, co--owner and Head Teaching Professional at Pure Golf Thunder Bay have been friends since youth. Both have a passion for golf and after taking
similar paths in the US playing and learning the game, have started a new business together-Pure Golf Performance Centre!" We grew up together at TBCC playing golf until today - we probably have played over 1000 rounds together. We both went away to high school in South Carolina at the Hank Haney International Junior Golf Academy." said Cameron. " Evan then went to the Core Golf Academy in Orlando with Sean Foley for two years- one on one with Sean."
Cameron and Evan were both good at golf and took their skill set to the next level and pursued golf scholarships in the US. Cameron left his scholarship in Virginia early to finish at LU and then moved to Toronto to become a fitter for Tour Experience Golf for 7 years becoming a Master Fitter, having done over 2500 fits to date.Evan played golf in New Mexico and then got his professional golf management degree from Niagara College.
" We wanted to bring back something to Thunder Bay that no one has been able to do in the past- a one stop shop for fittings, lessons, bay rentals and pro shop covering all the bases. If you are in the city and you think golf- think Pure Golf," notes Evan." Pure Golf Performance Centre is our name we created and we got Shout Media to create a logo and website for us. The end goal with the company is to grow the game of golf in the city and region. We grew up playing golf competitively and want to grow the game, especially with juniors and women, by bringing a service to Thunder Bay that has never been here before- club fitting, lessons and retail all under one roof." says Evan.
" You can have a lesson and fitting package to fit your golf swing to clubs that will make it a little bit easier for you. You can get clubs fitted to you and then once those clubs come in you can come back for a lesson and make sure everything is dialed in correctly."Pure Golf Tbay uses the Foresight Sports GC Hawk and Quad indoor simulators and the fit system and OEM fit that each company has for- heads, shafts and grips for driver, fairway woods and irons. You can hit the club that they build for you in house and then order that exact club from the manufacturer to come in.
"Nowadays clubs are so expensive you should hit them before buying them.Golf is hard and expensive, so lets get something you like and can have fun with playing the game." noted Evan.
You can play golf on the simulators as a single or group of four - $45 per hour for one person and $60 per hour for the group of four.Cameron and Evan want you to be comfortable at Pure Golf with TV's to watch sports and listen to some music if you want as well.You should check out this impressive 2400 square foot golf facility in Thunder Bay. www.puregolftbay.ca