My Snowmobiling Career
by Scott A. Sumner

It was the winter of 1968 in Manitouwadge,Ontario. This is where I grew up. My father was a mining engineer at Noranda Mines, which was a booming enterprise then.
Quite often my Dad and I would go ice fishing in nearby lakes. One cold weekend we were walking in to the lake when this bright yellow machine drove up to us. It was Carson Hoy, a mine employee and trapper my Dad knew. He was riding his brand new 1968 Ski Doo Olympic 16 HP on route to his trap line.
My eyes lit up when Carson asked me if I wanted a ride. I immediately yelled yes. That ride was all I needed to get me hooked on the sport of snowmobiling. I was 11 then and through the summer I remember asking my Dad many times if we could get a Ski Doo. He decided it would be fun
and in the fall of 1969 we drove to Bagdon's Esso in White River to pick up a brand new 1969 Ski Doo Olympic 12.3. It cost $695.00 and was the coolest thing I had ever seen. There were many rides in the
Manitouwadge area after that, sometimes on the ice fishing trips with my Dad and a neighbour, who had built a sleigh to pull for us. It was fun!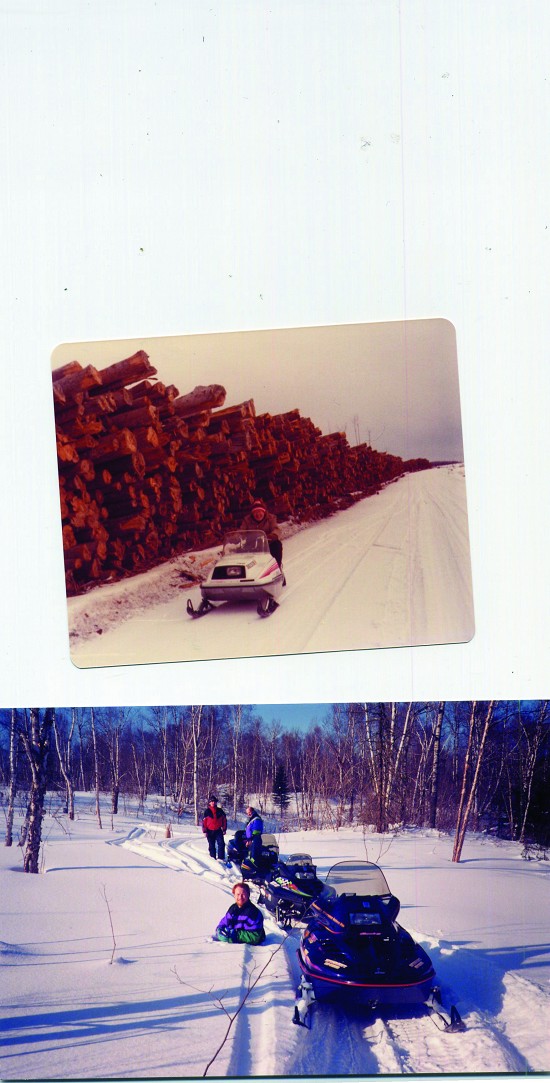 In those days the snow came by early November and lasted until into April and there was lots of it! Sometimes the snow would drift to the top of our garage door! The 1969 Ski Doo was a great machine but it needed lots of repair work. My Dad would have the guys at the mine welding the muffler, fixing bogey wheels, trying new spark plugs regularly, but it was fun. Since that time my career of snowmobiling
has taken me far and wide riding and meeting prominent figures in the sport.
My collection of snowmobiles has numbered around 20. I have always enjoyed the newest technology on sleds. In 2009 I remember attending the 50th anniversary of Ski Doo in Valcourt, Quebec where I got to ride the 1969 Ski Doo Olympic 12.3 again and then the 2009 Ski Doo MXZ. My feet would barely fit on the running boards of that 1969 anymore!
As a snowmobile journalist there have been many riding trips to place like Revelstoke, BC, Lake Chelan, Washington, Winterpark, Colorado, West Yellowstone, Montana, Lake Tahoe, California and perhaps my favourite destination- Quebec. I'm sure there have been over 10 snowmobile trips to all regions of Quebec. It is here that the people love the sport the most. It has also been fun to visit the
manufacturing plants several times including Arctic Cat, Polaris and Ski Doo. Also snowmobile shows in Toronto and Minneapolis Haydays are all about snowmobiling. Our company put on our own snowmobile trade show in Thunder Bay for 5 years.
Snowmobiling was especially fun in what I call the hay days of the sport here in NW Ontario. At that time you could ride from Memorial Ave through the city to Mt Baldy and out to Kakabeka and beyond. It was then you could put on over 3000 miles a year quite easily. The local club had over 3000 members. There were multi day rides in the region. The snow conditions were usually great!
Today it is not as good with fewer than 100 trailer permit holders. The trails start at Kakabeka only. The snow comes late and can go early for a short riding season. In addition the sleds of today can easily
cost upwards of $20,000!
The sport is changing but still fun. Today's sleds are amazing. The technology has advanced so much. They are light with elaborate suspensions and high tech engines. I love it.
You should get out and try the sport again. I think when you do you may become just like I did almost 50 years ago. Hooked!