My Snowmobile Trip To The Eastern Townships Region of Quebec: Valcourt and Lac
Megantic!

by Scott A.Sumner
Many people dream of getting away in February to a warmer climate to spend some time on the beach and relax. Personally I enjoy the winter season and this year was fortunate to visit the Eastern
Townships area of Quebec to ride and see snowmobiles from February 9th to 14th!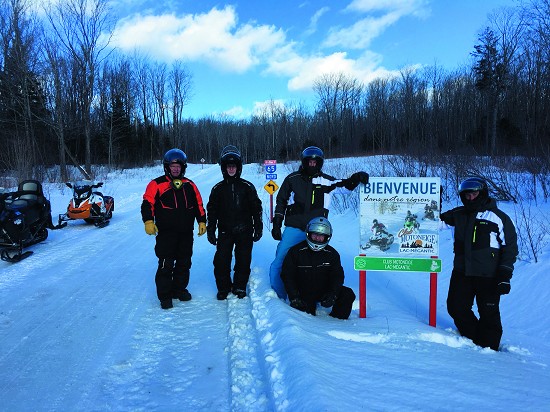 My journey began with two Porter flights to Toronto and Montreal.I like that the flights are direct, meaning you stay on the plane at the Toronto Island Airport. This speeds up the process for sure. After
leaving at 9am and arriving at Montreal before 1 pm it was off to Discount Rent A Car to begin the under 2 hour drive to the Eastern Townships.

It was fun staying at the Auberge 4 Saisons Hotel which was quite luxurious. Auberge 4 Saisons is a 10 years old property that was enlarged two years ago from 28 to 82 rooms. It has an indoor outdoor pool, spa and a good restaurant that we enjoyed that night - Bistro 4 Saisons.

Danie Beliveau is the Media Relations person for Tourism Eastern Townships.
" We are a pretty big area situated just north of the border with Vermont, New Hampshire and Maine for an area of 12,000 square kilometers from Lake Champlain to Lac Megantic. We are sitting on the
border. Newport, Vermont is the closest city."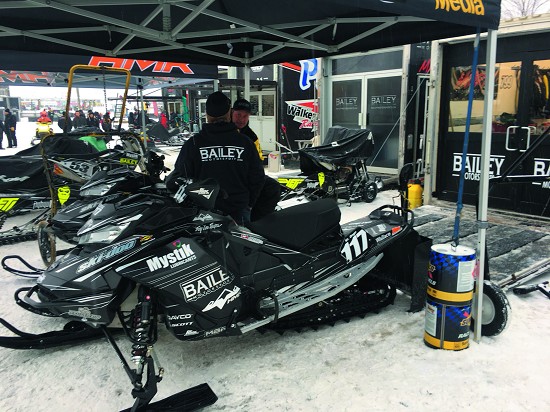 One of the main reasons for the trip would be to attend the 2018 Grand Prix Valcourt, the 36th edition where 30,000 visitors attend over the weekend. 500 will ride to the event on snowmobile.

In addition I would have the opportunity to ride snowmobiles for two days in the Lac Megantic area.

" We have many trails here and Valcourt is the cradle of snowmobiling, where Mr Bombardier invented the first snowmobile which was like a car before the snowmobile we know today." said Danie.
" We have a good circuit of trails that are linked to the Quebec main trails. There are a variety of trails that are well maintained by the club. In Lac Megantic there are some elevations that make it a
pretty setting."

Most of us are familiar with Lac Megantic as the area was in the news so prominently. In 2013 the Lac Megantic rail accident occurred where 47 people died. There was not enough brakes that were put on the train and it started moving and gained speed down the hill and in Lac Megantic there is a curve and the train missed the curve.

Lac Megantic is recovering and starting to rebuild and will change the way it is done. They want to develop some attractions near the lake. There is a plan to build a hotel and a small convention centre.

In addition there are 4 major ski resorts and 2 smaller ones in the Eastern Townships. One is lit at night- Bromont. It is in fact the largest lit ski resort in North America. Over half of their 120 plus slopes are lit at night so it is very popular with night skiing.

" We have many Montrealers visit each year, some for the day with skiing, golfing, fishing etc. We are the fourth largest visited area after Montreal, Quebec and the Laurentians." said Danie.

" We are doing well and are growing. Last year the economy from visitors was $875 million and we had 9 million visitors."

You can visit www.easterntownships.org for more information with different activities listed including spa, food and wine. There is a blog that tells what is happening each weekend.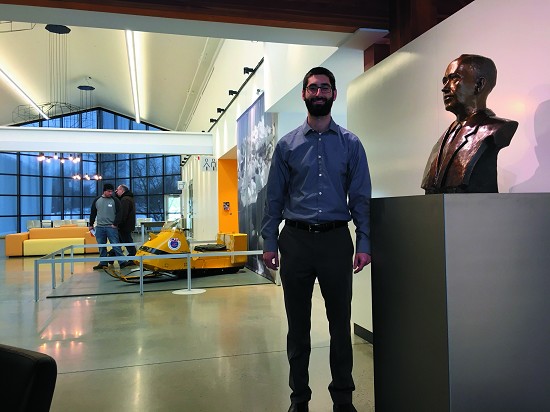 As an avid snowmobiler I was really looking forward to visiting the Museum of Ingenuity J Armand
Bombardier, some 40 minutes away from the hotel.

" It reopened in May 2016 after extensive renovations. Previously the display was mostly about Ski Doo and snowmobiling as a guided tour. Now it is more about the whole history of the company beginning with the life of Mr. Bombardier and then about the overall company. We get 30,000 visitors per year." said
Alexander Hince, Head of Education. " Many people will start with the 15 minute theatre presentation with moving objects about Mr Bombardier in the original garage and then see the 15 minutes video over all evolution of the company."

During your visit you can see the original Ski Doo that made it to the North Pole, the B12, Metro Streetcars, Spyder, the Flex series and the new C Series jet simulator with fly by wire, the same units that pilots use to train. There are many interactive displays including a fab lab where you
can build something in 3 D eg. you could build a guitar or print something for a tee shirt .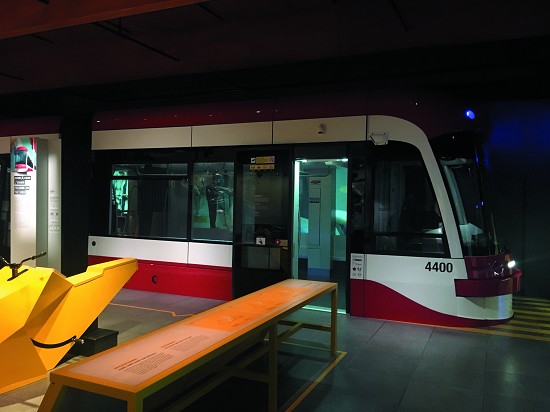 " We want people to interact with the museum. There is an glassed area where you can see many reserve vehicles as well." said Alexander. The costs to visit the museum are: Adult $12, Family $30
There are manufacturing plant tours Tuesday to Thursday with guides that cost $17 including the museum access at 10:30 am or 1:30 am for 14 ages or over with a maximum of 10 people with up to 3 or 4 groups daily.

During my tour of the BRP plant the Spyder product was being made. In May it changes to Ski Doo. The other BRP products of ATV and Sea Doo are made in Mexico plants.

The level of technology including robotic welders was impressive to see. I was not allowed to take pictures in the plant but I think you would enjoy seeing the process of manufacture over a 1:15 minute
time period.

Next up for me would be attending the multitude of races at the the Grand Prix Valcourt which is 36 years old now and a NON Profit organization run by 16 member directors.
" It began mostly as a snowmobilers meet up with the first edition a blend of drag races and ice alone but not on oval. It grew quickly because it's Ski Doo home town and being the biggest event many years ago for snowmobilers." said Jean Collard, Social Media Press Room Manager " Today it is a very unique race weekend with 9 different disciplines including Moto and ATV on ice oval and also inside the ice raceway, snocross. New this year is Snow Bike where some of our previous snocross racers came back to try Snow Bike. We have 1 kilometers of displays for family as well as rock concerts, drag races, fireworks and free entrance to the race paddock. We have a small ATV ride and slides for kids. Most of the people come from an area of 200 km around here. We have fans that phone in September to save their seats."

" Ski Doo is our main sponsor and help financially. There are many other sponsors as well including INTACT Insurance. The track is on BRP land. It is a good way to promote Ski Doo and have a big event for the area. We have some people who work full time almost all year and 16 members of the Board of
Directors who look after different areas such as food service, paddock, race schedules and the family section. There are 250 to 300 volunteers this weekend and before,"said Sarah- Maude Boucher,Business Development Manager and a former Canadian National Team skier!

I really enjoyed the Grand Prix Valcourt, viewing some races, talking to some snocross teams I meet each year at Duluth, listening to some rock music and seeing so many snowmobile displays!

My next stop would be Lac Megantic, about 2 hours a way by car. The first stop was to Summun Experience Location to meet my guide Bruno and get on the 2018 Ski Doo Grand Touring 900 ACE sled.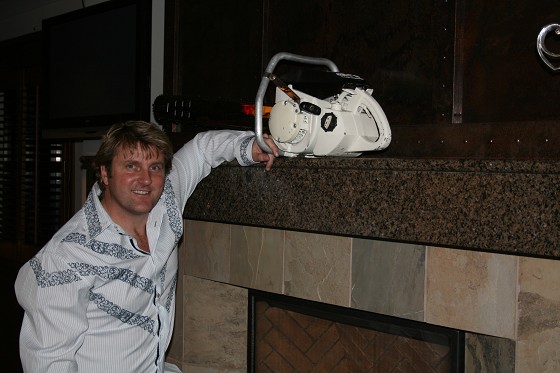 " It is our first year of renting sleds in the Lac Megantic area with 3 Grand Touring and 1 Renegade with more coming next year. The operation is owned by the local Ski Doo dealership, Performance NC."
said Pierre Marc Poulin Manager of Rental.

The Lac Megantic Club was started in 1968 and currently has 160 kms of trail. They have 225 Trail Pass holders. The permit cost is $315 before Dec 9th after that $385. If caught on the trail with out a permit there is a $580 fine taken on the spot to help pay for the groomer costs etc. They also have a new bridge which cost $300,000 to replace the old one with funds coming from Canada, Quebec and the club.

There are two John Deere tractor groomers and the operators are volunteers. The trails are groomed once per week and it takes 80 hours a week for both of the groomers said Bruno Giguere who is a Director of Lac Megantic Snowmobile Club.

The snow came late to the region this year but normally there is good riding from Dec 15th to March 31st.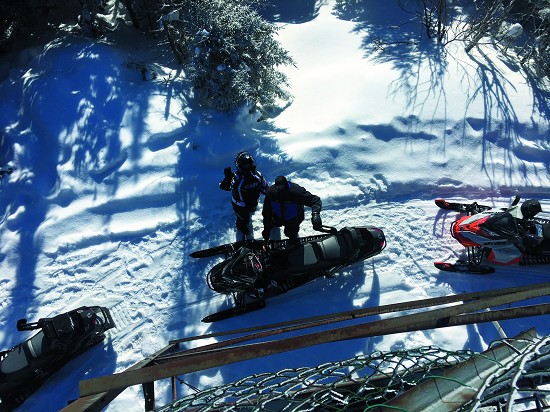 We rode the Lac Megantic trails for two days putting on over 300 km. There is a good diversity of trails through fields, at elevation and some through trees. We were 10 kms from Maine where the US riders you can cross the border and obtain the trail pass.

The trails were in excellent condition with good levels of snow. It was fun to have 6 people ride with us, stopping for lunch and seeing the beautiful country side. The people here were so friendly and passionate about snowmobiling. The food in Quebec was amazing everywhere I went. It is so much fun riding snowmobiles here!

After our ride Bruno gave me a tour of the site of the Lac Megantic rail disaster. The area is being rebuilt and coming along very nicely. The people of Lac Megantic seem to be doing very well now.

My trip to the Eastern Townships would be coming to an end and it was off to Montreal with a 3 hour drive to the airport for the trip home.

Special thanks to Danie, Bruno, Sarah, Collette and Myrtle for their help on this adventure.

www.easterntownships.org