Memorial Home Hardware Building Centre Expands!
by Scott A. Sumner
If you are driving down Memorial Ave in Thunder Bay you will certainly notice the new store front presence of the Memorial Home Hardware Building Centre. You will also see Thunder Bay's first lumber store drive through!
Chris Sauer, age 53, has been the Dealer-Owner of Memorial Home Hardware Building Centre since 2018. His wife Shannon and son Justin work full time in the business. Other son Jordan is an electrician.
Chris Sauer has been in Thunder Bay since 1978 and been in this business since 1990 started out selling lumber at the previous Beaver Lumber in County Fair. He then came to the current Memorial Home Hardware Building Centre location to work, back to County Fair and then returned to Memorial. When the previous owners of Memorial Home Hardware Building Centre decided to retire Chris took over.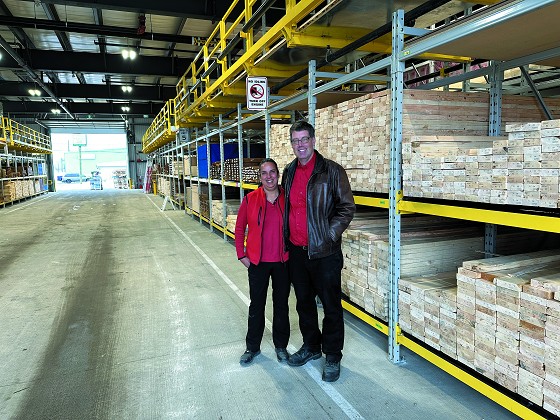 " The current store has been here since 1978 and the people have supported it for years and years. Not a lot had been done to the location over those years until we took over. We put on a new store front to give it a lot more curb appeal. You can't see it now but there is more greenery out there, with planter boxes and more coming this spring and we have trees coming for the boulevard," said Chris Sauer. " We added the drive through lumber yard which people were waiting for and excited about. You can pick up all your lumber, drywall, insulation, building materials and cements inside in a drive through out of the weather. It's unheated so the wood doesn't twist or warp. It is a trend in the industry and Memorial Home Hardware Building Centre is the first drive through for building materials in Thunder Bay."
" We started some minor renovations when we took over in August of 2018 with the plan to start the main construction in 2020. That got pushed back twice because of the pandemic and we finally got going in 2021 in the fall.We were under construction for all of 2022 and would like to thank all of our customers for supporting us during that time as it was a little challenging getting in and out of the store, working around various construction.Our busy season is the construction season so you couldn't shut down." said Chris.
The general contractor for this project was Tom Jones Corporation. The construction started with an earth works program removing muskeg and putting in proper fill. Next piles were driven down to a depth of around 50 feet, concrete poured and the building built on top of that. The drive through addition was 8500 square feet and the existing store is 22,000 square feet. Memorial Home Hardware Building Centre also have the old lumber yard storage area behind the building and will continue to use that for overflow. The footprint on Memorial Ave is not big enough to close the old lumber yard. They do have enough room in the the new drive through building to keep a lift of everything.
There have been significant renovations done inside and outside the original building as well." We redid the storefront which was old and tired and gave it a much
more pleasing look, more dramatic when you drive down Memorial Ave and see it. In the interior when we started we lifted the front of the store floor 5 inches, as the store was crooked being built on muskeg. We put in the bathroom design centre, the paint boutique is in and are working currently on the flooring centre. The customer service centre was moved to the back of the store. All of the store fixtures from the centre of the store back have been changed and updated. The warehouse in the back of the store has been updated as well." said Chris
The Canadian owned company Home Hardware head office is located in St, Jacobs Ontario near Waterloo and has 1100 stores in Canada.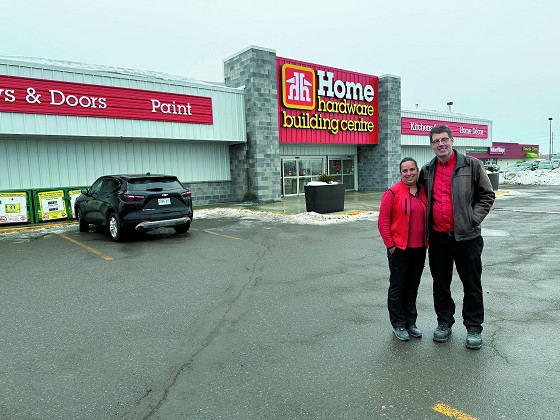 " We are members, not franchises and own Home Hardware Store Ltd. The only way you can become a member is to have a Home Hardware store," said Chris Sauer.
"They have store planning which helps us but all the 1100 stores are unique to their location and market so are different and have to be fitted in. About 500 of the stores sell lumber. The stores can range in size from a 200 square feet corner store to huge super centers of over 100,000 square feet. We lease the space for the building from Home Hardware Store Ltd. but are responsible for everything that goes on inside the building including the racking and all the interior renovations. The entire cost of our renovations to date is in the range of $ 3 million for all investments. We are getting close to being a state of the art Home Hardware. There is still a lot of work to do inside the store.We are looking at lifting other portions of the store floor this winter and put in new flooring.We already have new lights and it is far brighter than ever before."
Tom Jones Corporation was very good to work with stated Chris. The sub trade contractors were good.
There is a specialized company in Winnipeg that lifts the floor called Polymor Canada. They survey the floor and drill 3/4 inch holes in the floor and pound a copper pipe 4 feet into the ground and inject foam into the peat under the gravel to stabilize. They then drill another hole into the slab and inject another material to lift it. It is a unique process according to Chris Sauer.
Paul at the Autostak company provided a unique stacking system with a roller bin combined with pallet racking, and cantilever rack designed to reduce display storage space needed by 35%. This allows more inventory indoors and reduced labour and equipment costs.
" The pandemic was a tough situation for us having just recently taken over the store.We were forced to deliver all of our products to our customers in the parking lot, taking orders over the phone. It was time consuming, hard and hectic with twice the number of people to sell half the product, so it was extremely challenging. Financially it wasn't a good time to do a major renovation.We were getting shut down all the time as we couldn't count on supplies or being able to work." said Chris. " Today things are moving along nicely. Interest rates are rising however which will put a damper on peoples renovations unfortunately."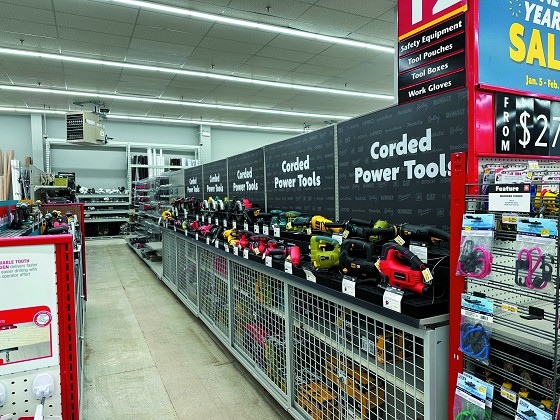 " It is a good business to be in. I enjoy helping people bring their dreams and ideas to fruition. The home renovation market is a key area of our customers. We do new construction home work and have major industrial customers as well. We do a fairly large business with First Nations mostly through ice roads."said Chris Sauer.
" I enjoy being able to come to work and do what I want to do with my business, say renovate it, expand it or change it and don't have to ask anyone. We can serve our customers in the way that best suits our community. There are some things that Home Hardware does that don't make sense here in our market."
" I'm optimistic about 2023. I am concerned with the rising interest rates that may cause people to invest less in their homes because it will cost more so optimistic but cautious at the same time. Lumber pricing went up sky high but have come backdown. Some of the products in the store have not come down but there have been some price decreases. Inflation will stabilize."
Memorial Home Hardware Building Centre have 37 employees and run 6 days a week to give their staff Sunday off. Be sure to check out this newly ren