Local Manufacturing Business provides Smart Way to Build: Smart Modular Canada
by Scott A. Sumner
Bill Boulton is the President & CEO of Smart Modular Canada, a fairly new business in Thunder Bay, that is building new homes in a smart and efficient way!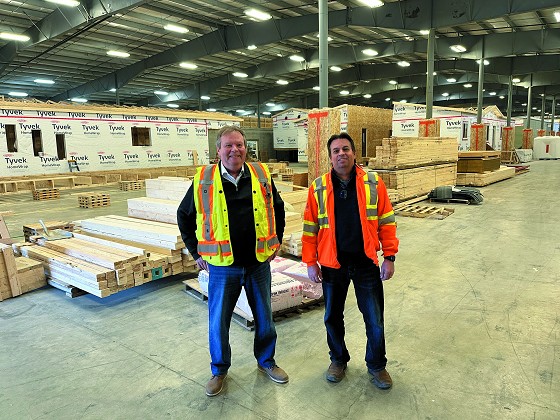 " I've been in the modular industry for 16 years now. At the beginning we designed, sold and installed modular buildings all over NW Ontario purchasing from other factories. In 2019 we had many orders come in and the factories we were dealing with couldn't supply them as they were >too busy," said Bill Boulton. "This building became available after sitting vacant for ten years. Also certain things in my life changed which allowed me to focus on this business. My son Rick and I decided we would open this factory in November 2020 and manufacture our own buildings!"
Smart Modular Canada started with one small 20,000 square feet section and within 6 months took over the entire 76,000 square foot building located on Haniak Road.
" We started up during Covid and had our struggles like everybody else but we made it. We build modular buildings to the Ontario Building Code and CSA standards and sell across Northern Ontario and now are going to Manitoba. We are busy, busy. I had always wanted to open a factory and had a plan of how I wanted it in my head. We hunted all over here for the proper building and this is the only one that fit." said Bill.
" Our main customers right now are First Nation people right across NW Ontario where we provide efficient homes. They can be delivered up north on the ice roads. We set them in place and the two pieces get put together. We also deal with commercial businesses and mines as well as some cottage people." said Rick Boulton, National Sales Director, Smart Modular Canada.
Smart Modular Canada builds the same way as you would outside but inside and there is never a rainy day. All of their inventory stays indoors so it is dry and nobody steals anything which can happen on outdoor job sites.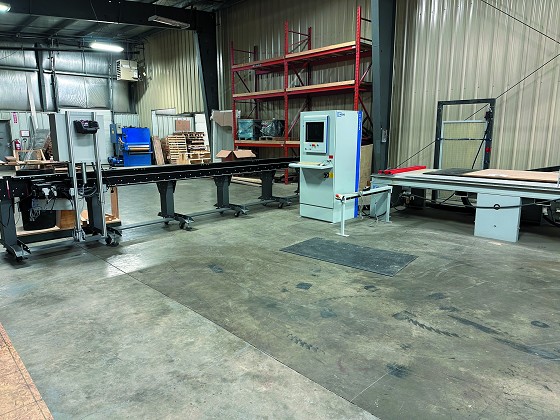 " We create on own fake foundation inside the building and it is on a moving line similar to any other production line like GM or Ford with vehicles. There are stages and each stage has so many days before moving on to the next until it gets to the end of the line and out the door. We are working on 12 to14 houses at a time. The drawings are done in house," says Bill.
" The start is the framing with our red seal carpenters and then we have our own plumbers, electrician's, HVAC people as well as dry wall and tape people. The average home we build is 1000 to 1100 square feet and takes about 6 weeks to complete. We are in the midst of automating including building cabinets, and will try to move that number up. We have all the materials here in the building, it is like a big home supply store." says Bill.
Smart Modular have a customized truck and trailer and hire out to other people as well to ship their homes to the final destination. The average weight of a home is 25,000 to 30,000 pounds and can go as high as 40,000 pounds.
" We have a lift system in the shop that we customized by lifting the building 5 feet in the air. That is how our plumbers and everybody can work from below as well. The trailer is a trombone trailer which extends under the house for up to 74 feet." noted Bill Boulton. " In our world with First Nations and mining companies we can assist with the foundation work on our own but not in the city which has different regulations."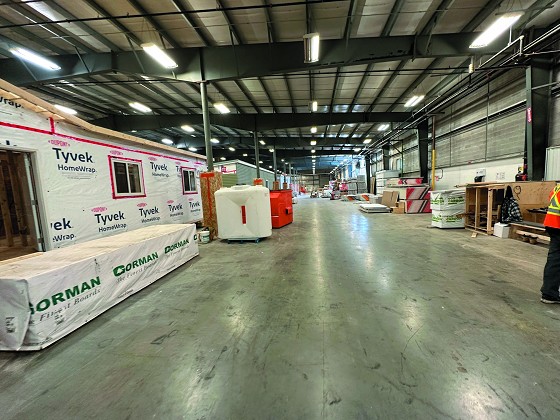 On average the time to build a home is about 50% faster than an on site build and costs 15 to 20 % less as a rule than site built according to Bill Boulton. The house also has 15 to 20% more material in it because it has to make the journey down the highway and get lifted on a crane. Not all the roads we go down are that nice smiles Bill!
The whole Smart Modular plant is CSA approved as an envelope, so what that means is all their procedures, say the way they drive in a nail, have been certified by the CSA. All the products used in the building have to have a CSA stamp on it which means it has been inspected by the Canadian Standards Association.
" We expect to use more of the hours in a day to operate by shifts, if we can find more people to work. We have a trade program experience here as well." said Bill." We have just under 50 people working here today and our business is almost all out of Thunder Bay. Our biggest challenges have been staffing and the supply chain.The supply chain is getting better but it is still difficult to get staff, particularly trades. We have the staff we need today, but is difficult to expand. This is a common problem in business. Wages have also gone up. We have been growing quickly in the last few years which is incredible. We want to construct quality homes."said Bill.
There are no other factories like the impressive Smart Modular Canada facility between Ottawa to Winnipeg.