Local Airline Achieves Success:Wasaya
by Scott A. Sumner
Wasaya has been a well known name in air travel in NW Ontario for just over 30 years now. The airline was started by some Elders who had a vision to provide safe, cost effective air service to their communities and the means to employ community members. There were originally 8 communities which owned Wasaya and they formed the rays of the sun on the logo.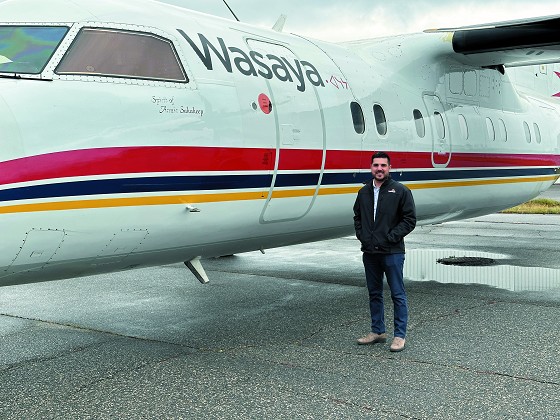 James Ward started as CEO of Wasaya in 2020. Happy Time Travel, Carrick Express, the new hotel under development are all now part of the group as the ownership group are very business savvy.
" Wasaya has a long history of success and struggles but I don't think the original founders though it would be what it is today. It started out as very small operation and today we have over 20 aircraft and employ 350 people. Our focus is NW Ontario where our 12 owner communities reside,"said James Ward, CEO of Wasaya. " We used to service other communities but the pandemic limited the number of companies that were able to come into the community and our ownership group chose us."
In 2018 the company Exchange Income Corp based in Winnipeg partnered with the Wasaya ownership communities in exchange for shares of their business going to the communities.
" The Exchange Income Corporation ( EIC ) has provided financial resources and expertise. I have found from the beginning working with them and the collaboration with all of their airlines ( Perimeter, Bearskin, Calm Air, Pal, Kewatin etc.) with weekly calls has been good. Everybody has the same experiences," said James Ward. " During the pandemic it was very important as our passenger levels went down to about 5% but our cargo tripled.We were a lifeline to the communities. Our airline was never designed to have triple the cargo so it was
stressful time for the airline trying to find staff and the right aircraft. We did manage to keep most of our employees and had to reconfigure our passenger planes to cargo use. We also asked for help from our partner, EIC, which wasn't so overloaded. Our partnership with EIC has been good for support and expertise and on a relationship basis."
Wasaya has recently purchased two ATR 72's aircraft with an extremely large cargo door. The only other large cargo doors in their fleet are on the Hawker aircraft. The ATR 72 , built in the early 2000's, are worth about $7 million once on the line.
Wasaya also have the Dash 8 100 aircraft which holds 37 people and the Dash 8 300 which holds up to 50 passengers. The next size up for this plane is the Dash 400 or known as Q 400 which can hold up to 70 people and is the plane flown by Porter Airlines. Wasaya also have Beech 1900's which hold 18 -19 passengers, the Pilatus PC12 which has a 8 - 9 passenger capacity and Cessna Caravan 208 B can seat up to 9 but also can be configured to do a mix of freight and passengers.
" The Wasaya head office is here in Thunder Bay with 2 hangars and we have a staff of 350 people. Our passenger service hub is Sioux Lookout.We do a major movement from Thunder Bay to Sioux Lookout and then span out to the north. Pre covid we were into 20 communities but now are focusing on our ownership communities- so about 12 - 15 communities regularly. We are still on a reduced schedule and are trying to ramp up as soon as the communities lift restrictions. We just need staff to do this - pilots and mechanics," said Ward ldquo;The fuel cost is extremely expensive now especially when you are burning so much of it. We are essential service where we are relied upon."
Wasaya has to work with the infrastructure available in these small remote communities.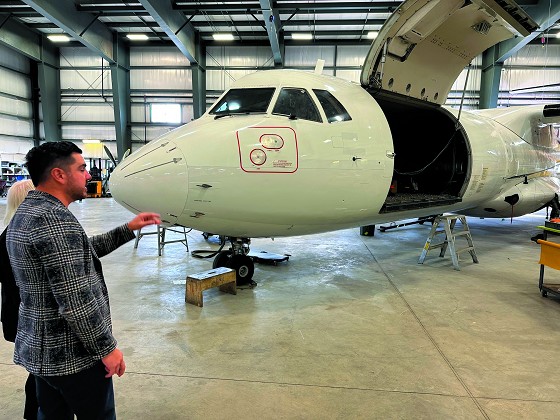 " 3500 foot gravel runaways are what we see mostly.We would like to see them longer and paved but I'm not sure if I will see that in my lifetime. The runways are maintained by the MTO. If the runways were longer and paved it would open up a whole new world of aircraft but right now we are pretty limited as to what we can use. We find the Dash 8's are great for passengers but not great for cargo.The ATR 72's are >great for cargo but not as great for passengers in our market." said James. " At Wasaya the ATR's will replace the Hawker Sidley planes which were built in the late 1960's. I believe we are one of the last three airlines operating Hawkers in Canada. Parts for the aircraft are very hard to find. The expiry of the aircraft is determined by the next part we can't find. It is a ticking clock."
The new two Wasaya ATR's purchased came from Hawaii Airways and were managed by Empire out of Idaho. Today you can go anywhere to get the right aircraft says James Ward.
"We deliver up north anything you can just drive to the store and buy in Thunder Bay. Boats, quads, snowmobiles, clothes, groceries, construction materials - lumber are some examples. The communities we serve all have ice roads but it can be a short season. Last year the winter roads were good and opened from January to March. Sometimes the trucks will break through a ridge and shut the road down though. We are an essential service and are competitive and fair to the communities that are dedicated to us."said James Ward.
" Pilots are in high demand today as the larger airlines are on a hiring push. At Wasaya we produce really good pilots because of the environments we fly in. Our level of pilot we create is very, very high. We have an apprentice pilot program at Wasaya taking them right out of school and assigning them to different duties with in the organization for 6 to 12 months. We will get them some flight hours," said James. " We recently had a great success story with one of our indigenous DASH 8 pilots from Kasabonika who got hired on by Westjet."
Also aircraft mechanics are in high demand right now.
" We are still working on refining and updating our fleet.The ATR program is part of the upgrade. I don't seen any new routes coming as there is enough work for us in our own market that we need to catch up on. The newer added aircraft with larger capacity will help us with that."
How does James Ward enjoy the airline business?
" Every day can have it's challenges with some greater than others, but you just have to care and come in everyday with a clean slate. It is a very complex business with weather, maintenance and passengers trying to keep on schedule. We get through it and take it one day at a time.We are a very, very, complex organization with many moving parts."