Levi Lavallee Race Team Ready For Great Season
by Scott A. Sumner
Each year at Duluth in recent years I have had the chance to sit down with snowmobile legend Levi Lavallee. It was fun to talk to Levi about some big changes in his life. I also talked to the the three Pro Open riders on the team!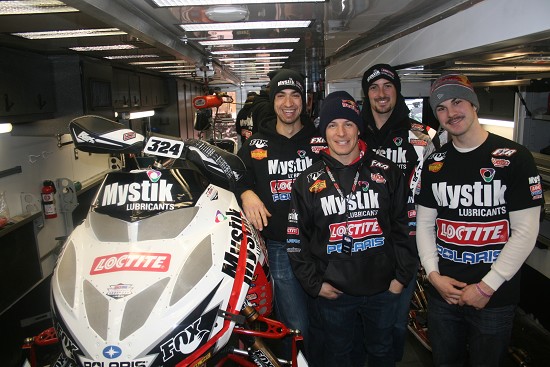 You have been involved in the snocross sport for a long time Levi?
" I've done a lot of years of snocross. This is my 18th year coming to Duluth on Thanksgiving weekend as a competitor. Prior to that we came for years as spectators. I have watched the sport change a lot. It is a great event and one of the coolest things about Duluth is it is the first time you get to see the new sleds, the new racers, changes to different teams, the new sponsors and there is so much excitement. Each team is looking to improve in the off season, making changes and then you show up at Duluth with them and see if they worked or do we have to go back to the drawing board.
Has the sport changed much over the years?
" There is a lot technology now and the new sleds are incredible thinking back to the 90's. They are now purpose built to do these jumps. In the last 5 or 6 years the style of racing has changed. We used to rythme over everything with less impact. Now guys hold it wide open and blast into these bumps so you can go faster. The sleds are tougher, stiffer and geared to wide open. There is a new style of snocross. In the past it was more finesse but now becoming more flat out hitting bumps. The sled is set up so that at impact it deflects off in hopes of doubling the next bump. In AMA motocross there is a lot more finesse. Now guys are literally skipping from bump to bump similar to the whips in supercross. The younger guys have trained their whole lives for this approach."
The off season has been very eventful for you Levi?
" My wife and I had a little girl- Liv Joy Lavallee is her name and she is 8 weeks old. It is funny being a new father you hear the stories of how much you absolutely love the baby but as soon as she was here you have a whole new outlook on things."
" I also decided to retire from Amsoil Snocross. Last season, and even over the last few years, I had quite a few injuries. It was getting harder and harder on my body. We were in a position where we had great riders on the team who are doing a great job. If I help them grow and advance their careers holding down the fort for the race team, I can go pursue things I really like such as the jumps and X games. Last year when I did the whole season I ended up 10th in points and struggled with my body with the beating you take in snocross. I am 32 years old but in snocross years I'd be about 85!"
" It is going to be fun. I plan to compete in four of the X Games disciplines - Sno cross, Hill cross, Speed and Style and Long jump. I am also working with Redbull on another thing which will be super fun which I can't say too much about yet. I want to try things in snowmobiling that have never been done before. This gives me the time to do that.
You have three good pro open riders on the team this year?
" We have Kyle Pallin Jake Scott and Andy Lieders- all Pro riders."
Kyle Pallin " Racing is fun and why not have fun doing something you love. I don't have any other plans besides racing and going fast. This will my 12th year of racing starting at 12 years old in the Junior 10 to 13 class. My brother and I raced together then as a family"
" This is my third year with Levi and it has been a wonderful experience. I am in the place I want to be and just want to go out there and build on the success I had last year. You keep learning, getting faster and my goal is to bump up to first or second in the points after finishing third last year."
"The Polaris sled feels really good. We did some testing last spring after the season and made some more gains so each years it gets a little better. We will be right there with everyone else especially off the line."
Jake Scott " I had a bit of a rough season last year with an injury half way through. This season I am looking to ride the best I can. There is so much competition out there fighting for podiums and wins. I want to have fun, do what I know I can do and get some top fives. Two years ago I won the Pro Lite championship and bumped up last year to Pro Open. I got injured in practice at X Games -my ribs and lungs made me out of breathe. This summer I worked on my health and hope it is good for this season. We have been riding for the past 2 weeks on snow. We go to Quadna and Elk River. It will be a fun year. Levi is a great teacher with so much knowledge and has been helping us on the track every day."
Andy Lieders " This season I am a Pro Open rider. Last year as Pro Lite I finished fifth in points but overall had a good season. Polaris wanted me to move up to Pro Open class.The mod has a lot more power and is more fun to ride. It is pretty well the same buggy except for power. It will be a whole new ball game for me. Pro Lite had a handful of fast guys to compete with but in Pro Open everyone is fast. This year is going to be wide open all the time and going for it. It will be a leaning experience and working with everyone on the team has prepared me for the season."