LAS VEGAS GOLF: PERFECT WEATHER AND GREAT COURSES
by Scott A. Sumner
www.golfingnews.ca
Many people have a list. A list of places they want to visit, expereince and find out about first hand. Las Vegas was on my list and I decided to see for myself. The 2008 Justin Timberlake Shriners Hospitals for Children Open PGA event was also on so I was able to see the city, a PGA Tour event and play some desert golf.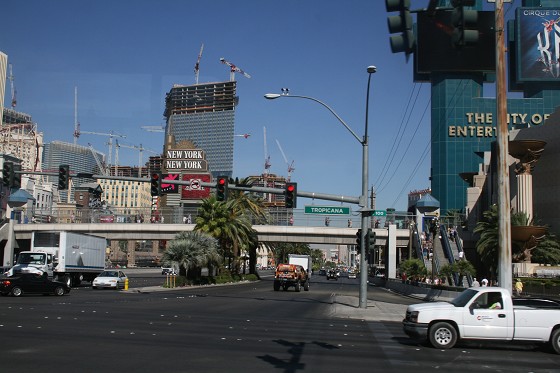 One of the most known courses of Las Vegas is the TPC Las Vegas, previously home to several PGA and Champion Tours events. Owned by the PGA Tour this was my first of two course I would play in Las Vegas. " TPC Las Vegas opened in November 1996 with course designer Bobby Weed along with Raymond Floyd as architects. The course was named the TPC Canyons until December of last year. We renamed TPC Las Vegas to help capture a market that might relate to a name Las Vegas vs Canyon. The TPC at Summerlin is our sister course in Las Vegas and private," said Brad Church, Sales and Marketing Director for TPC
Las Vegas. " The terrain makes it a special course. It is a purely desert golf course and a member of the Natural Audobon Society. One of the things you will notice is the desert comes into play on every shot.There are also some Canyon views especially on the back nine.
We have a signature hole no 2 which is an island green in the desert. " It is a challenge to keep the course green as it is at any course in Las Vegas. One of the reason for the higher green fees here in Las Vegas is the maintenance value that is involved with overseed process. We are a Bermuda based course and we overseed with Rye in September. You go through a tremendous amount of product and water each year," smiled Church." You have the perfect temperature in the mid 80s here in October. The spring is great as well. In the winter it can get to the 50's while in the summer monthes of July and August it can get to over 100 degrees. We are typically doing 33 to 38,000 rounds per year I would say 80% of our play is guest play. The remaining is by locals. Over the last 6 months we have had more Canadians than ever before.
We are focussing more of our marketing on Canada."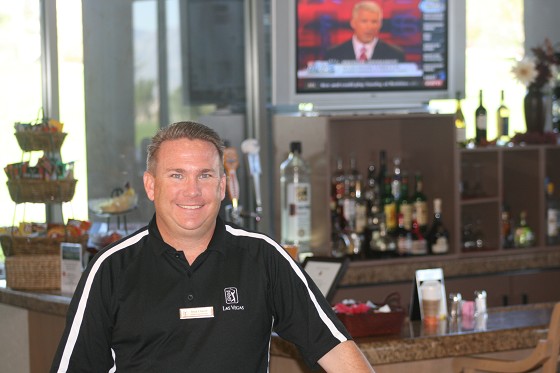 The TPC?Las Vegas course is owned and operated by the PGA Tour. The revenues from the clubs go into a retirement fund for the players based on years played on Tour. The fees Our green fees range from $125 summer to &275 in peak. You get a cart and practice balls as
well as a caddy service for $25 plus gratuity. " There are a couple of shots that are intimidateing out there.The greens are also quite demanding so having help from the caddy on the reads is good. The caddy will run to the balls, fill divots and get yardages etc.," stated Church who has been a golf professional for 13 years. " I love the fact that we have so many different tees boxes here at TPC Las Vegas so you can make it as difficult or easy as you like. If you step it back to the tips it is 7080 yards and be sure to bring your A game. The red tees are shorter and take some trouble out of play. I am sure everyone will enjoy the game."
The views at TPC?Las Vegas are tremendous. You have the mountains , the Red Rock strip and in the afternoon sunset you get the view of the strip. Many golfers stay at the JW Marriott Golf Resort and Spa as I did. " Our relationship with the JW Marriott has provided us a top ten rating on the Conde Naste rating for golf resorts. For someone who comes to Las Vegas with golf in mind, you can stay away from the hustle and bustle of the strip. You are able to gamble here and are only 2 minutes away from spectacular golf and 20 minutes from the strip." smiled Brad Church. Incidently the JW Marriott wil provide complimentary shuttle service to the golf
courses and downtown strip!
My next course at Las Vegas was Badlands, a 27 hole facility. Badlands opened up in 1995 as an original 18 with the Desperado and Diablo nines designed by Johhny Miler in collaboration with Chi Chi Rodrigous. The third nine was built in 1997 and is called the Outlaw
nine. " The Outlaw nine is a little more different as it is more forgiving. The nines are all unique. The first 18 is a target desert course for the thinking golfer. You can't just grab a driver and walk up to the tee and say Where do I hit it. You have to think about the hole, which club to choose and go from there. The newer nine has wider fairways and less forced carrys," smiled Chad Pettingill, GM?of Badlands. Orginally from Utah, Chad has worked for Troon golf, the
manangement company of Badlands all over the place and is a golf professional as well.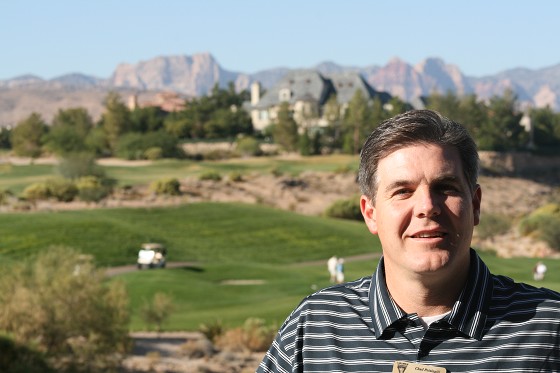 The owner of Badlands developed QueensRidge a gated exclusive resort where Badlands is situated. Residents here include business people, casino owners and politicians. The smaller house in the development are $500 to 600,000 now and were a $1 million a year
ago. Some of the houses are in the 25,000 square feet range and sell for $14 to $20 million dollars. Badland is strictly a public golf course. " We don't have a member ship but do some 45,000 rounds of play a year. Most of our players come from out of town and have heard
that Badlands is a tough course. Our green fees are $155 to $180 which includes air conditioned carts," said Pettingill. " October is a great time here weather wise with tempatures of 82 to 88 degrees. At night you go to the casino when it is cooler. You can rent golfs brand new Callaway X 20 irons for $60 and it comes with a logoed pouch and 6 balls."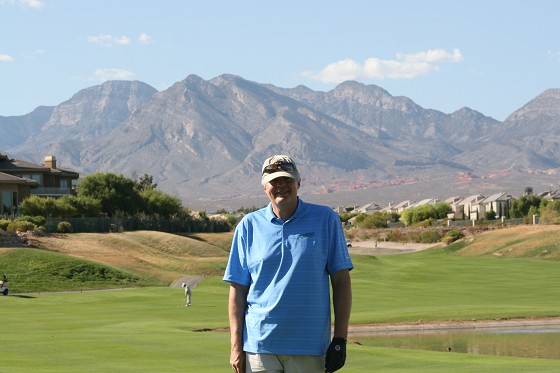 " I like the fact that Badlands is not your typical golf course in your hometown. You need to play it once to experience it and then again to master it. It is a thinking mans golf course. This golf course makes me think and offers a big risk reward," said Pettingill. " A golfer can play Badlands, the TPC Las Vegas, the Revere our sister club with two golf course on the other side. There are some good off strip hotels as well . The Red Rock Casino and JW Marriott are very nice places to stay in Las Vegas. You can't beat the weather. It only rains a couple times per year. It takes a lot of water and a good superattendant to keep a course in good condition.With this heat you can really lose a golf course fast. You need a good watering regiment. In Las Vegas we don't have a lot of water and must limit the turf. We have 99 acres of turf for 27 holes. The whole property is 140 acres and 99 are irrigated. There are about
200 homes in our development and 100 are very exclusive high end homes."
If you want to play some great golf in perfect temperatures and then have the evening hours for some exciting entertainment activities Las Vegas is the place to be!