Kyle Pallin Loves The Snocross Sport
by Scott A. Sumner

It is always fun to sit down in the Levi Lavallee race trailer at Duluth and talk snocross. My conversation began with Pro Open rider Kyle Pallin, age 25.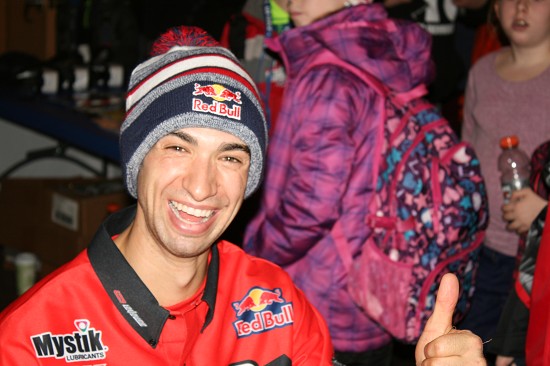 How does the Duluth track look this year?
" The track was a little mushy but given what Mother Nature has given us I was shocked when we rolled up and saw the track. It felt so good to get out there and start the season to get those pre race jitter bugs out.

You had a good season last year!
" Last season was a pretty good year for me. I was a actually hoping for a little bit better, just trying to get a little bit better each year and build. So this year I am looking to go out, do my best and
give it everything I got.

How was your off season?
" We work out pretty hard all summer and fall long. Levi is cracking the whip! I'm just kidding. This summer I spent more time in the Longville area and even had some more fun. You have to have fitness. You may get away with it on the shorter races but I'll tell you what the finals they get so grueling and the track is pounded out. We had some seat time at Aurora before coming here and got the bugs out. That was good."

How do you like the new Polaris race sled?
" The whole Polaris crew has worked really really hard to develop a bullet proof sled for us. The success shows at the races. I am honoured to be partnered with such a cool company. EFI may be coming in Arctic Cat race sleds and I think it could be part of the evolution's of the sled."

It must be fun to work with Levi as a coach?
" Not every has the luxury of working with someone like Levi to come back to and get some pointers on how to do better. It is a huge asset not everyone has, so I am very thankful to have him as a mentor and rider coach. It has paid off for me in the last three years here. It is my full time career now and I know I can't do it for ever but I can now so make the most of it.