J&J SPORTS STAFF OFFER GREAT EXPERIENCE TO THEIR CUSTOMERS!
by Scott A. Sumner
J & J Sports first became a powersports dealer in Thunder Bay some 37 years in 1977. The dealership was started by Jack Witiluk selling motorcycles. The company has been at it's Tungsten Street location for over 30 years now and J & J Sports were one of the original buildings in the intercity area. The business started as a motorcycle dealer with the Honda product, during the early stages of Honda in Canada, before they even manufactured cars. The company expanded to Bombardier with Ski Doo, Misty River boats, Suzuki products and then Polaris. Currently J&J Sports sells Honda, Polaris, Suzuki and will get Mirrorcraft boats in April to enhance their Honda outboard line.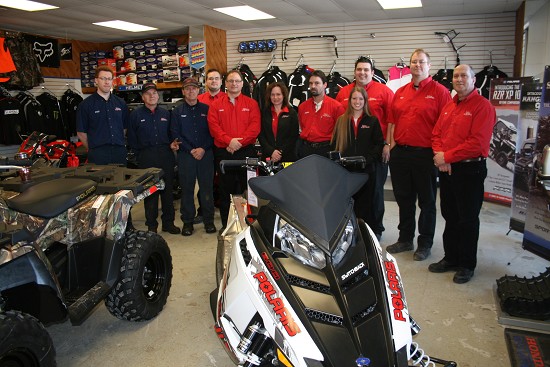 Anne Marie Polhill is the Manager of J &J Sports and has worked at J&J Sports for 14 years. Previously she was at another dealership for 10 years selling Ski Doo products, giving her a long history in the powersports business. " We have a great team that has knowledge here at J&J Sports. Our parts department has great experience in the industry with Scott and Jammy together have over 10 years of service. Our service manager Ray Hollanti, started as a parts person and has been here over 25 years. Our head mechanic, Ron Tougas, has been at J&J Sports for over 30 years now. Sal Benincasa is back with us in sales now and worked here 10 years ago. Dustin Krewsnoski has had long experience in sales of powersports. We are a very knowledgeable team in the industry" said Anne Marie Polhill. J & J Sports currently have 11 full time employees on staff as well as some part time staff including co-op students.
" It is a fun business and we can see the same customer here from 25 years ago every once in a while. This year has been an unbelievable winter for snowmobiling. It could have been a little warmer but has been a good year and we still have 2 months to go. Some of our customers are just heading out ice fishing now. We have sold out of several models including the Voyageur and have people waiting for next year. Early snow helps and people are out riding now." said Anne Marie.
J& J Sports serve the whole region with Polaris snowmobiles. In ATV's they offer Polaris, Honda and Suzuki as well as Side By Side's with the new Honda Pioneer and Polaris models. They offer Honda lawnmowers, generators, trimmers, outboards and snow blowers. Mirror Craft boats are coming for April to compliment Honda motors. In motorcycles they sell Honda and Suzuki. According to Anne Marie, Honda has a new motorcycle called the Fury 1300 coming out which people should come in and see.
" It will be exciting for me going to the Polaris dealer meeting March 1st in Las Vegas where the 2015 snowmobiles will be unveiled. It will help us choose our models for next year. After this meeting Snow Check will begin and go on to roughly April 15th. We invite people to come in and pick out your Polaris unit where you will get the best price and options available including extra warranty. This year we ran out of certain models and by Snow Checking you are certain to get your chosen sled. If you pre order your Polaris now it is the best way to guarantee the sled you want and the price is the best then as well." said Anne Marie.
J&J Sports have a new web site up and running for the first time ever (www.jandjsports.ca) which is going great for them and the dealer will be on facebook shortly as well. " At J&J Sports we are professionals because our staff have so much experience behind us. Our goal is to give the best service we can to the public. We want the customer up and riding as quickly as possible. The experience we have is there to help fix problems and we can sometimes get parts overnight as well. At J&J Sports we are looking forward to growing and servicing our customers. I love the business!" smiles Anne Marie.
When not at the dealership Anne Marie loves to ride dirt bikes, snowmobiles and ATV's.