Golf Fitting Today Will Help!
by Scott A. Sumner
It was in 1975 that I started golfing during my summer return to Manitouwadge from attending Lakehead University. My dad and another man had succeeded in getting the Manitouwadge Golf Course up and running with 5 holes that summer, and the remaining 4 the next year. My goal that summer in 1975 was to shoot 25!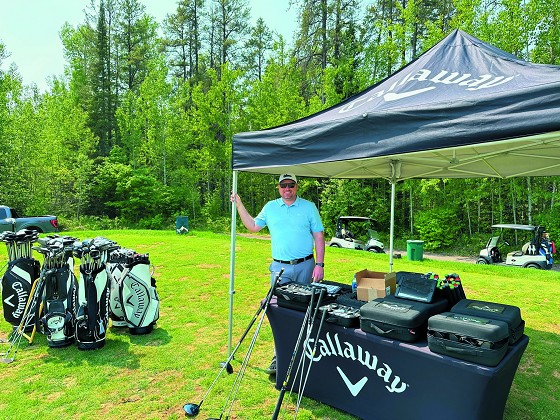 Golf equipment has certainly changed for the better since then when you had wooden drivers and pretty basic iron clubs. It was fun to get fitted recently at the Whitewater Golf Club by Tyler of Winnipeg from Calloway Golf.
We began hitting some shots with a 7 iron to give him an idea of my swing. He liked it and told me the philosophy today is to fit the club to your current swing. He tried different models of the Calloway irons with me. The lie angle was important and I hit the ball much better when the club was placed 2 degrees upright. Also graphite shafts were best for me as my swing speed isn't too high so the lighter club makes it easier to swing a little faster which can create distance.We also found that with me, even being 6'3 inches tall, I didn't need longer clubs!We tried other clubs like 3 wood, driver and rescue clubs during the 1 hour session watching the ball flight and distance to make adjustments.
Whitewater had just put brand new Calloway balls out on the range which was definitely a help to get a more normal distance as you would using your own balls on the course.Today there has been a definite trend to using more rescue clubs in your bag to replace irons.In my case the recommended bag was Driver, 3 and 5 Woods, 3,4, 5 Hybrid's, 6 to Sand Irons as well as putter and wedge.In the past I have had 2 irons and even a 1 iron although I never hit them that well. The hybrid clubs help you get height and distance over irons for some players.The clubs of today have so much more technology including lighter metals used, such as carbon and tungsten. This allows the weight to be place in certain areas to improve ball flights. It also means the cost of clubs is much higher than in the past years.
I think you could spend over$ 800 for a driver, maybe $ 5000 for a complete set of clubs. I read where the golf equipment is a $7 billion dollar market in North America today. Golf has changed significantly since my humble start in 1975 in the game, but still remains a fun past time for me!