FORT WILLIAM COUNTRY CLUB: BEAUTIFUL
SETTING FOR GOLF
by Scott A. Sumner
The Fort William Country Club in Thunder Bay continues to be one of the most popular golf courses in the region. In the past 5 seasons there have been many changes made at the course.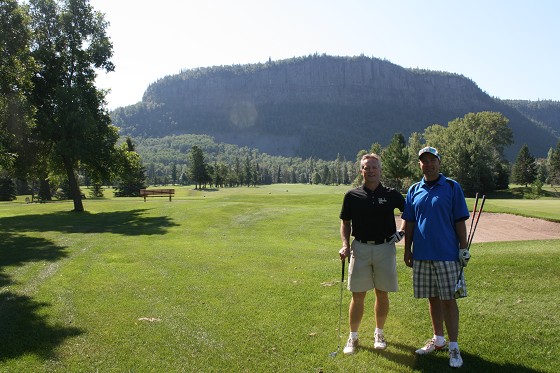 It was fun to play the FWCC again with Greg Hollins, Master superintendent at Fort William Country Club and Bruce Tait President of the Board of Directors of FWCC, after having been a member there for so many years. The course continues to impress me especially with the spectacular mountain back drop.
Greg Hollins has been the Master superintendent at Fort William Country Club for the past 5 seasons. " My dad was a CPGA professional for 42 years and I pretty much grew up on a golf course starting in Winnipeg at Breezy Bend, Glendale and then Pine Falls, Manitoba. That is where I started to golf every day and work on the golf course." said Greg who loved the equipment which lead him to an assistant position at Pine Falls. After college at Fairview in Western Canada Greg worked at the John Bloomburg course for 15 years.
" I saw this job at FWCC posted, drove out here with my brother, and just fell in love with the place automatically. A month later I had the job and just love it here. This is the best location in Canada. You don't see mountains like this anywhere in Canada in my opinion." said Greg. Greg Hollins played lots of golf growing up and at college and has placed third place in the national championship for superintendents three times.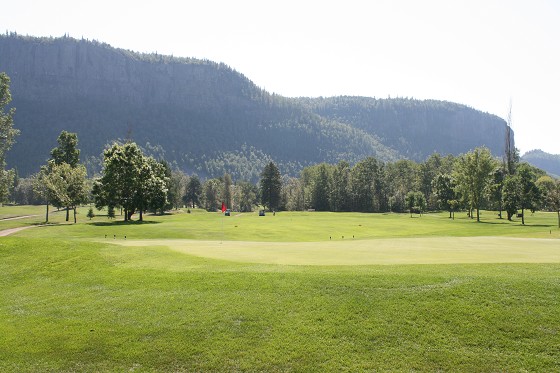 " When you are a golfer you know the conditions you want and therefore the conditions the players at your course would want. I am probably the hardest on myself and always strive to make the course the best it can be with the conditions you are presented with each day. There are lots of factors that go into getting your course into good shape everyday."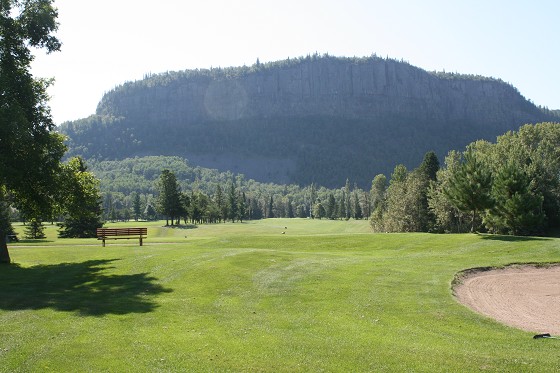 FWCC began when famed architect Stanley Thompson first came through in 1923. In 1961 it was redeveloped by Norman Woods. The layout today is sort of the layout then. It was originally 9 holes and then 18. There are a few holes that were original that are still here. The course is now 92 years old.
Bruce Tait is the President of the Board of Directors of FWCC. He loves to golf and will play between 60 and 80 games each season. " We have tried to modernize. Greg has been here for 5 years now and the course has definitely taken on a golfers flavour, which has been good. We have made some organizational changes that have already paid dividends for us.
The golf industry is a tough one to be in right now and we have made some changes that have worked out well," said Bruce. " We hope to do some more to get more members and specifically get more youth involved to help Thunder Bay grow the game. That is our focus. We want more members and younger members and to make it more friendly for new players to come here."
At the FWCC they want their members to compete more because they feel when you compete more you take the game more serious and it makes you want to come back according to Bruce Tait. There is always that one shot you made that makes you want to come back again. To help accomplish this the FWCC have inhouse tournaments on the weekends. For example they had a little par 3 event where you shoot from different tee boxes from 100 yards and up so it is a different course. There is the Fort William Invitational, Ice bergs and other events.
" There is always someone you can play with here, always someone who would love to have you. We now have corporate membership and are always tinkering to make our membership more attractive," said Bruce. " We started this year in April with 300 members as members were moving away, having family commitments or passing away. The hard work of Kelly Foglia here on our staff, who is a golfer as well, means today we have 350 members. With our fall promotion now we are hoping to get a dozen more."
" In the past all the greens here were replaced with a bent grass which started at 100 % and we are now trying to hold the line at 80 /20 today. We have good products and staff so can consistently put out good conditions which is what every golf course strives for, not ups and downs," said Greg. " There has always been drainage issues here which we have been banging away at. I think I have a number of 3500 feet of drainage has been put in in the last 4 years and we should put in another 1000 feet this year which is a lot of drainage. After a big rain it clears off pretty well now."
I asked Greg and Bruce what they enjoy the most about the FWCC?
Greg " The best part of the golf course for me is the undulation, with topography changes. I came from Winnipeg and it was flat there- you can see Regina from Winnipeg that is how flat the places are! Here every day you show to work and you are in awe- it is a special place."
Bruce " I like the friendly environment, the friends you golf with, the view and the course itself. It is a golf course first and in the past years the greens have been better than ever. We have had good weather this season and have been getting nothing but compliments." " If you join the FWCC now you will be offered different payment plans and can play to the end of October for FREE! With everyone back at school there is plenty of opportunity to play almost anytime. There are details on the website or contact Keli by phone and she can customize a plan for you. We would love to have anybody." said Bruce Tait. In recent years I have got to play some of the very best golf courses in the world. One of my most important features of a course is the setting. The FWCC is a great place to play and it's members should be very proud of their course.