Exceptional Snowmobiling: The Laurentians, Quebec

Fly And Ride!
by Scott A. Sumner

This winter has been a different one for many areas of North America with less snow than normal. Even at my hometown area of Thunder Bay, Ontario the snow conditions were not as abundant as usual. It was time to travel to an area that traditionally has great snow conditions- Quebec! Snowmobiling in Quebec has always been the best for me. The people there just seem to have a passion for the sport that is unmatched elsewhere on the planet!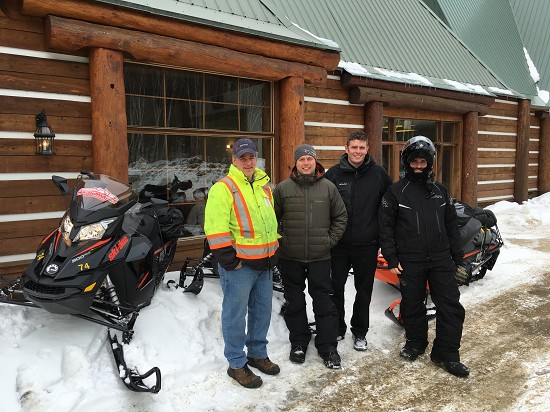 My trip this year began with two quick Air Canada flights leaving at 7am and after a stop in Toronto, arriving at the very unique Mont Tremblant airport (La Macaza). When stepping off the plane Serge Lariviere who along with his wife Isabel own the airport first greeted me! It was off to a fireplace and leather couches to greet my hosts and riding partners for this trip!


After a nice lunch in this log structure terminal building we changed into our snowmobile suits and walked out front to our waiting 2016 Ski Doo sleds! It really is a sweet set up and very unique in the world. As we were quickly on our way, we passed with in 30 feet of an idling private jet that had just landed at La Macaza- fun to see!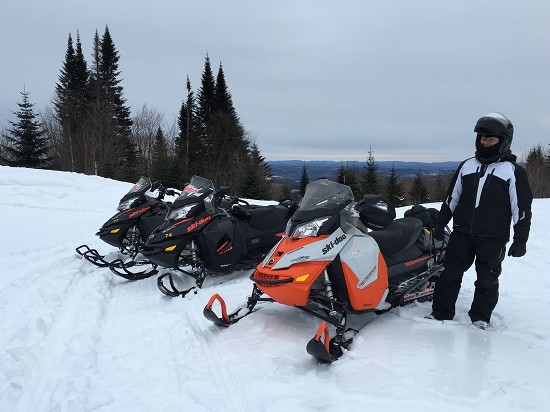 Nicolas Morin, owner of the first lodge we would stay at, Pourvoirie Cecaurel and Misha Beauregard , snowmobile guide and myself were quickly on our way for a 100 km ride. It was a beautiful ride on well-groomed trails with a stop at a very nice waterfall along the way. This area of the Laurentians, just north of Mont Tremblant, is home to many 4 to 5 star lodges to stay.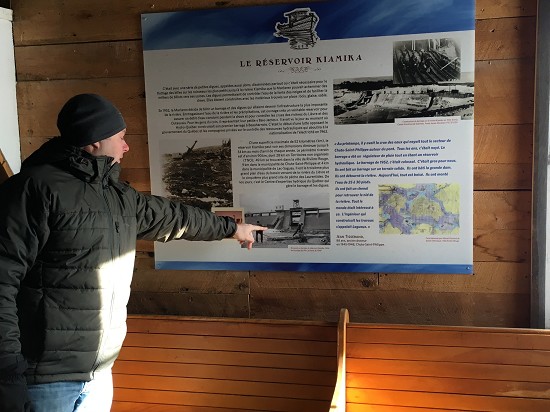 "Pourvoirie Cecaurel was the first owned by my father in 1985 and I purchased it from him in 2000. The lodge was started originally in 1955 and I was first a fishing guide here at age 10. We are located on two sandy points in summer and winter," said Nicolas Morin. " There is lots of area to explore. We have a lodge restaurant, marina, fly shop, a museum which has recently won a prize, a campground, 12 rental boats, 12 canoes to use on our 7 kilometers lake, tent ready to camp and full equipment. We have 14 cottages, 100 camp sites and 40 docks in the marina."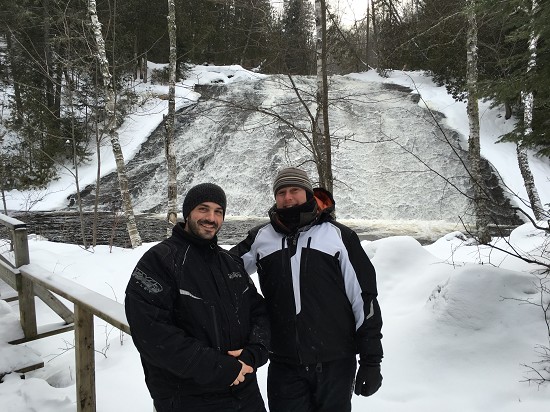 The clients of Pourvoirie Cecaurel come from Montreal, Ottawa, Europe especially France and the USA. The Mont Tremblant airport is about 60 km away by snowmobile or 35 minutes by car.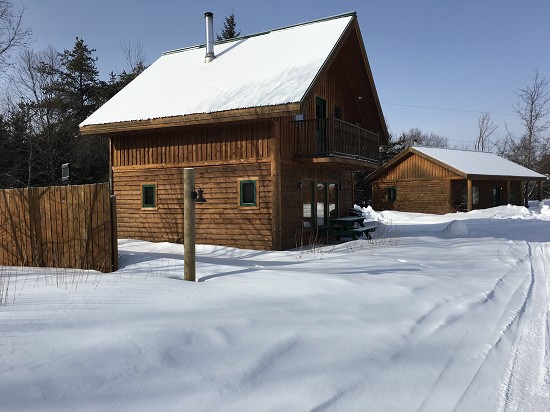 " We have trails right to our restaurant and are at the trail head. You can also do backcountry snowmobiling in a beautiful area here- it is possible and really popular. We have a great BRP dealer here- Constantineau Mont Laurier with 150 rental sleds available each year which are brand new," said Nicolas who was a construction manager in Montreal previously and build all the structures at Pourvoirie Cecaurel including the office, the cottages and main restaurant
building. " I love my job because I can do construction as well as talk to all the clients here. A good snowmobile ride for me is with some friends to the top of the lake with a small fire and we eat lunch."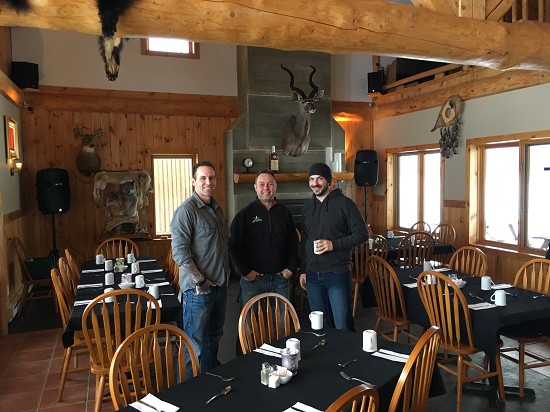 The best way to ride the snowmobile trails in Quebec is with a guide. We were fortunate on this trip to have Misha Beauregard, a snowmobile guide and outfitter since year 2000. He grew up in Ottawa but has lived in the area for over 15 years. Misha also does guiding
for bear hunting and woodcock hunting with dogs.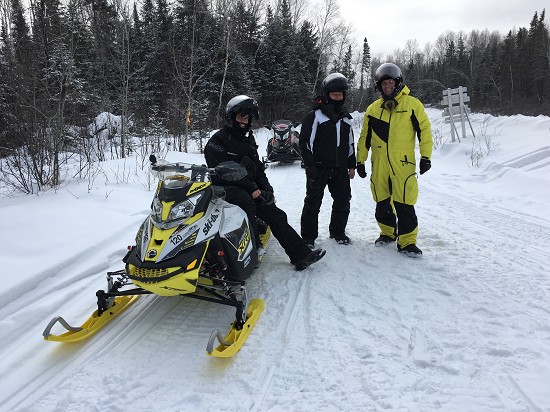 " You can land at the Mont Tremblant Airport, change into your suite and jump on the snowmobiles. We had time this afternoon and stopped in at waterfall, at some look out points and then came to Nicola's lodge. The trip in to the waterfall is about 20 km in and out so the first day we did 95 km after landing at the airport at 11:45 Am." said Misha. " We will be going to Mt Laurier to visit the rental centre tomorrow and then to Devils Mountain, which the
highest point in the north part of the Laurentians at 750 meters high. We will also see the Windigo waterfall on our way to the Pourvoirie Club Fontbrune. There are many lodges in the high Laurentians, at least 8 or 9 to choose from with different quality and different trails. There is gas and food everywhere."

Misha loves riding snowmobiles and puts on 10,000 to 15,000 km per year. Most of his clients are from France and now Brazil as well as the USA. He wants to open new markets in Ontario and the rest of Canada for these unique fly in snowmobile trips.

After a great breakfast at Pourvoirie Cecaurel we were off for a150 km ride to our next lodge destination, Club Fontbrune. Eric Nadeau is the President of Club Fontbrune and owned the facility for 13 years after buying it from a Belgium owner. Previously the lodge was closed in the winter but he slowly started building new cabins, opened a dining room and new bar and added snowmobile trips.

"We have 18 snowmobiles for rent that are new each year with all the gear and we can rent more if required. We opened for snowmobiling this year December 22 but it depends on the snow. We have had a good season so far with lots of snowmobile clients and a good area to
ride," said Eric Nadeau. " Our clients are from Quebec, Europe and the US. This area has snow this season while some areas down south have less snow. The rate to stay is $109 per person with breakfast and dinner. We have 16 cabins and can host up to 98 people
with a staff of 17 to 20 to make your stay a good one!."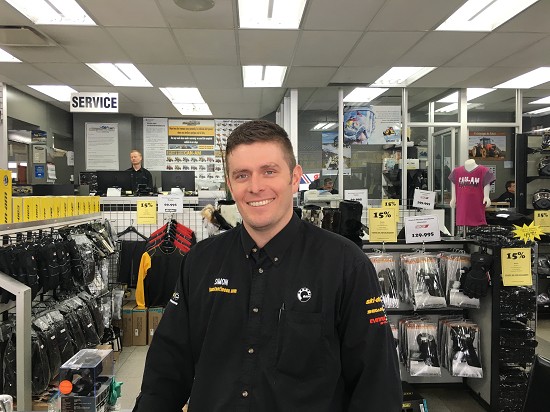 It was fun to have Simon Constantineau, GM & Vice President of the Constantineau Mont Laurier BRP dealership riding with us and staying in our cabin at Club Fontbrune. His father started the business in 1958 as a gas station and then added tractors with Massey Ferguson.

" We started with snowmobiles first as a Ski Whiz dealer, then Polaris until in 1973 with BRP Ski Doo. There was another dealer that had a fire and we had the offer to get the Ski Doo brand. Our market share is good here and we are big in rental sleds." said Simon Constantineau. "The rental business is very good and was started by my father 25 years ago with 2 machines then. My grand father was still in the business then and didn't want snowmobile rentals but my father started a separate company. Today we have gone up to as
many as 350 rental sled but now have 150. The rental sleds are brand new each year. We also rent side by sides, Spyder motorcycles, ATV's and personal watercraft."

The clients of Constantineau Mont Laurier BRP for snowmobile rentals are 40 to 50 % European. Their facilities have expanded on the same site, buying other warehouses and now own a full street block. There is a staff of 50 people at Constantineau Mont Laurier BRP.

Simon Constantineau is a graduate engineer that previously worked for BRP in R & D at Valcourt. " The sport had been part of my life from the beginning being born into it and always working at the dealership. My main goal was to be part of the engineering team of BRP but I decided to make our life here at Mont Laurier and carry on the family dealership," said Simon who loves riding snowmobiles. " In 2006 I started back country riding and from there
really enjoy it and now it is most of my snowmobiling. I get a Summit sled each year but still can do some trail riding. Life is good and we are doing well. It is about working hard to keep the customer happy and the market share strong."

In Quebec food is an important part of their lives and we had another excellent breakfast before beginning our journey to Pavillon Beauregard Lodge. On the way we stopped for lunch at Notawissi and saw not only snowmobilers but also many out on their ATV's!

It was fun to stop and talk with Steve Aubet, President of Club Pitman snowmobile club. ?In this club they have 266 km of trail and there are 140 members. There are 11 clubs here in this area all together. In Quebec there is a license fee for snowmobiles from the government each year that costs $40.00 and this club gets about $70,000 per year from these fees to operate the trail with their total budget of $110,000. The trail permit in Quebec is $300.00.

" We have two groomers. I have been with the club for 31 years and first began in 1970. The season started before the Christmas this year but it is better after Christmas."

On the way to our next overnight destination we stopped at Windigo that offers 4 star lodging and a restaurant. There are 25 chalets with up to 5 bedrooms each with their own bathroom and 20 condos with 1 bedroom. Their restaurant is in a log chalet with
Quebec cuisine.

" We offer skating snowshoeing, cross country skiing and provide all the equipment. We also have activities like fat bikes available. We opened in 2003 at first with no motors but they were allowed in 2007 when we added snowmobile and ATV's again. We are 4 star rental tourism and want the people to feel free and rent for two or three nights. We don't get inside your unit unless you ask. Mostly our guests are from Montreal, Ottawa and Europe. We are doing well and working hard with good clients coming back, so it is encouraging. The area is well known for snowmobiling, a niche product with an upscale lodging." said Marc, the GM of Windigo

Benoit Chevalier is the GM of Pavillon Beauregard Lodge located in Laurentide about 3 1/2 hours drive from Montreal and 1 1/2 hours from Mont Laurier. This would be our next destination for our third overnight stay in the Laurentians!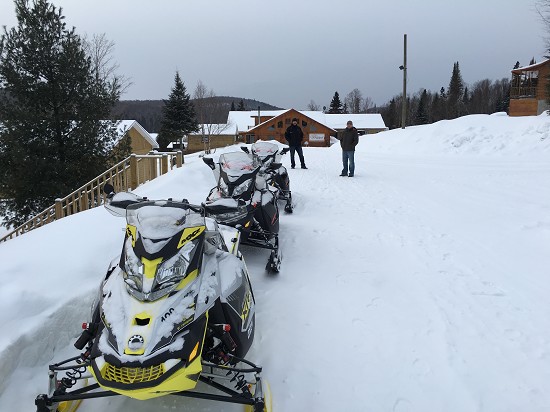 " This building existed from early 60 's as a private club. This is the first year we have opened in the winter in 8 years. Our current owners are from Montreal and have sent multi millions to make the property five stars. For example we have just run electrical poles lines 26 km here. Before it was only diesel generators," said Benoit.

At Pavillon Beauregard Lodge you can do off trial and on trail snowmobiling with good snow. They are by reservation only so you have to call ahead to get the proper services and menu. They can also do corporate meetings with a main lodge, conference room, 5 cabin
with 4 bedrooms and 3 bathrooms, 2 cabins with 2 bedrooms and 2 with only one bedroom. In total they can host 24 to 48 people at one time.

" We want you to be cozy here in a pristine setting with a 7 mile lake and 110 square miles on our property. Snowmobiles pay $165 per night, per person, with breakfast and a 5-course dinner included. We can rent snowmobiles for a group. I feel very lucky to work here.
You can even helicopter in to our landing pad and we will get ready for five star services as needed. " said Benoit.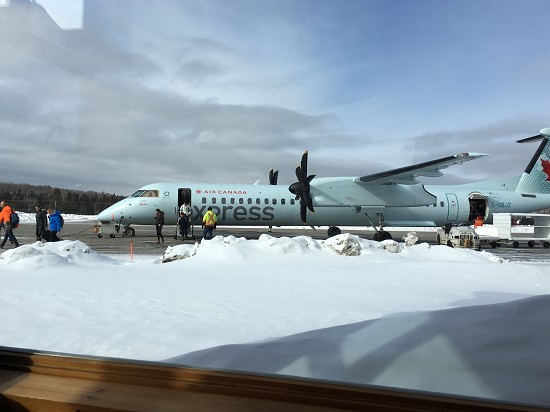 Our snowmobile trip included a ride of 500 km over 4 days and it was now time to return home to the Mont Tremblant airport for the 4 hour trip home to Thunder Bay. Mt Tremblant has 18 flights per week from Toronto and Montreal with Porter and Air Canada. It really is a very unique experience and should be experienced by many. You will ride a 2016 Ski Doo sled of your choice and have a first class time with great people to help you every step of the way on your snowmobile adventure!

Many thanks to Nicolas, Misha, Simon and everyone for their help on this trip!




www.cecaurel.com

www.fontbrune.ca
www.lewindigo.com

www.laurentians.com

www.pourvoirieinukshuk.com

www.pavillonbeauregard.com
www.fconstantineau.com