CAPE BRETON GOLF IS AMAZING
by Scott A. Sumner
www.golfingnews.ca
There has always been something about the Maritimes provinces of Canada that I really like. I think it starts with the people there whom have a reputation of being absolutely friendly and will treat you like a king. Their small town values ring home for me and I was really looking forward to a trip to Nova Scotia and Cape Breton Island in particular to experience first hand the golf they offer. Of course the people would be fantastic as well and I found this to be absolutely true. My goal in 2011 was to see Canada coast to coast and in July I had been able to see the Pacific Ocean in Vancouver as well as play some ocean front golf. This time it would be the Atlantic Ocean surrounding Cape Breton Island.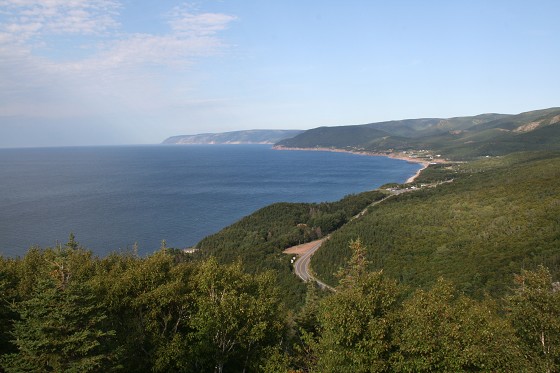 You can get to Cape Breton like I did with Air Canada flights to Toronto, Halifax and then Sydney. West jet also have flights to Toronto and direct to Sydney which will put you at a 45 minute drive away from my first stop at Ben Eoin where I would play the new Lakes Golf Club.

After a great fine dining experience and stay at the Birches Inn I was off to my first golf game at the Lakes at Ben Eoin. The Lakes course has a spectacular setting and great grasses. " We started construction in 2008 and completed in 2009. There was heavy rain in the spring and mid summer of 2009 so we didn't open the full 18 until 2010 with only 9 holes for play in 2009. The rain has to go through us to get to the water and it can cause problems. One fairway we seeded 7 times because of the rainwater before we got it," said Matthew Blackburn, Head Superintendent at the Lakes Golf Club. " There was probably only 3 trailer loads of sod on the whole property as everything was hydro seeded. In the summer we get a few weeks of 28
Celsius but it is mostly like today, 20 to 25 Celsius. It is growing weather if you can keep the rain away. I had worked with our course architect Graham Cook at other courses I worked on and the grasses we used were proven to work in the Maritimes at other courses he has
designed at Fox Harbour and Eagles Glen in PEI. We have spent some time cutting out Poiana and have a new chemical product we can put on the grasses to keep the Poiana out especially on the fairways. We cut it out of the greens usually. The best thing about the course is there
are no weak holes out there. Every hole is strong "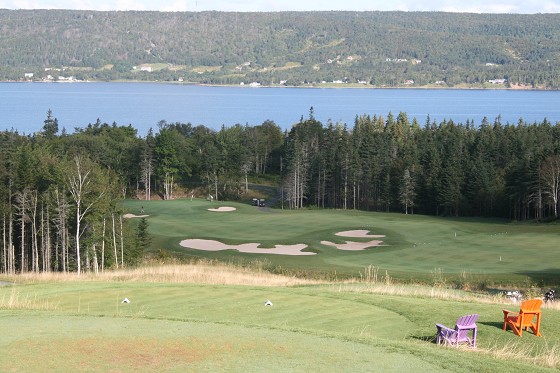 Pat Laderoute is the Operation Manager and Head Professional at The Lakes. " We had twin daughters so it worked out well to move from Ontario here to raise our family. The business community has ownership of the golf course; it is a community project with about 120 members. There is also some government funding. We have memberships and public play," said Laderoute.
" The site is on three plateaus on the side of a mountain but Graham Cook used as much natural setting as he could. On no 6 it is straight down hill. This is the only golf course I have worked on in my 20 plus years that people come in after the round and tell us how good it is.
They try to make us understand what we have here. Usually people just play the round and leave but people here are just amazed, especially at number 6 and 15 tee decks where you can see the water and on a calm day you can hear the streams running. You use many of your senses, can see, feel, hear the wind and be in nature."

The Lakes is getting about 20,000 rounds per year and space tee times out to make everyone's rounds comfortable. That is a pretty solid play level on an island like Cape Breton with a population of around 120,000. A non-resident pays green fees of $79 in peak and $65 and a cart $38.

" The golf course has days when you swear you are on carpet. The greens are true and if you miss a putt you can only blame your aim. The views are spectacular as well. You just say wow this is amazing. When you play here you don't know the signature hole because they are all so
memorable. The mountain, lake and undulations are amazing. There is just so much eye candy out there." said Pat Laderoute.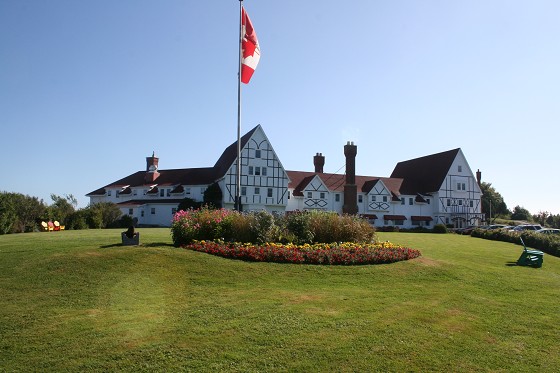 When you are on Cape Breton Island a real treat is driving the Cabot Trail. The scenery is just spectacular. My next stop would be a 2-hour drive to Highlands links and a stay at the well-known Keltic Lodge. This historic hotel is situated in a special location and is a great
place to stay when you play Highland Links. Graham Hudson is the Operations Manager for the Highland Links Golf Course,was born in Baddeck, Nova Scotia and has been at Highland Links for the last four years and would be my golf partner.

" I enjoy playing golf but don't take it too seriously. Life is good in Cape Breton; on a day like this it is gorgeous. We have our bad days but it is stunning here. The Federal government owns Highland Links and it is operated by Parks Canada. This is Cape Breton Highland Park. The
course opened in 1941 as a Stanley Thompson Design and it is 100 % original. They haven' t changed any of the greens and the layout is all the same. We have been working hard to keep the integrity of the design in place. The grasses are poa and kentucky. Architect Ian Andrews, who specializes in bringing back Stanley Thompson Designs to their original state, has looked at the course. We have redone many bunkers to the original." states Graham Hudson.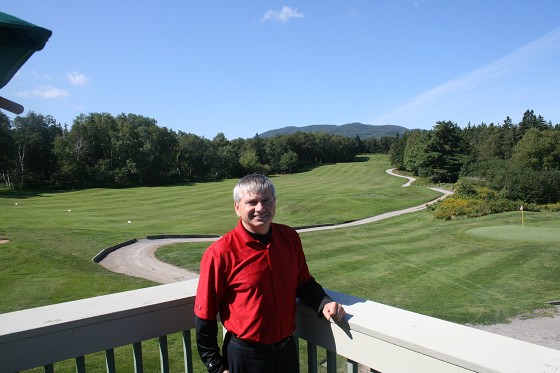 Highland Links is consistently rated in the top 100 in the world by golf magazines. " It is a combination of everything, the layout, the scenery, the design, playability, the fun and it makes for a great day. People coming from a club manicured to death ask how we are ranked number 1 to 5 in Canada regularly. We work to the standards of Parks Canada and the standards are pretty high when it comes to the environment," said Hudson. " Every round is different where the factor is the wind and the fairways are hard or you may see different types of wildlife like a moose or lynx. There are no two days the same and you can just lose yourself in the views and say wow. Each hole is separate and you see no other holes from your hole."

It costs $102 to play Highland Links including 15% HST, but not including cart, which is $35. This is a peak rate but there are afternoon and off peak season specials on the web at
www.highlandlinksgolf.com where they offer daily discounts. Highland Links also have a golf club of 200 seasons pass members. They strive for between18,000 and 21,000 rounds, which is their optimum. They have gone as high as 27,000 rounds per year but the course is not
designed for the type of traffic according to Graham Hudson. " We open the long weekend in May and close the last weekend in October traditionally. May and June were write-offs this year but the weather has been really nice recently," said Hudson. " In Cape Breton Island we
have 6 courses we market as a group together and they are all totally different. We get players from all over the world from Australia to Austria and the US, Ontario, Quebec and Maritimes."

Last December a huge storm in the area created huge problems on some fairways at Highland Links which were covered in water and then when it receded left lots of debris resulting in the fairways having to be reseeded. Originally the course was built in the great depression as a work project with 200 men and only 1 steam tractor. All the work was
done by hand.

After staying in Ingonish and playing Highland Links it was a real treat to drive much of the Cabot Trail to my next stop Cheticamp. This is a drive as spectacular as you will find in Canada with great ocean views. It was great to stay at the brand new bed and breakfast type property, the Maison Fiset Inn in Cheticamp. This was a nice place to stay and they include a full hot breakfast that you choose the night before.

My next golf course would be Le Portage which I played with member Frank McLaughlin, who is from Boston and was a police man and fireman there and lives in Cheticamp during the summer. Also playing with me was Dave Deluzio, age 37, from Windsor who is Director of Golf and GM at Le Portage Golf Club Cheticamp and has been a pro since age 20. Dave plays in the zone PGA events and enjoys competitive golf. We also met Claude Bourgeious President of the Community Recreation Association, which own the course in the Cheticamp area, which has a population of about 10,000 people.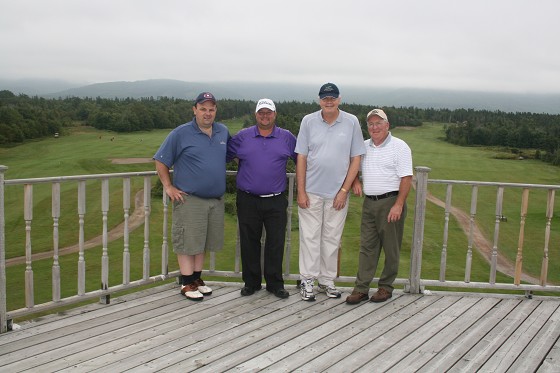 The course was built in two stages with the two nines and is in a spectacular setting with views of the ocean and the mountains. You can even see the actual Cabot Trail highway winding near the ocean from several tees. Every hole is different and isolated and you don't see any other hole. The course is 7000 yards, has a high slope rating and is difficult by nature as it is cut out of the forest with OB on both sides of the fairways. There is a premium on hitting it straight!

" I love the scenery here and the friendliness of the community that welcomes people like us from outside. When you make a friend here you make a friend for life. People come from all over the world to pass through the Cabot Trail and if they golf they love Le Portage GC." said Frank McLaughlin.

" The course, the views and the architecture are what I like the most. For me it is a very rewarding job. The people who visit here and our members are very social and friendly. We have a lot of laughs. It is a friendly place to be and the ocean surrounds us. When the weather
is good here you feel like you are on vacation," said Dave Deluzio. " Cape Breton is a golf destination. We are cornered by the new Cabot Links course, Highlands on the west side and the new Lakes course as well as Bell Bay. If you are a golfer you can spend time here, do the
Cabot Trail and play 5 or 6 awesome golf courses. The courses are all top choices along with the whale cruises, the seafood as well as the fiddle music, which is so popular here. You can't go wrong with so many things to do in one place."

The Le Portage GC was in excellent shape and a fun course to play. It was great playing with Dave and Frank. You can get further information and tee times at www.leportagegolf club.com and on face book or call them. Also you can book your tee times over 1 year in advance and they have stay and plays packages with chalets right up front and can include Whale cruises or fiddle playing in a package. Cheticamp is one of the biggest communities outside of Sydney so has a lot of hotels, restaurants to offer. The green fees at Le Portage are $59 taxed in and the cart is an additional $15 per person. You can also walk the course.

" I feel we are a $100 green fee for $59 at le Portage. We are looking forward to the new Cabot Links as they will bring more golfers to the west side of the island," said Deluzio. " Come play and if you don't like your round I will refund your green fee and you can put that in print. I guarantee our golf course will be an enjoyable experience."

My next stop would be the new Cabot Links course. See the following article on my experience at Cabot Links.

My last course to play in Cape Breton would be Bell Bay Golf Club located in Baddeck.The course opened in the fall of 1997 with 9 holes and in 1998 fully opened and was voted best new golf course in Canada by Golf Digest that year. Tom McBroom designed the course. Bell Bay has hosted several events like the Wayne Gretzsky and Friends with Mike Weir, Joe Sakic and Brett Hull and the 2005 Canadian Men's Amateur.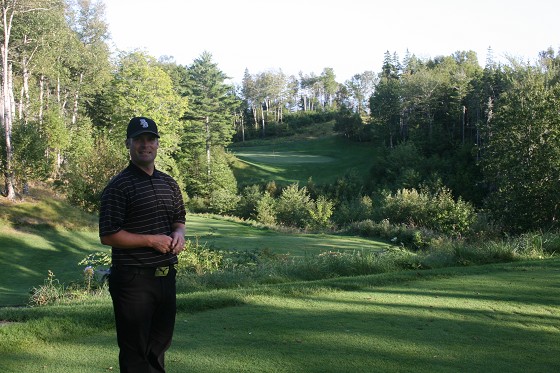 " We have a 300 acre property and are owned by Cape Breton Resorts with CEO Scott McCaulay. They also own Dundee Golf Club, Inverary Resort which is here in the village as well as a development company of properties," said Ted Stonehouse GM and Head Professional at Bell Bay Golf Club in Baddeck. " Bell Bay has been great for the local economy. It adds to the quality of the trip for those visiting here. There is Highland Links, the new Cabot Links and we are right at the hub of the Cabot Trail, with the beginning and the end here, and are located on
Bras Dor Lakes, world renowned for sailing. Alexander Graham Bell's estate is here on the peninsula and he and his wife Mabel are buried on the mountain called beautiful mountain. The Alexander Graham Bell museum is here that showcases the tremendous amount of experiments he had done. We also had a celebration of the first flight here recently. There is some fantastic salmon fishing here as well."

" I like the championship length of our Bell Bay course at over 7000 yards, but a husband and wife can come out and play with our sets of tees. We have many couples come off the course and say that was one of the most enjoyable rounds of golf we've had in a long time," said Ted
Stonehouse.
" There are lots of larger landing areas and we are a fine manicured property, one of the best in Atlantic Canada. We also have one of the nicest practice areas with target greens. If you are doing site seeing you can go to world class beaches in 1 hour, watch whales, do a sail
tour and see wildlife like moose or wild eagles. We have people who fly into Sydney or to Halifax and drive here. The trip from Halifax is 4 hours and a very scenic drive."

The green fee rate at Bell Bay is $79 with shoulder season at $65 and carts are $17.50 per person.Bell Bay will do about 20,000 rounds per year.

After a great dinner and stay at the Inverary Inn it was a 1 hour 20 minute drive to the Sydney airport for my trip home. This was of my best golf trips ever. I especially liked the people, the beautiful settings and the great golf courses. Cape Breton is a place you must visit! For further information see www.golfcapebreton.com