Canadian Tire Arthur Street Undergoes Exciting Renovations!
by Scott A. Sumner
Steve McLean has been the new owner of the Canadian Tire Arthur Street West Thunder Bay since February 22 and has just completed significant renovations to the large store. Steve grew up in Niagara Falls, Ontario but owned two Canadian Tire Stores in Newfoundland before moving to Thunder Bay. He first started in Nipigon with Canadian Tire and also owned stores in Toronto.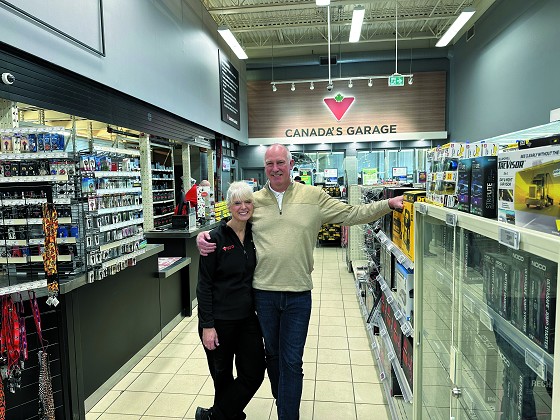 Canadian Tire is over 100 years old now and has over 500 stores in Canada as well as owning the Mark's Work Wearhouse, Sport Chek, Atmosphere, Canadian Tire Gas Bars and Parts Source brands. 100 % of the Canadian Tire locations are independently owned. Part of the system is you bring in financial capital as well as previous experience to get yourself into the ownership position. It is a combination of both but the lions share are your characteristics and past experiences said Steve McLean.
" Our Arthur Street store has about 70,000 square feet of retail space plus a full service garage and a warehouse with 20 to 30,000 square feet of space. Right now we have 170 people working here during our renovations but normally it is 140 to 160. About half of our staff are full time and half part time," said McLean.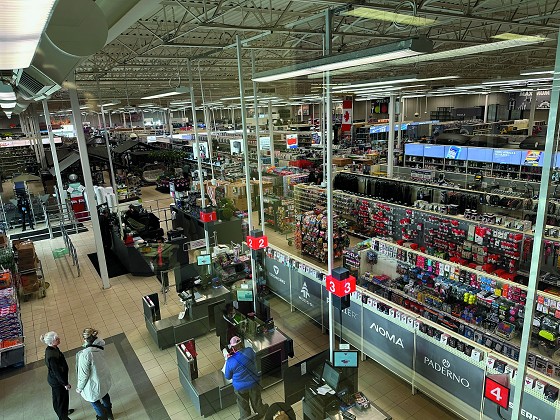 Exterior and Interior renovations have been almost completed at Canadian Tire Arthur Street store.
" Before I purchased the business my wife and I made a decision we wanted to renovate the store, refresh it, update it as it hadn't been done for 12 - 15 years. Also we wanted to add some new processes and technology so we put in new electronic shelve labels throughout the store in place of paper labels. We also changed some processes to make >it more efficient for ourselves and to improve customer satisfaction. Now we can instantaneously make a pricing change on a product when necessary. It saves time and has become a more common practice in Canada and North America in the last 5 to10 years." said McLean. " We did the renovations as well going through every single aisle in the store and added new shelves where needed. We have put LED signs throughout the store to showcase our products and brands we want to promote and also to brighten up the place. We painted the exterior of the building and put in new lightning." notes McLean.
" We are also putting a new canopy and door at the front which is a new exit for customers for in particular online orders. If someone orders a barbeque or patio set, something large, we have a way to get that product to their vehicle a lot easier than previously. We will have a self contained room that has lockers as well for online products. It allows for our customers to be better served by just driving up to get the product."
For the most part Canadian Tires product line is universal through out Canada but each store owner does take a look at their individual market and may expand on certain products such as hunting and fishing. We carry everything a store this size would normally carry but enhance certain areas to this market and have adequate inventory to satisfy Thunder Bay."said McLean.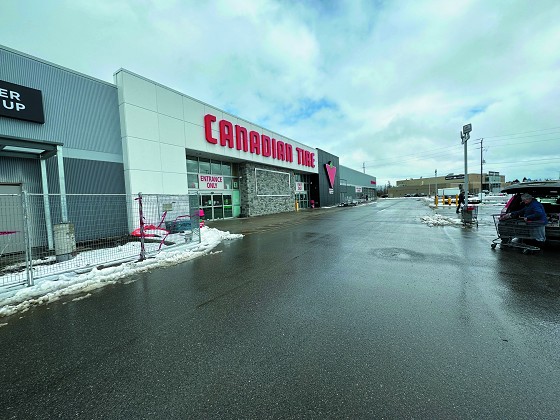 Why did Steve and his family choose Thunder Bay to relocate?
" We lived in Newfoundland and through the pandemic it was hard to travel. We have three children living in Ontario and it was hard to see them so when the time was right we wanted to get back to Ontario to be closer to our children. We have an opportunity in Thunder Bay to be an upstart community. We have a tremendous hospital, university and college so we have a lot of upside. The retail market has been reallygood for us,for both Canadian Tire stores in Thunder Bay."
Are there any other changes coming for Canadian Tire Arthur Street?
" I enjoy change and have some other plans for the future but this part of our strategy will be done in two weeks. It is challenging time to go through these renovations but we hope to get back to doing nothing but managing our business, satisfying our customers and keeping an eye on employees to keep them happy."
" Our store now is our latest concept. Canadian Tire is always evolving so new concepts are coming, so there will be different looks that will be coming across Canada to stay up with the times and the needs of the customers."
May 4th will be grand opening of the refreshed Canadian Tire Arthur Street!