Best Sushi Restaurants in Thunder Bay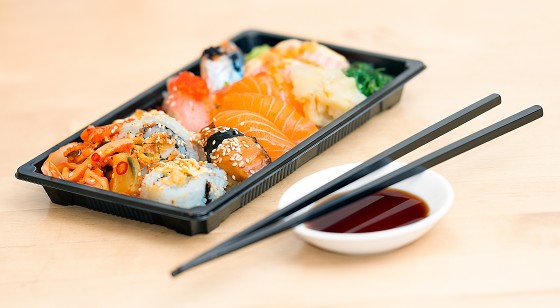 Japanese cuisine is among the world's most loved. The Culture Trip's primer on delectable Japanese dishes details how it is highly prized because it tastes delicious, is presented beautifully, and makes use of the freshest, most high-quality ingredients. All these qualities are none more evident in sushi, arguably the most famous Japanese dish — which is only fitting given its ancient roots and revered status in Japan.

Indeed, ExpatBet's guide to sushi notes how it is sacred to the Japanese, who regard the rice in this dish as hallowed due to being one of history's first truly domesticated crops, and one of humankind's earliest staple foods. That's not to mention the fine detail that goes into making sushi, which requires years of hard training to execute perfectly – ranging from preparing all the fresh ingredients to plating. It's a good thing then that Thunder Bay residents who love sushi needn't go far anymore for a sampling or two of it, as the city has got its own sushi spots worth checking out. Here are three of the best:


Warm and cozy Wasabi, on Arthur Street, is the perfect spot for quiet quality time and a serving of some delicious sushi. In fact, Northern Ontario Travel's review of Thunder Bay sushi restaurants hails Wasabi's sushi, describing its quality as of "prime importance." The serving sizes are huge, too, which all but guarantees that anyone's sushi cravings will be satisfied. No wonder Wasabi is almost always packed, especially during peak hours and on Fridays and Saturdays.


Tokyo House on Arthur Street is owned by Steven Li, who opened the restaurant in 2012 — his second in Thunder Bay after China House. It has carved out quite a niche since then, in part because it's one of the rare restaurants that boasts an open kitchen, a traditional buffet, and salad and ice cream bars. It also serves some of Thunder Bay's most sumptuous sushi, all prepared by chefs from Toronto, which is, along with Vancouver, a center for Japanese cuisine in Canada. That means guests of Tokyo House can expect a smorgasbord of expertly prepared Japanese food, with sushi as among the bestsellers.


Despite what the name suggests, Sushi Station on Memorial Avenue is actually a spacious, all-you-can-eat restaurant that offers Bento boxes, Thai dishes, and even pizza. But, of course, its signature dish is sushi, which comes in 18 varieties, including salmon sushi, barbecue eel sushi, crab meat sushi, and tofu skin sushi. This sushi spot doesn't get the same love as Wasabi and Tokyo House, but it's definitely the best north of the city.

Now, another sushi spot in Sushi Bowl, could've made the cut, but it closed shop recently. That said, there's always a good chance that sushi restaurants will be opened in the future given the continued popularity of Japanese cuisine. Besides, it was only 15 years ago when restaurateurs like Shigeo Kimura helped overturn an Ontario law requiring all fish to be frozen. This led to a boom of sushi restaurants in the area. Although some are closing this year, residents of Thunder Bay can most certainly look forward to more sushi spots opening in the city in the near future.