Beautiful New FreshCo Store Opens In Thunder Bay
by Scott A. Sumner
We sat down with Brandon recently to talk about the new FreshCo store in Thunder Bay and his involvement in the project.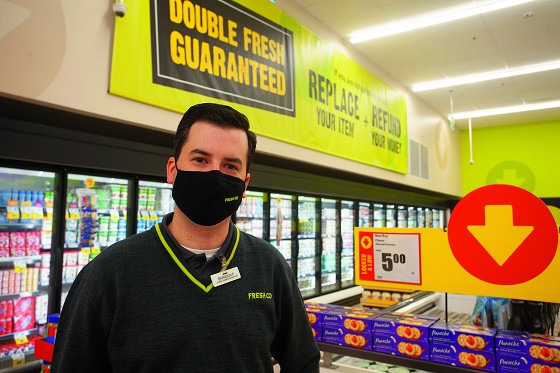 1. Brandon you have a beautiful new FreshCo store here in Thunder Bay!I understand you are very familiar with the location as you have worked here for many years when it was a Safeway?
Yes I spent over 15 years with Safeway starting at this location. I worked in the Deli and Meat Departments through high school. While studying at Lakehead University I started to transition into more management roles eventually becoming an assistant manager at thelocation. After graduating from Lakehead, I entered Safeway's Manager training program and worked for 3 years as a 1st Assistant Manager at the Arthur Street location before being promoted to Store Manager and moving to Thompson Manitoba to run that location for 5 years.
Brandon studied business/commerce and completed his degree in political science and economics at Lakehead Univrsity. He grew up right around the corner, living just minutes from the store.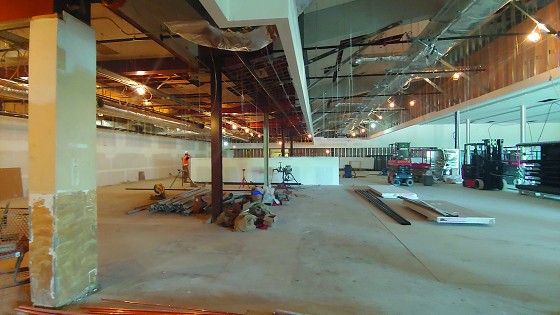 2. Tell me about how you came to be managing and running this location?
Recently I had the opportunity to move back home to Thunder Bay and manage the Court Street Safeway location. I was the Store Manger here and oversaw the closure of the location as Safeway in preparation for the FreshCo conversion. The store was going to become a FreshCo franchise and I applied for the opportunity and was chosen to become the Franchise Owner/Operator. I spent the next 5 months preparing to reopen the location.
3. What are the unique features of a FreshCo store for the people of Thunder Bay and NW Ontario?
I was excited to bring the FreshCo banner to Thunder Bay and to the neighbourhood because customers had asked me for years, when are you going to lower the prices and when are you going to update this location. FreshCo's goal is to bring lower food prices to Thunder Bay and offer a simplified shopping experience that will save you money. We have a fantastic offering of Fresh Produce, Meats, Deli and Bakery items. Our Grocery department has an easy to navigate specious layout that covers all the key categories.
We have also introduced many international categories such as: European, British, Italian, Greek, Latin, Caribbean, South Asian, East Asian, and Middle Eastern. Other features include, bulk foods, floral, full-service pharmacy, specialty deli meats and cheese, cut fruit, and hot in-store cooked chickens. We have 3 money saving guarantees. Lowest Price Guarantee, In-Stock Guarantee and our Double Fresh Guarantee.
Many people are discovering the store has many unique items hard to find in the area and are coming back.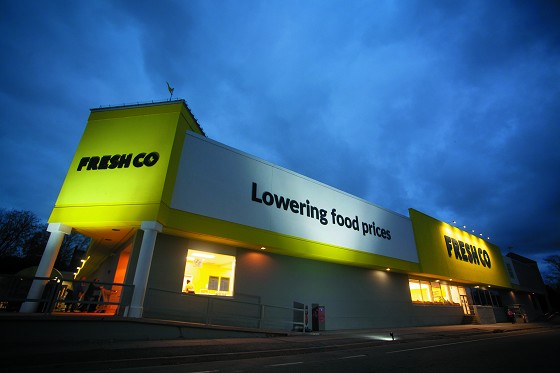 4. The building has undergone an extensive renovation and looks basically brand new. How did that process go and what were the time frames involved?
It is truly amazing the transformation that took place in such a short time. In basically 5 months this 60 year old grocery store was brought into the modern era. We closed on May 15 and began emptying the store. The team that stayed back worked very hard and within a couple weeks it was completely empty and construction began.
The Pharmacy remained open the entire time in a temporary facility across the street. The incredible work of all the local companies that worked on this project allowed for us to get back in and prepare to open. We set and stocked the store throughout October and opened on Oct 28.
Just undoing a grocery store that had been running for so long was a huge task. The main goal at the time was to properly close the store. Brandon had to step back and let the construction people do their thing, following the progress and doing lots of training online and from Winnipeg. Other things had to be prepared behind the scenes. Everything in the store had to be looked at during the construction phase and almost redone. Some things from Safeway were still able to be reused but it is mostly all new. The store is 36,000 square feet used by FreshCo and 7600 square feet has been set aside for a future tenant. The old deli and meat department was in that space.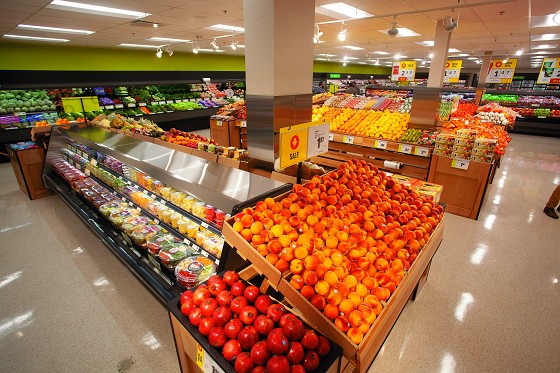 5. You recently opened and how has the store been received so far?
The feedback from the customers has been positive beyond anything I could have imagined. Customers love the Fresh departments, they love the product assortment, the bright clean spacious store and the lower prices. Most importantly the customers, especially those from the area, have missed stopping in and seeing the employees. While some did retire or move to the other Safeway locations, we did staff approximately half of the store with returning Safeway employees with some of them having up to 40+ years of service at the location. The entire pharmacy staff remained on and moved into the new location.
These familiar faces combined with the great new teammates has made the shopping experience incredible.
FreshCo Thunder Bay have approximately 75 employees at the store. About half of them came from Safeway and the rest are new. There was quite a bit of work to train the new employees. Many people applied for the jobs.The entire pharmacy stayed on.These staff members along with the new team members have made for a great shopping experience here. Over the years Brandon has learned especially at a neighbourhood store like this it is about the people and having that conversations at the till. People come first. It is all about the staff and customers.
6. You are quite young in your position. How has it been so far becoming an entrepreneur?
Although I have been doing this for some time now, I still have many >years ahead of me. I wanted to be the Franchise Owner at this location because it meant the most to me personally. I grew up only minutes away from the store and know and love the neighbourhood. My familiarity with the community and area has allowed me to customize the store to match what customers wanted from us. I have brought in great local products such as fresh baked daily bread, buns and pastries from Bennetts Bakery, Vanderwees Eggs, Heartbeat Hot Sauce, Thunder Oak Cheese,
North Country Garlic Sausage, B&B potatoes, Pops Kettle Corn to name a few.
It is Brandon's responsibility to make sure this business is run properly and profitable for years to come. Nothing is guaranteed but up to the team to operate well and make it come together.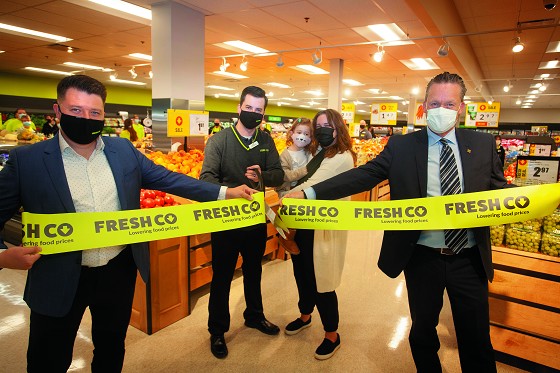 7. What are your impressions of the current Thunder Bay economy and how do you enjoy living and working in Thunder Bay?
Moving away from Thunder Bay gave me a different perspective and opened my eyes to how great Thunder Bay truly is. It is amazing to see and be part of the Downtown revitalization and see all the new development and business moving into the area. Prince Arthur's Landing has become the most beautiful waterfront and a national destination. Thunder Bay is home and always will be. Myself, my wife and daughter, age 3, have our friends and family here and couldn't be happier to be given this opportunity.
FreshCo Supports Their Communities
At FreshCo, we do everything we can to improve and contribute to the communities we call home. After all, we live and work here too.
From local food banks, to Cram the Cruiser events, our network of more than 125 stores across Ontario, Manitoba, Saskatchewan, Alberta and BC continues to support our communities and charities COMMUNITY ACTION FUND
The FreshCo team has a long history of giving back and now our local communities need us more than ever. That's why we created the Community Action Fund. In the early days of the pandemic, our passionate network of stores and teammates connected with their local communities to create localized solutions that helped address their most urgent needs. We trust that our store teams know their communities best; that's how the Community Action Fund was able to direct food and funds to make an immediate, meaningful difference.Today, our support of the local community is focused on building healthier tomorrows for more neighbors, by supporting the mental and physical health of children and families. Funding is centered on:• Healthy Bodies - removing barriers for more Canadians to access healthy and affordable food.• Healthy Minds - early interventions of child & youth mental healthA healthy body and healthy mind go hand-in-hand, and the community groups we partner with support one or both of these areas of health and wellness.Woven throughout our company is our commitment to Diversity, Equity and Inclusion. Through the Community Action Fund, we partner with marginalized groups to help provide the right ingredients to amplify our commitment to build a sense of inclusive belonging for all of our neighbors.
Double Fresh Guarantee – If you are not satisfied, we will replace your item and refund your money·
Lowest Price Guarantee – We will price match select competitor's flyers.·
In-Stock Guarantee – If we are out of stock on a flyer items, we will give you a rain check with an additional 10% off.